About 800 people showed up at the military funeral for Navy veteran Don Kaas last week, and almost all of them did not know him.
When Kaas died at the age of 66 at VA Medical Center in Lexington, Kentucky, on July 29, administrators couldn't locate any next of kin. After hearing of the situation through a minister at a local church, the owner of a local funeral home offered his help.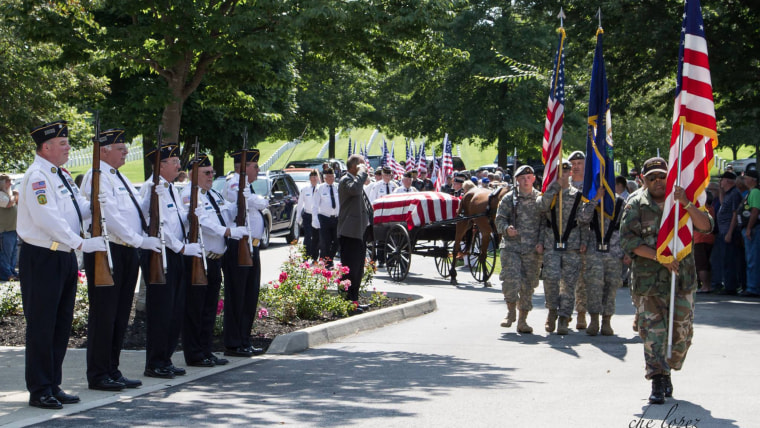 Shane Young, who co-owns Ramsey-Young Funeral Home in Lancaster, Kentucky, with his wife, Sherry, put the word out on Facebook that he was hoping some people could attend the service for Kaas to show respect for our veterans. Hundreds of people from a town of 3,500 showed up, and people came from as far away as New York and Texas. The procession backed up the local highway for 20 miles.
RELATED: Veteran picks up tab for active soldiers, prompting one to pay it forward?
"It humbled me in a way that I haven't been humbled before,'' Young told TODAY.com. "I've done this for 28 years, and this affected me in a way that changed me. What most affected me was the willingness of the community to come out. In a day and age when most people don't have time for anything, there was close to 800 people there. It was an amazing experience."
"It was amazing to see all these people who didn't know the man and felt the call to go,'' Che Lopez, a professional photographer who attended the funeral, told TODAY.com. "It was a surreal experience. It was sad, but heartwarming at the same time. There were all those people there showing the respect and love for him after he passed away, but he didn't have that at the end when he was alive. That jerked at the heart a little bit."
Members of organizations like the American Legion, Patriot Guard Riders and Veterans of Foreign Wars all turned out as he was buried in Camp Nelson National Cemetery in Nicholasville. Young donated the funeral home's services, instead urging anyone wishing to donate to send money to local and national veterans organizations.
RELATED: 89-year-old veteran scores a touchdown at a Kansas football scrimmage
"This was something I felt like I needed to do,'' he said. "I could've had the funeral paid for five times over from donations, but once I saw how big it was, I just refused donations. I wouldn't sleep at night taking money for something like this. The experience alone has been worth whatever payment I could've got."
"I saw Shane afterward and he was just emotionally spent,'' Lopez said. "The work he did in taking it upon himself to pull all that together was unbelievable."
No family members have been located since the funeral for Kaas, who was born in Chicago. While Young said it's the first time it has happened in his career, it's not an isolated occurrence for military veterans.
"It's becoming a rampant problem across the nation,'' Young said. "Talking to other funeral homes and people in veteran affairs, there are a lot of unclaimed veterans, so I just wanted to do my part. I'm just blown away and humbled by our community."
Follow TODAY.com writer Scott Stump on Twitter and Google+.