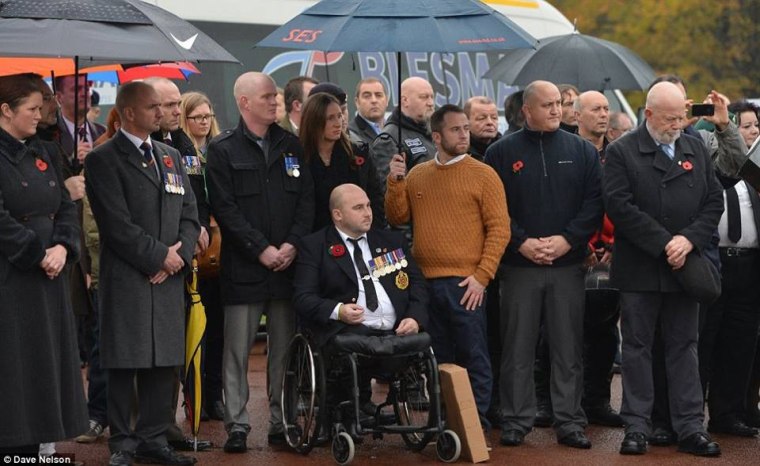 Sgt. Rick Clement, 33, wasn't related to and didn't know Harold Percival, but he felt compelled to attend the World War II veteran's funeral on Monday in northwest England.
Clement, a retired member of the British Armed Forces who lost both of his legs in a blast in Afghanistan in May 2010, read Percival's death announcement in a local paper and noticed the 99-year-old former airman had no family to attend the service.
"I just felt so bad...that someone was going to have a funeral after serving their country, which is really personal to me, and wasn't going to get the send-off he should have got," Clement told TODAY.com.
So a few days before the service, Clement put out a call on his Twitter and Facebook pages: "Need a big favor from any military or ex-serving members. This fallen soldier at 99 years old is having a funeral on Monday. It says he has no family to attend in Lytham St Anne's — if you're in the area, give him the send-off he deserves."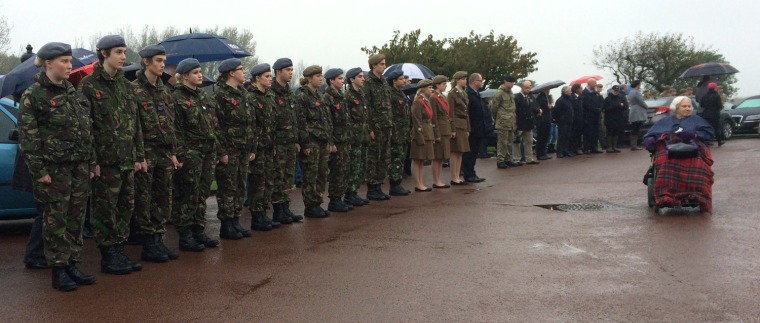 Clement thought he could rouse some of the soldiers serving locally in his former regiment. His plea, though, drew national media attention, and when Clement attended Percival's service, there were crowds of service members and veterans from each branch. He estimates at least 600 to 700 of them turned out.
They were waiting for Percival's hearse, lining the route with regiment flags. They saluted in unison when the coffin appeared. A bugle played "Last Post", a traditional British military tune.
"It's probably the biggest, proudest thing I've ever been involved in," Clement said. "Seeing everybody come together for somebody in the armed forces — there's nothing that could be a bigger thank you to me and anyone else who served in the army around the world in these conflicts than seeing support like that."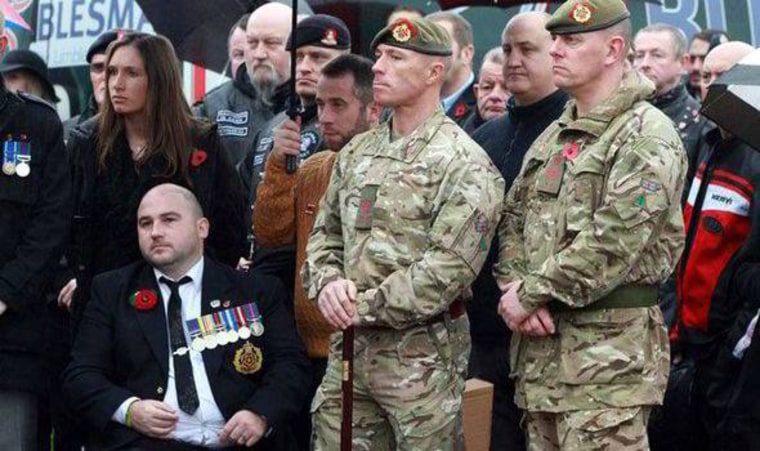 Clement, who is wheelchair-bound, has become somewhat of a spokesperson for wounded veterans in the UK; he founded a charity called A Soldiers Journey to raise funds for transportation services and wheelchairs.
Clement suspects his appeal on behalf of Percival was successful partly because England marked its Remembrance Day on Nov. 11. "It's a time when the whole country was already thinking about (those) lost in battle and injured and such," he said.
The connection was also personal for Clement: Percival reminded of him of his grandfather, who was also a veteran. "He got a good funeral and send-off when he died," Clement said. "I felt (Percival) deserved the same."