Despite a commitment to bolster security after last year's terrorist attacks, northern U.S. borders still have just one Border Patrol agent for every 16 miles, analysis of Justice Department data shows. The border with Mexico, by comparison, has enough agents to assign one about every 1,100 feet.
The Mexican border continues to dwarf the Canadian border in sheer numbers of arrests and the scope of illicit cross-border traffic. Recognizing that, officials at the Immigration and Naturalization Service, which runs the Border Patrol, have stationed over 9,000 agents on the southern border, while fewer than 400 are posted on the northern border, according to personnel records obtained by the Transactional Records Access Clearinghouse (TRAC), a non-partisan watchdog group affiliated with Syracuse University.
But behind that disparity, and amid significant security concerns, there remains little change in the distribution of Border Patrol agents before Sept. 11.
Last September, the Border Patrol had stationed 9,061 agents in souther border posts and just 331 in northern posts. By this March, 9,094 were stationed in the four states comprising the southern border sector — Arizona, California, New Mexico and Texas — while 346 were posted in nine states touching the southern edge of Canada, a net gain of 15 in the north and 33 in the south.
"It's hugely disproportionate in terms of the exposure," said Rep. George Nethercutt, R-Wash., co-chairman of the Northern Border Caucus. "Terrorists aren't stupid. They're going to go where we are vulnerable, where we have gaps."
Slow to build ranks
The persistent gap counters White House pledges to bolster the ranks of the Border Patrol as part of an effort to improve domestic security. In his 2003 budget, President Bush pledged to spend $150 million over two years to hire 570 new agents a year, warning, "The northern border has become an attractive gateway for potential terrorists."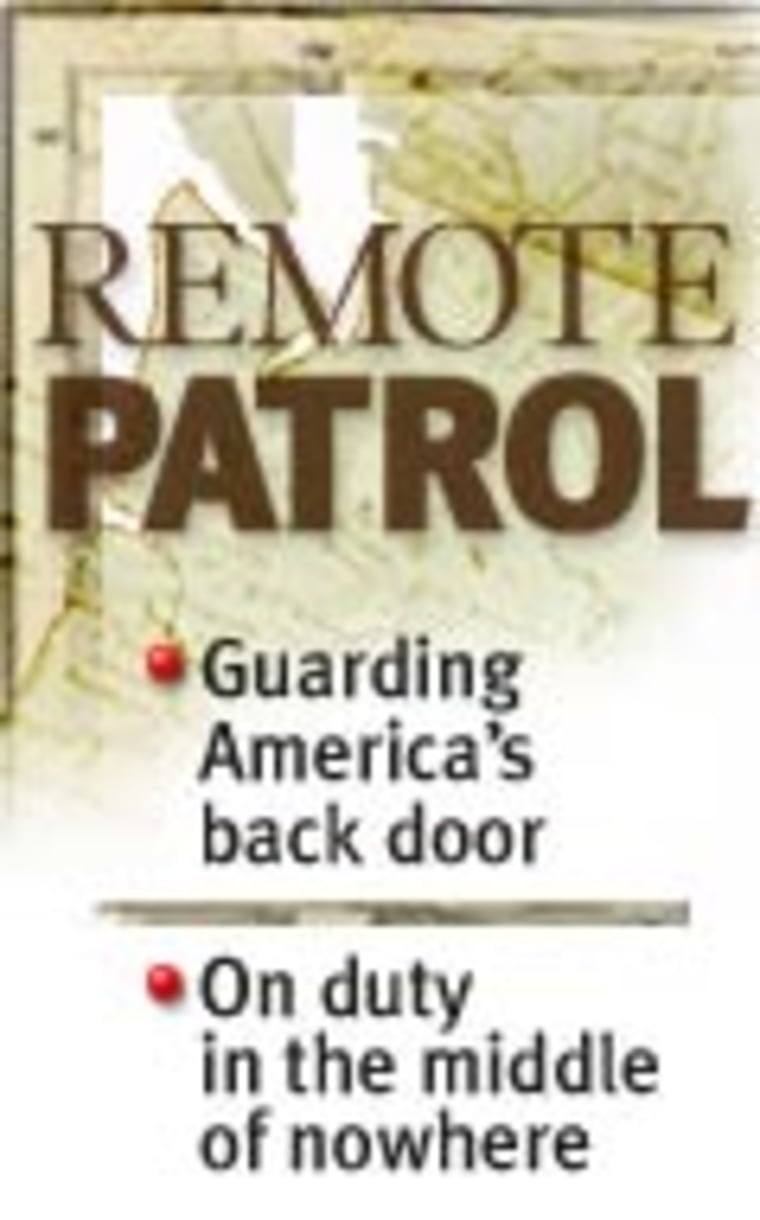 The White House has suggested that would double the number of agents on the northern border, a strategy Nethercutt and others have backed. But the plan for new agents would split the new hires equally between the two borders, with some 245 added in the north this year and 285 next year.
Nethercutt said a doubling of agents on the Canadian border "would do a lot to bolster confidence," but added: "We are entitled to have a greater split than 50-50 of that 570."
The Border Patrol hopes to add another 200 agents in 2004, though Congress must approve the spending.
Shifting assignments
While it awaits new bodies, the Border Patrol has modestly shifted agents' assignments since Sept. 11. About 100 were transferred from the southern border to the northern; some of those were meant to be permanent, but many have since returned to their original assignments.
Two southern border states — California and Arizona — actually lost 130 agents during that six-month period, while Texas gained 146.
Part of the shift reflects a Border Patrol policy not to staff newly trained recruits on the northern border, where most agents work alone. Veteran agents from the south can be sent north only as new recruits arrive in the Southwest, assigned to train with more experienced staff.
Nine states have Canadian border assignments: Idaho, Maine, Michigan, Minnesota, Montana, North Dakota, New York, Vermont and Washington. Alaska, which has nearly 1,600 miles of border with Canada, does not have border agents assigned directly.
Gaps in coverage
Agents sometimes work in teams or inside zones buffering the borders. But if they were assigned equally along borders where they now serve, one agent could be posted approximately every 1,150 feet along the 1,989-mile-long southern border with Mexico. An agent could be posted every 15.9 miles of the 5,525-mile-long Canadian border; discounting the remote Alaskan border, each agent would still have to cover 11.4 miles of border.
Adding another 1,140 agents in the next two years would certainly help, but gaps in the coverage would remain. The southern border would keep coverage almost at current levels, while coverage in the north would tighten to six miles per agent — 4.3 miles excluding Alaska.
Immigration officials maintain that the uneven split simply reflects the reality of cross-border activity, with the north accounting for only about 10 percent of border apprehensions.
"If you look at the activity they're seeing right now, it's nothing like what they're seeing on the Southwest border," said Border Patrol spokesman Mario Villarreal. "It does remain a concern and we are addressing it accordingly."
Moreover, Villarreal said, many of those caught in the north originally crossed in from Mexico.
While they acknowledge the priority of the southern border, many officials and law enforcement agents along the northern border have long felt they were largely sidestepped in the fight for resources, despite hundreds of miles of vast and remote stretches along the 49th parallel that delineates much of the nation's northern edge.
Change in perception
For years, the Canadian border was touted as a placid, almost invisible divider between two close allies, while the Mexican border stymied federal attempts to crack down on illegal immigration and drug smuggling.
After Sept. 11, though, the possibility that terrorists could enter the United States from the north catapulted America's northern neighbor to the top of the agenda.
"We can make a strong case that the potential for terrorists is maybe even higher up north," said Nethercutt, whose district in eastern Washington includes some of the most remote border territory in the nation. "It's a vulnerability, and we're going to feel pretty silly if a terrorist makes it through and it was only because of our lack of attention that he did."
Capitol Hill has hustled to address the disparity. After Sept. 11, Congress broadly passed the USA-Patriot Act last October, which tripled funding for northern border agents. A spending bill passed last November also put aside $66.4 million to hire those 570 agents planned for the coming year.
Wanted: more technology
Immigration officials, meanwhile, have placed their hopes not only behind increased ranks but added technology. The Border Patrol already employes a dense array of sensors and video monitors to help keep watch, and Congress also cleared an extra $50 million to keep purchasing new surveillance technology. They are joined by 3,000 Canadian counterparts who patrol their own borders.
Even with the new gadgets and with other agencies assigned to help patrol the borders — other INS investigators, Customs Service inspectors, Forest Service agents and the like — the Border Patrol acknowledges that thin ranks make it difficult to respond to alarms tripped in desolate and untraveled areas. And because so many agents work solo, the risks involved remain significant.
Simple charges
Though the Border Patrol is not broken out individually, INS does maintain the highest percentage of cases accepted for prosecution by U.S. Attorneys' offices, nearly 93 percent in 2001 — up from 80 percent just seven years earlier, the TRAC data shows. But most of those cases are minor immigration violations which pass quickly through the court system — the INS has the speediest trials to be disposed of any federal law-enforcement agency — and gather a modest median sentence of 15 months.
"The U.S. attorneys don't question any of these cases," said David Burnham, co-director of TRAC. "You take an area like police brutality and only 2 percent get prosecuted. So there are some race and class things going on here, as well as the reality that these are simple cases."
'Needle in the haystack'
A 2001 TRAC study showed federal prosecutors pursued indictments in 1.5 percent of police brutality cases presented to them.
Thus, there remains little agreement as to whether a boosted federal presence would patch holes in border security. Canada remains a prime U.S. trading partner, with 500,000 people and $1.3 billion in goods crossing the borders each day. The impact of thicker ranks guarding the Canadian border remains an excercise in speculation among policy makers.
"Honestly, I don't know that moving 1,000 agents from the southern border to the northern border would stop terrorists. It might stop smuggling," said Deborah Meyers, a border issues analyst for the Migration Policy Institute. "We don't want to be looking for a needle in the haystack all the time."
The number of undocumented immigrants coming into the United States, Myers said, has continued to grow at the same rates it did prior to 1993, when a shift in policy offered a significant boost in Border Patrol resources.
For their part, Border Patrol officials suggest that a noted 29 percent drop in apprehensions last year can be tied to fewer attempted crossings.
"We are making it very difficult for individuals to make illegal entry into the United States," Villarreal said.
This story was orginally reported in July 2002.