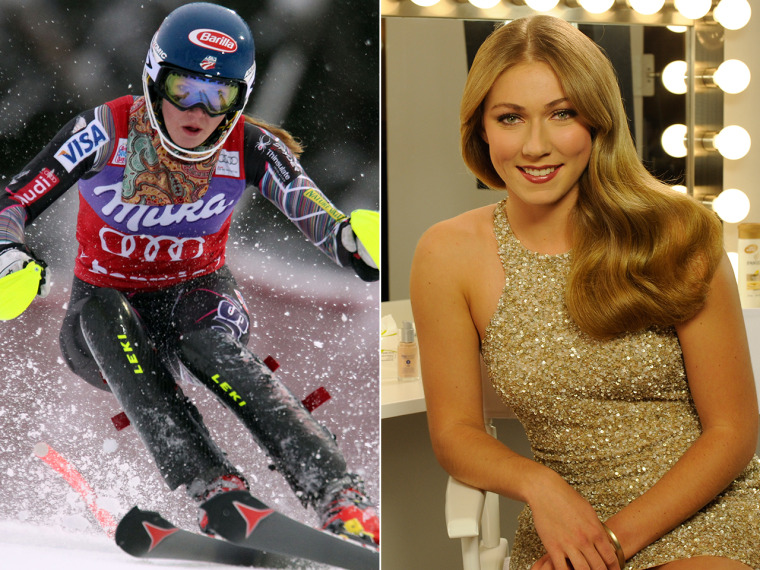 All eyes are on 18-year-old Mikaela Shriffin, who's poised to be America's skiing sweetheart. Called a "phenom" by the likes of Bode Miller, Shiffrin won her second World Cup slalom earlier this month. And while there are probably few mountains this Olympic hopeful can't conquer, she did face one fitness hurdle: the dreaded pull-up. Here, she tells us how she overcame it, and shares how she manages to stay stunning in the process.
What's your favorite muscle or body part? 
"Lately I've been really proud of my ability to do pull-ups. Last year I couldn't even do one. I told my conditioning coach I wanted to work on it, and now I can do seven to 10 on a really good day.
Ernie (my coach) had me do assisted pull-ups in sets of as many as I could until I get to 30 pull-ups. I started out doing seven with an assisted band — first pulling half my body weight, then went to a smaller band, pulling more of my body weight, then doing them unassisted. I could only do three but I did a bunch of sets of three. I would be really sore. Slowly but surely, however, I could do more. It happened pretty quickly — after a couple months. A year later, I can do 10 pull-ups."
What's your typical fitness routine when you're training?
"Normally in the off season I'll do double sessions. One session in the a.m. — two to three hours in the gym lifting weights and doing core exercises, pull-ups, etc. At the end I do balance, stability, agility. In the afternoon, I do about two hours of cardio. I do doubles on Monday and Thursday, take Wednesday off or do easy cardio, do doubles on Thursday and Friday, and the weekend I just get outside and get active — jog or bike ride, or play tennis with my mom."
What are your diet tips?
"One of the biggest misconceptions is that carbs are bad. It's a fad right now. Full disclosure: I'm sponsored by Barilla. But I've always been free about saying I love carbs, including pasta, in moderation. That's the bulk of what fuels you. I usually do some pasta, with chicken and a veggie salad to get some vitamins in there. Don't eat a huge 1,000-calorie pasta dish, just keep it minimal."
What are your go-to workout song(s)?
"'Get Lucky' by Daft Punk featuring Pharrell Williams."
With all the working out you do, what's your beauty routine?
"With the Olympics coming up, there are cameras everywhere and I'm more aware of my beauty habits. Out on the hill under the helmet, nobody sees your face or hair, but then you take it off and they do — that's the part I'm nervous about. Now I literally spend 30 minutes in the bathroom every morning. My biggest issue is skin tone — to have solid skin tone. After spending all day on the hill, it can be really splotchy and red. I use CoverGirl CC cream, a little bit of eye liner and eye shadow. I never thought makeup had a place in athletics, but now I do. I realize a certain amount to look my best is OK."
Aside from makeup, are there tricks for keeping your skin in good shape?
"The harsh cold and windburn from hours of skiing does a lot of damage to my skin, so I try to keep my skin as moisturized as possible. I use Olay Moisturizing Cream and Olay Night Fortifying Cream. I've been using it religiously since I've started working with the P&G Thank You, Mom Campaign, and it's really helped my skin stay healthy!"
Editor's note: Mikaela Shiffrin is sponsored by P&G, which owns CoverGirl and Olay.