/ Source: TODAY contributor
With some dogs, it's always a toss-up as to who is "master" of whom, and whether the dog is man's best friend or vice versa.
Our blue Doberman, Buddha, was on of those incredibly self-possessed beings who always took the attitude that eventually she would get her humans fully trained. She was a working dog, a companion and guard dog while Eddie, my husband, was a field service engineer, and covered a territory that included southern New England and New York. Buddha had her favorite pit stops and nudged him at mealtimes when they'd pass the golden arches.
So when she lost the use of her rear legs at the age of 10 due to spondylosis and disc disease, we felt we owed her the time to heal. She had always treated me like a servant, but now I was carrying her around in a sling, scrambling eggs for her breakfast and doing massage therapy every night. In the meantime, Eddie, dissatisfied with what was available commercially at that time, decided to build her a wheelchair that would restore her to a decent quality of life.
That was in 1989. The cart was clunky by today's standards, but it allowed her to walk in the woods and fields again, harass the woodland critters and go wading in the swamp. A new symbiosis evolved, as she trained me to lift her and the cart over obstacles. We served her needs, and were rewarded several months later when she began to walk on her own again. She taught us about the value of convalescent care, and awed us with her ability to rehabilitate in her cart. After only a couple of months, her paralyzed legs started moving again, and shortly afterward she was able to stand and walk on her own without the cart.
Our vet was impressed with her recovery, and over the years referred people who needed wheelchairs for their disabled dogs to us. With each cart, Eddie refined the original design to make it lighter and easier to use. Consultation with a couple of veterinary surgeons verified the biomechanics of his design as being orthopedically sound. Finally, Eddie's own disabilities forced him to leave corporate life, and he decided to devote himself to helping disabled animals. A feature article in the local newspaper produced a spate of orders and Eddie's Wheels was born.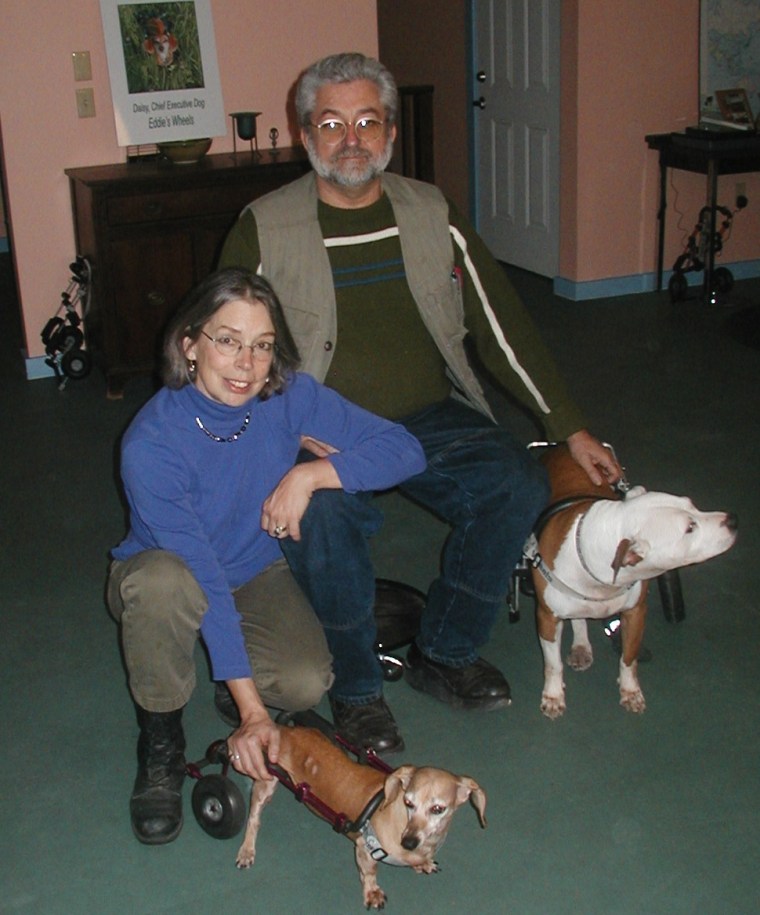 Now the dogs really ruled our lives. Our first local customers taught us about all the different special needs that needed accommodation. Katie, a border collie, wears her cart with a pool noodle strapped on it so she can go swimming in her cart. Voytek, an ancient dachshund, needed a four-wheeler. Shala, a pup with missing front legs rescued from the town dump, inspired the first front-wheel cart. There were amputees who needed counterweighted carts, arthritic dogs who needed counterbalanced ones, and too many dogs with degenerative myelopathy who needed carts that could be upgraded to deal with their progressively worsening disabilities. Carts with detachable front training wheels for rehab, and full-quad carts with headrests and tow handles were developed in response to requests from people who needed these tools to manage their beloved pets' disabilities.
In 2001, we adopted Daisy, a delightful 6-year-old dachshund with four herniated discs, bladder and bowel incontinence, and a feisty, indomitable spirit that sends dogs cowering as she chases them in her cart. We have learned so much from watching her slowly rehabilitate over time, gradually regaining function of her legs so that now she uses her cart as a walker, using her rear legs to propel her as she climbs the hills. Five years later, we adopted Sweet Pea, a disabled pit bull, from the NYC–ASPCA. We take her for physical therapy every week, helping her regain strength and muscle mass. 
Her unique disabilities, and those of the dogs we have helped before her, have fostered design innovations and forged a deeper collaborative relationship with the canine rehabilitation community. 
To learn more, visit Eddie's Wheels.