The second inauguration for President Obama may not attract the record crowds of his first, but the amount of behind-the-scenes planning going into the ceremony and related social events is equally as colossal.
For months, inauguration preparations have meant juggling security needs with the logistics of crowd control and more than 9,000 other moving parts known as parade participants.
In addition, about 1,500 troops from all five military branches will line Pennsylvania Avenue as part of cordon honoring Obama as he strolls along a parade route that stretches from the Capitol to the White House.
"The actual level of planning that went into this — you don't have an appreciation for it until you see it at the ground level," said Air Force Brig. Gen. James Scanlan, deputy of inaugural support at the Joint Task Force-National Capital Region, one of the three key players overseeing preparation. "It's absolutely incredible to see the level of detail involved, minute by minute in execution."
In addition to the service members overseen by the Joint Task Force, more than 6,000 National Guard troops will join thousands of police officers from the region and throughout the country, as well as agents from the Secret Service, FBI and the Department of Homeland Security. In addition, the Federal Aviation Administration will impose increased flight restrictions over Washington for most of Monday.
Security on the day of the inauguration will be overseen at an undisclosed command center where agents from 42 federal, state and local agencies will monitor movement on closed-circuit cameras scattered throughout the city.
JTF-NCR began its planning more than a year ago, working from a history of previous inaugurations, as well as numerous photos.
"We document everything we do, and a lot of the photo documentation from past years has really helped us a lot," Scanlan said.
But that doesn't mean it will be easy screening all 9,000 marching band members, float operators and other parade participants in the Pentagon parking lot early Monday morning and then transferring them to Washington, DC.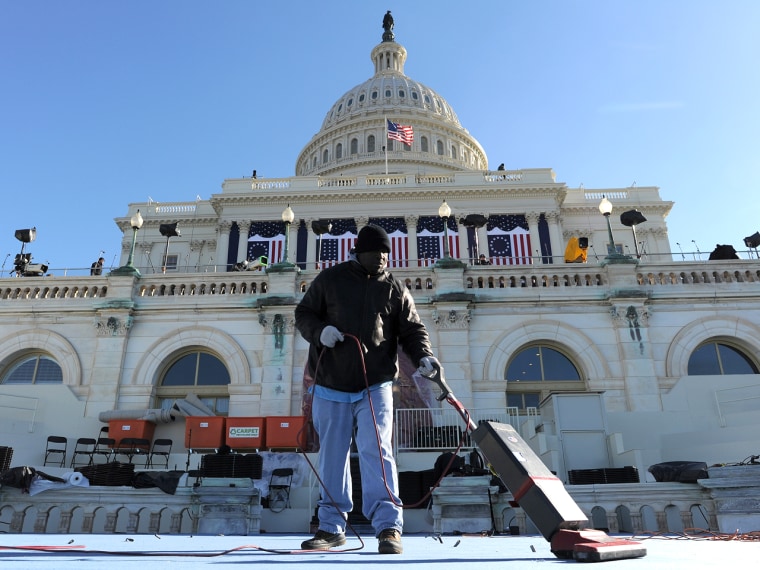 What will help is practice, and a lot of it.
Every element of the parade is meticulously rehearsed at varying levels. Some rehearsals only involve internal exercises while others, like last weekend's full dress rehearsal, involved participation from every single planning partner, including the Secret Service, District of Columbia police, the National Park Service and two dozen other agencies. The dress rehearsal shut down much of downtown Washington early Sunday morning as stand-ins for the president and first lady took their places at the podium on the Capital, while the fill-in for Beyonce, who is scheduled to perform the national anthem, pretended to sing.
Most of the rehearsals are videotaped and scrutinized immediately afterward by organizers, the way coaches analyze replays.
"It's like watching game films. 'Your hand moved here. Your foot was a millisecond behind the drum beat,'" Scanlan said. "All of these elements are individually rehearsed again and again and again."
Like the Joint Task Force, the Joint Congressional Committee on Inaugural Ceremonies also has been planning for the event for more than a year. The JCCIC is responsible for the ceremonial swearing-in that will take place Monday at the Capitol, as well as a luncheon for the president, vice president, their families and members of Congress following the inaugural address.
Story: New hair, new term: Michelle Obama's second act
Unlike either of the two other organizing entities, however, the third and key manager of the inauguration, the Presidential Inaugural Committee, did not get a head start on preparations. Instead, it had less than two months to build a team from scratch, starting a week after the November election.
PIC is responsible for carrying out the president's vision for his inauguration and coordinating the efforts of its roughly 30 interagency partners, including security teams who will handle the spectators expected to pack the National Mall. About 600,000 to 800,000 are expected to attend, far fewer than the 1.8 million estimated in 2009.
PIC also oversees fundraising to pay for every inaugural element, from the Jumbotrons that will be scattered across the Mall to the children's concert hosted this weekend by the first and second ladies to honor the children of military service members. The committee also oversees planning of the two inaugural balls.
"Most of the time I feel like I'm the guy in charge of building a car while it's driving down the street," said Steve Kerrigan, PIC's president and chief executive. "There is a lot going on."
Obama wants to make his second inauguration as inclusive as possible, Kerrigan said, which is why PIC also coordinated the National Day of Service being held Saturday.
The National Mall will house a service fair featuring more than 100 organizations ready to help teach people how they can give back to the community. There also will be thousands of volunteer opportunities this weekend in all 50 states.
"We are the only inaugural in history to have staff in all 50 states, not just here in Washington planning events, because we know this is an event for the entire country," Kerrigan said. "A big focus of the president has been to make sure we touch people everywhere, not just those attending in person."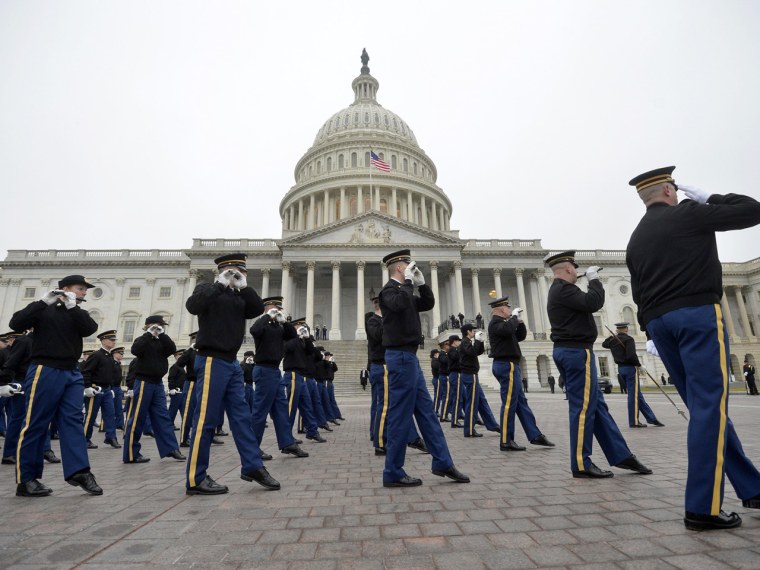 Story: First lady celebrates 49th birthday with a dramatic new 'do 
For those in Washington, Kerrigan acknowledged, many have wanted to lay their hands on coveted — and sold-out — tickets to the inaugural balls.
In 2009, the president and first lady zoomed around to 10 official balls. This year, there will only be two: the official Inaugural Ball and the Commander-in-Chief's Ball, primarily for members of the armed service and their families.
Both events will be significantly larger than they were four years ago and, when combined, bigger than many of the other balls put together, Kerrigan assured.
And because both events will be held under the same roof — at the Washington Convention Center — more participants will be able to enjoy the lineup of high-profile entertainers, including Stevie Wonder, Katy Perry and Alicia Keys.
Story: Inauguration playlist: Jam to Beyonce, Kelly Clarkson and more
Kerrigan, who estimates that the two official balls together will hold only 20 percent fewer guests than in 2009, said narrowing the number of balls from 10 to two was a decision based on several factors. Among them, cutting costs in an economically uncertain period, and easing logistics of dealing with a dozen balls scattered across the city. That created a strain on public safety and law enforcement officials who had to secure numerous buildings at once.
Kerrigan compared his job to his most recent one as chief executive of the Democratic National Convention, an event for 50,000 people that he had 18 months to plan.
"With this one, we had nine or ten weeks to plan, and we have no idea how many people are coming," he said.
Although officials are predicting far fewer participants at this year's inauguration, Kerrigan said traffic on the PIC web page and volunteer recruitment has at times exceeded 2009 levels.
"So there is an energy and excitement and drive out there," he said. "People are jazzed about this. People are energized about this."
More: Slideshow: Gown and country: Ingaugural ball gowns
Time flies: New portrait of Obama unveiled
From the silly to the somber, White House photos show 2012 highlights 
Stop gun violence, kids ask President Obama in handwritten letters 
Video: President Clinton only sent 2 emails while in office