The cooks flipping meat on grills or sweating behind smokers at barbecue competitions are all about seasoning, basting, charring — and being the best. This week, though, these maestros of meat are putting their competitive nature aside to bring comfort to Oklahoma with classic American cuisine.
As soon as news of the tornado broke, dozens of them requested vacation time from their jobs and canceled other obligations so they could rush to Moore, Okla., and feed people. Many have traveled great distances with their own gear and at their own expense; one cook has driven all the way from Alabama.
"It's amazing how something as simple as a hot meal can make people cry," said Jeff Stith, 48, of Pleasant Hill, Mo., one of the co-founders of a charity called Operation BBQ Relief. "They'll come up and say, 'God bless you,' and they'll give you a hug — and they've lost everything. It always makes me think my problems in life seem so minor, when you understand the impact a simple meal can have on somebody."
This roving posse of white-hot compassion got its start two years ago in response to the tornado that ravaged Joplin, Mo. Some regulars from the barbecue circuit decided to load up their smokers, drive to the disaster area and serve up thousands of helpings of comfort food.
With that, Operation BBQ Relief was born.
'We come together'
Operation BBQ Relief is gearing up to serve more than 100,000 meals to Oklahoma tornado victims and emergency workers in the coming days, just as it did in Joplin. It's one of a number of charitable organizations and restaurants that are making efforts to feed people en masse.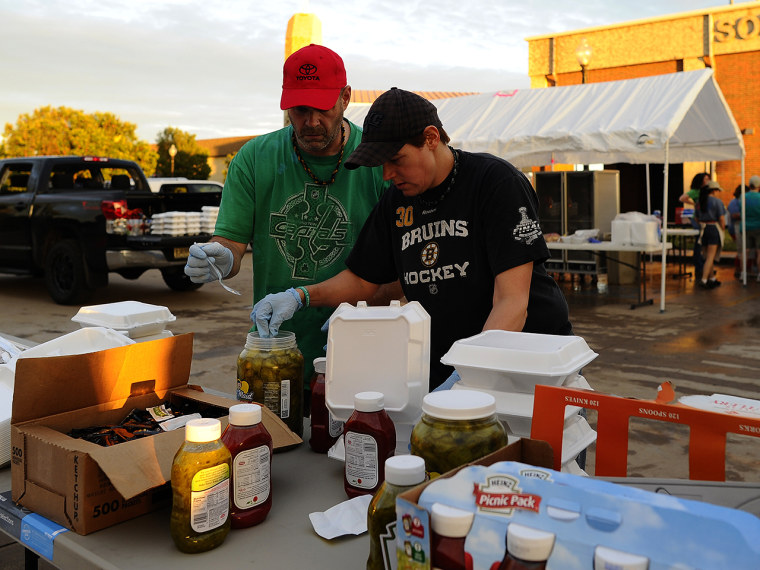 Volunteers from the non-profit, faith-based group Mercy Chefs have deployed in Moore, where they've started serving up professionally prepared meals to residents as they survey their devastated neighborhoods.
Local businesses in the Oklahoma City area, including a number of restaurants, pubs and coffee shops, have been donating meals and drinks or dedicating money from sales toward tornado-relief efforts. A local Jimmy John's sandwich franchise in Norman, fewer than 10 miles away from Moore, has whipped up free lunches for volunteer workers. McNellie's, an Irish pub with three locations, is donating all the money it makes from sales of Oklahoma beers to the American Red Cross until the end of May.
Likewise, Big Truck Tacos in Oklahoma City is donating 100 percent of its sales from two taco trucks to the local chapter of the American Red Cross and to a local food bank. As residents learned about the effort, they flocked to the taco trucks with hungry support. In a two-hour window on Tuesday, the trucks brought in nearly $2,500 in sales — all of which will be donated.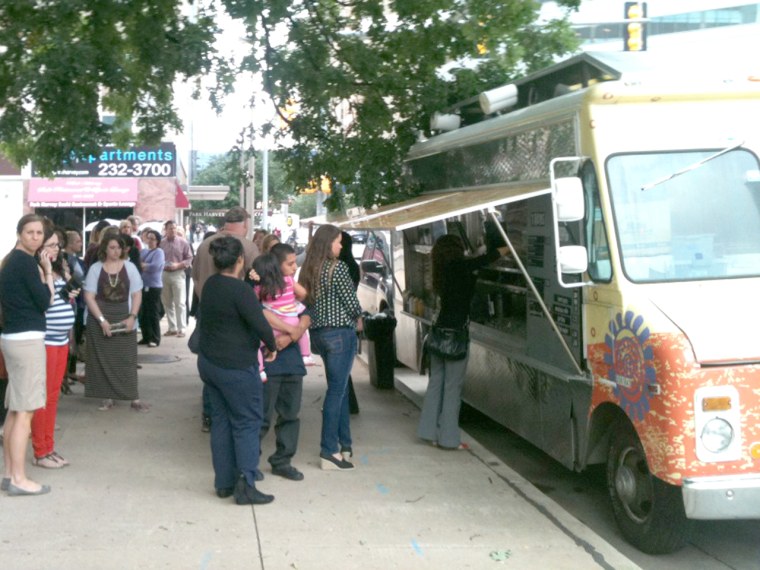 "This is a community that always pulls together," said Kathryn Mathis, executive chef and owner of Big Truck Tacos and Mutts Amazing Hot Dogs, which also is donating money from food sales toward relief efforts. "We may hate each other during football season, but we come together for disasters. That's the truth."
'It's changed my life'
In response to this disaster, at least 250 meat-loving supporters of Operation BBQ Relief asked to be deployed to Moore, Okla. Not all of them have started traveling yet, but many have.

Operation BBQ Relief is serving mouth-watering lunches and dinners in two parking lots in Moore: at the First Baptist Church at 301 N.E. 27th St., and at the Dick's Sporting Goods at 760 S.W. 19th St.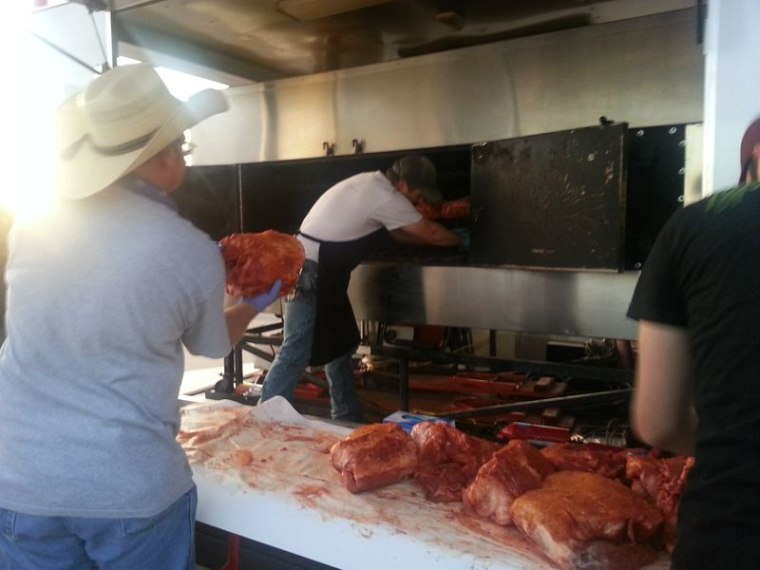 To accomplish this, many businesses have donated thousands of dollars' worth of food supplies and equipment. As it has in the past, Sam's Club opened up its local store to Operation BBQ Relief volunteers and let them have as many pork butts, aluminium pans and paper towels as they needed.

"You name it, they're donating it," said Will Cleaver Jr., another co-founder of Operation BBQ Relief who lives in Shawnee, Kan., and who is working round the clock this week in the First Baptist Church parking lot in Moore.
Farmers Insurance donated trailers and huge tents so Operation BBQ Relief volunteers can stay dry while preparing food. Honda donated generators. Reser's Fine Foods donated 10,000 pounds of deli salads. The list goes on and on, Cleaver said.
"It's unbelievable to me what people are willing to do," he said. "It's completely changed my life."

Operation BBQ Relief co-founder Stith noted that many volunteers with the organization feel the same way. After Joplin, their new perspective on life led them to travel to tornado disaster areas in Kansas, Illinois, Indiana and Alabama—and now, Oklahoma.
"Not only are we making an impact in the lives of the people we're helping, but the volunteers are so emotionally attached to this," Stith said. "It has a huge effect on them."
And on top of everything else, volunteers get to serve the food they love best.
"Barbecue is truly an American-based food, and it's a comfort food for folks," Stith said. "Barbecue reminds people of the good times."
Need a Coffey break? Connect with TODAY.com writer Laura T. Coffey on Facebook, follow her on Twitter or read more of her stories at LauraTCoffey.com.