Forget your heart, maybe home is where the wealth is: U.S. house values soared during the 1990s, with big cities accounting for the most tony digs, according to Census figures. That translated into a steadily growing housing market — a perennial bright spot in an otherwise muted economy.
Among U.S. cities, Sunnyvale, Calif., and Cambridge, Mass., were most valuable large markets to have a home in, with median home values at $495,200 and $398,500 respectively. Not much home equity in Flint, Mich., at a median $49,700, which edged out $52,500 in Kansas City, Kan.
Across the country, median home values showed steady growth since 1990, rising to $119,600 in 2000 from $101,100 in 1990, according to the Census data. Even with an economic slump, that trend has continued in the past three years, with an existing home price averaging $158,200 last year, according to the National Association of Realtors.
The Midwest still kept the lowest home values at $105,500, though it had the highest growth since 1990, over 32 percent. Homes in the West had the highest values at $171,000, though values grew the least, just over 6.1 percent — overall, a slight flattening in prices across the board, though prices grew steadily. The increases were smaller than during the 1970s, which Census data showed to have the highest average growth in value, but far greater than the 1980s, when values remained largely flat. The Census asked respondents to provide values based on personal estimates.
Buoyant buying
Two major factors contributed to the growth in home value, according to National Association of Realtors chief economist David Lereah: the surge in U.S. population, driven by new immigrants who helped spur the housing market, and consistent drops in interest rates, which provided ever more affordable mortgages to buyers.
"Population is really the fuel for housing," Lereah says. "Then you have people that otherwise would not have been able to buy a house who can now buy a house because rates have come down."
In part, says Amy Crews Cutts, Freddie Mac's deputy chief economist, that was due to a rush of job creation during the 1990s, with over 70 million jobs created. While the current downturn has trimmed several million positions, the longer term trend has been positive — all reflecting in housing value growth.
"I attribute it to an economy that was growing non-stop," Cutts says, "and while we tend to think about the stock market as being the big part of that, the big part of it really was in jobs."
All those workers also capitalized on mortgage rates that were stable and then spiraling down. For each one-point drop in mortgage rates, Lereah says, the average buyer can purchase $20,000 to $30,000 more house. So the higher values don't necessarily reflect less affordable housing.
Actually, as rates have dwindled to 30-year record lows, affordability for housing has hit record highs. Realtors' housing affordability index reached 144 in the first quarter of 2003, up over 8 points from a year before; the previous record high of 147.9 was reached in 1973. And the median values are actually well below estimates for affordable housing. Median family income in first quarter 2003 was $52,929, which would allow them to qualify for a $232,600 home.
Market evens out
That may be why 1 million Americans bought homes for the first time last year, continuing a homebuying trend that boomed throughout the 1990s, but usually entered the modest end of the market.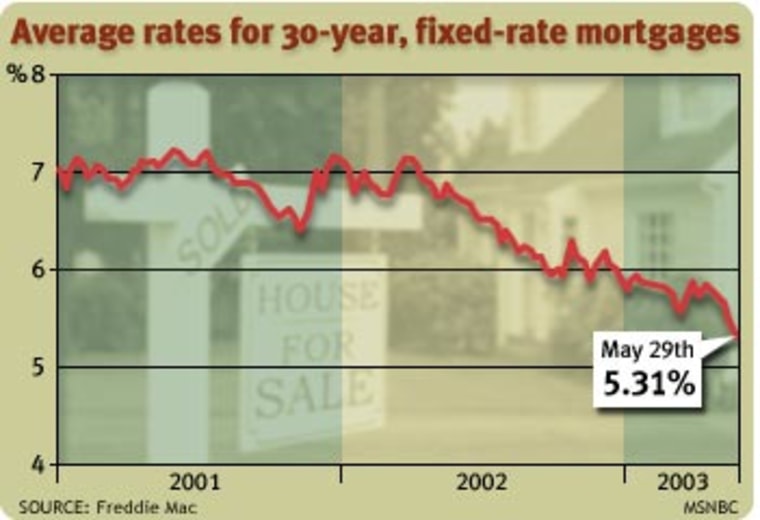 And while Hawaii, California and Massachusetts had the highest statewide values — with Hawaii off the charts at a median $272,700 — prices in the most expensive states actually dropped by 11 percent or more, lending credence to economists' arguments that there is no bubble in the housing market and prices are stable.
Instead, there appears to be a steady creep of homebuyers up through the market — more folks entering at the lower end, and more current homebuyers taking advantage of their financing options to hunt for ways to upgrade — certainly in the past couple of years, with rates at their low end.
"You could afford to move up to a bigger house with the same size monthly payment," says Doug Duncan, chief economist for the Mortgage Bankers Association of America.
Finding leverage
Of course, with more value in a house comes more equity. Many homeowners are looking to shorten their mortgage terms from 30 years to 20 or 15. But there's still plenty of refinancing to leverage a home's value — with an estimated $96 billion converted to cash in 2002, according to Freddie Mac estimates.
"What do they do with that?" says Duncan. "More than a third of them are putting money back into the house in the form of home improvement loans."
The rest: streamlining debt or paying college bills, spending or other investments. Still, even with the conversion of home equity into other areas of the economy, plenty of cash was still being plowed back into Americans' homes — an estimated $100 billion.
That said, the Census data showed Americans had a harder time making buck on This Old House: Those built since 1995 averaged $146,300 in 2000, while those built before 1960 averaged $95,600.
Other highlights
The highest valued homes were owned by middle-aged Americans from 45 to 54, who averaged $131,100, according to Census data. The lowest were among those under 25, at $84,700. Black and native Indian Americans also had the lowest average home value, around $81,000. Asian Americans had the highest: $199,300. Hispanic or Latino Americans averaged $105,600.
Counties near metropolitan areas had the most expensive homes. One expensive band of homes — over $150,000 — extended from Washington, D.C., through Boston; another extended along much of the California coast.
The island of Manhattan had values averaging over $1 million. Massachusetts' Nantucket Island averaged $577,500. Pitkin County, Colo., averaged $750,000, and Marin County, Calif., averaged $514,600. The Boston suburb of Cambridge had the highest number of homes valued over $1 million — 11.6 percent of them — followed by San Francisco and Pasadena, Calif.
Oklahoma had the lowest statewide average — $70,000 — followed by Mississippi. Values in Rhode Island dropped 22 percent since 1990.
Not buying
As for rentals, some one-third of all housing was being rented during the 1990s, according to the Census — 95 percent of them for cash. Median monthly rent, including utilities, was $602 — again, with the Midwest cheapest at $506 and the West most expensive at $684. With the 2000 numbers, Americans who rented spent just over one-quarter of their income on housing, slightly less than record levels a decade before.
California easily captured the prize for highest rents during the decade, taking nine of the top 10 slots. The city of Irvine led with $1,272 average rent, followed by Sunnyvale, echoing its highest home values, and Santa Clara. Economically hobbled Brownsville, Texas, had the lowest rent — $405 — followed by Erie, Pa., and St. Louis, Mo.