You may have to forgive South Jones High School senior Mary Kate Smith if she's a little busy next week — the reigning homecoming queen will be swapping her crown for a helmet to face Wingfield High School on the football field.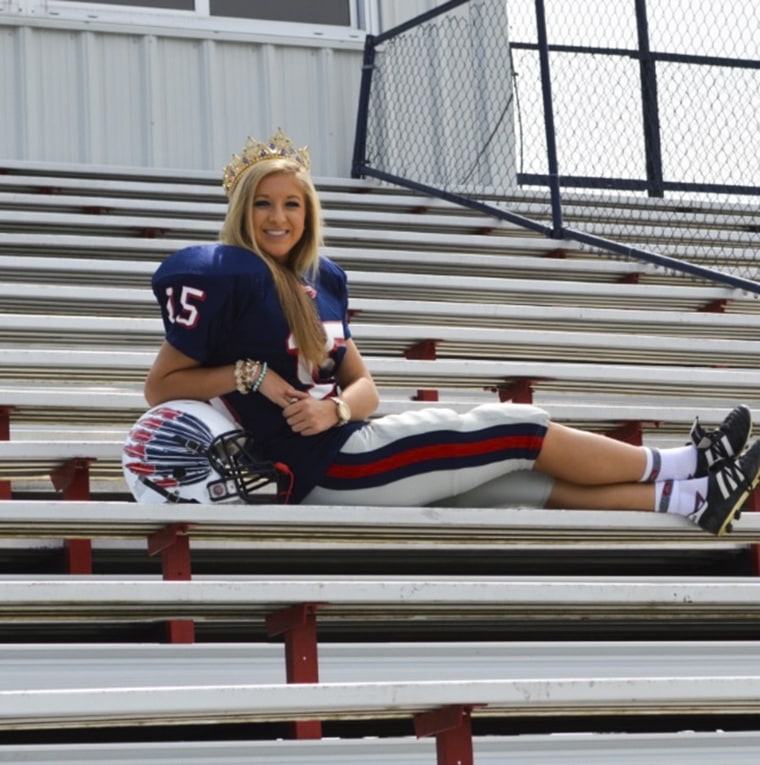 Already a star on the Mississippi school's girls soccer team, Smith has been getting her kicks lately as the first girl to make the school's varsity football squad. And she has a response ready if someone tells her she plays like a girl.
"I'm me, and I'm not trying to be anybody else," Smith, 17, told TODAY.com. "I'll take that as a compliment."
Her football coach, Corey Reynolds, said one of his assistants, Matt Smith, the strength and conditioning coach for Smith's soccer team, suggested Smith be the kicker they'd sought all summer.
"It just turned out to be a blue-eyed, homecoming-queen soccer player," added Reynolds, a former quarterback and punter at Delta State University.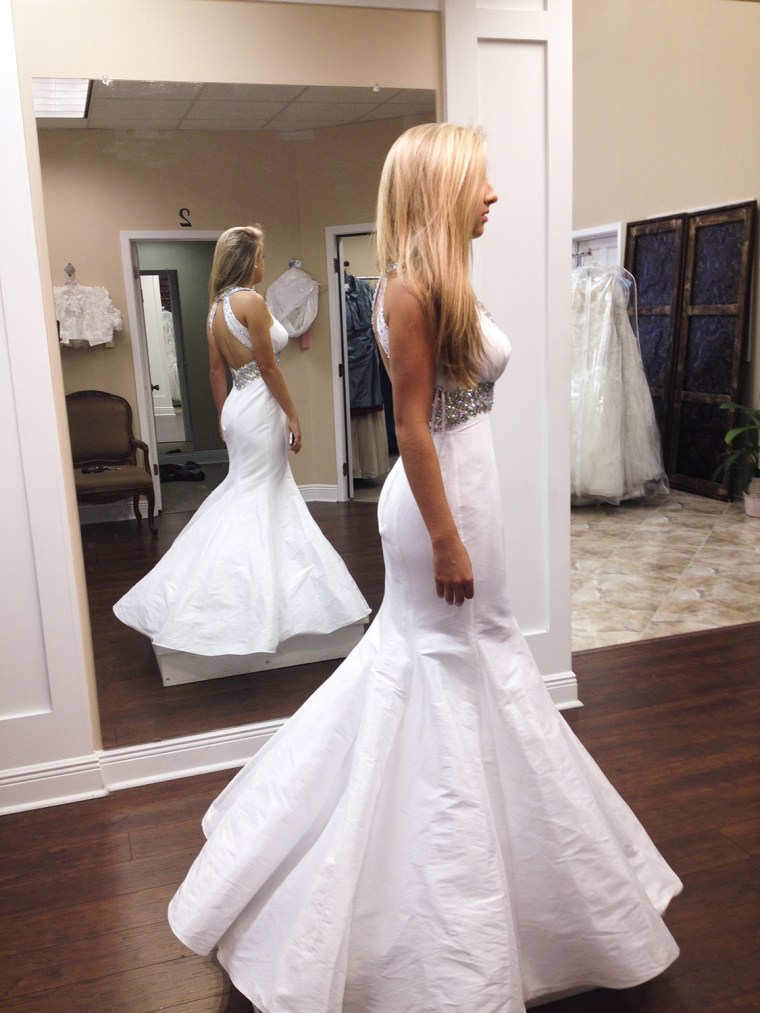 Smith, who's been playing soccer since she was 3, said she first considered trying out for the football team as a junior but didn't think she'd have the time to pull it off. But with support from her classmates and teammates this year, she decided to give it a shot.
Reynolds said he's marveled at the way Smith kicked 40-yard field goals in practice. Calling her "one of the most highly competitive athletes — male or female — I've seen," he said adding her to the roster was easy, because she earned it.
"When she's out there, she's been like one of the guys," he added. "It's not like, 'Ooh, we have a girl.'"
Smith said field-goal kicks are theoretically easier than soccer shots, because the ball is always stationary in football, but added, "the pressure is 10 times worse [in football], with big guys, running at you, who outweigh you by 200 pounds."
To better prepare for larger opponents, she takes practices seriously, according to her coach.
"I always pick on [the boys] when we're running sprints and say, 'You'd better not let a girl beat you,'" Reynolds said. "Those guys are about to pull a hamstring trying to make sure she doesn't."
Smith said she laughs when that happens. "I love it," she added. "It's a competition, so I completely know where all of that is coming from. I love winning. I hate losing. I love competing out there and joking about it afterwards. It's a great atmosphere."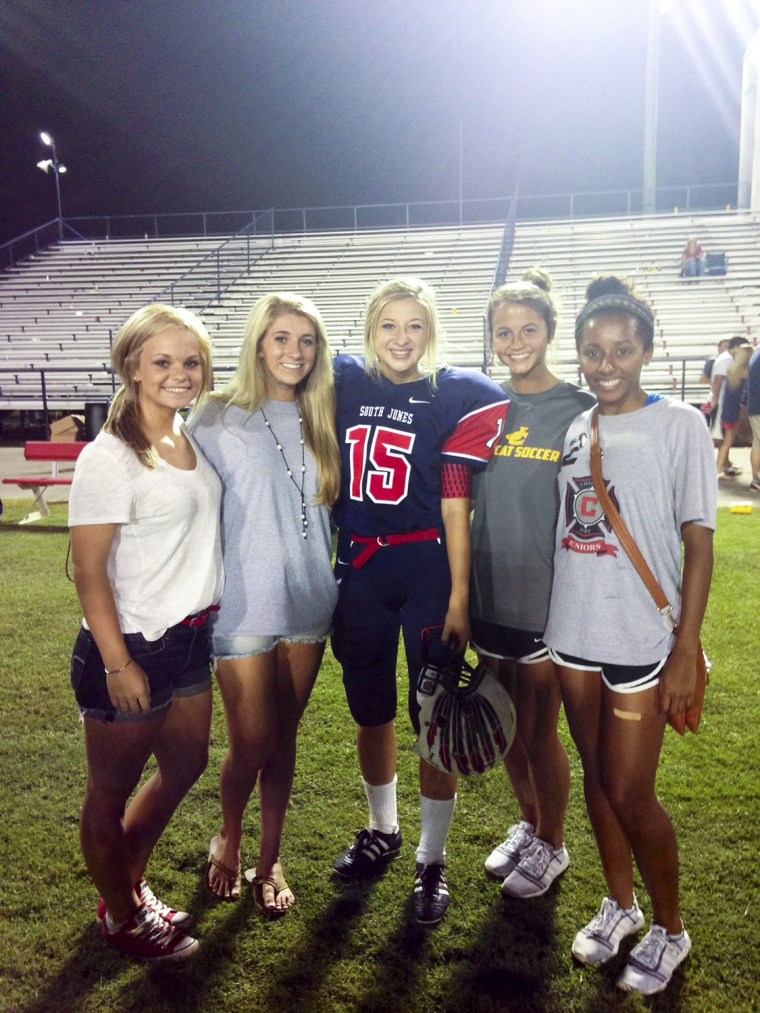 Her father, Jesse Smith, played football at both South Jones High and at Jones County Junior College, where he now serves as president. He said that while he didn't doubt her ability to kick for the team, he had some initial concerns that she didn't understand the "level of violence" involved.
"I didn't know how she would tolerate an aggressive player coming toward her, but she's played soccer her whole life," he said. "After I talked with the coaches about how they plan to use her, and what role she would be playing, I really have not been worried about her since."
On the football field, Mary Kate wears jersey No. 15 — the same number her dad wore as a quarterback at South Jones.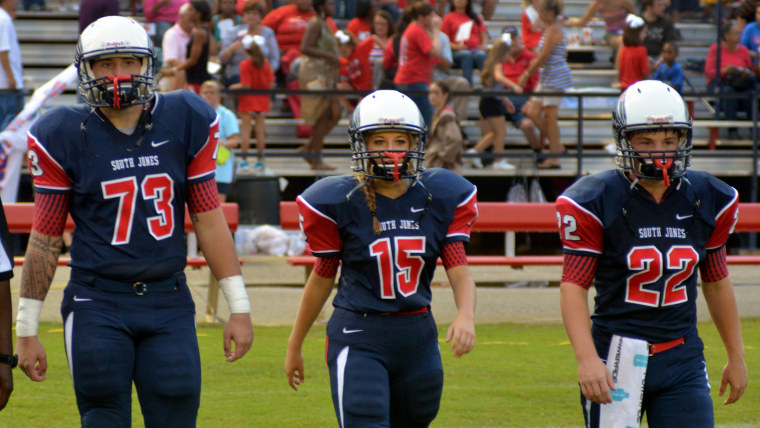 And although the team is winless this season, Smith has been a solid contributor, scoring on all but one of her field goal and extra-point attempts.

Smith admitted she was nervous about her first scoring opportunity. "I was freaking out," she said. "[Reynolds] was like, 'Mary Kate: Take a deep breath, and hit it just like in practice.' It was so loud and the band was playing and everybody was cheering, but as soon as he said that, I didn't hear anything else, and it just got real quiet. I just kicked that ball, and once it made it in, through the post, it was just crazy. All the guys were patting me on the helmet. It was really awesome."
Her father was equally thrilled. "I was anxious for her, in dealing with the nerves of it all," he said, "but once she kicked, I figured out that she knows what she's doing. So, now, I just sit back and enjoy watching her, feeling very proud."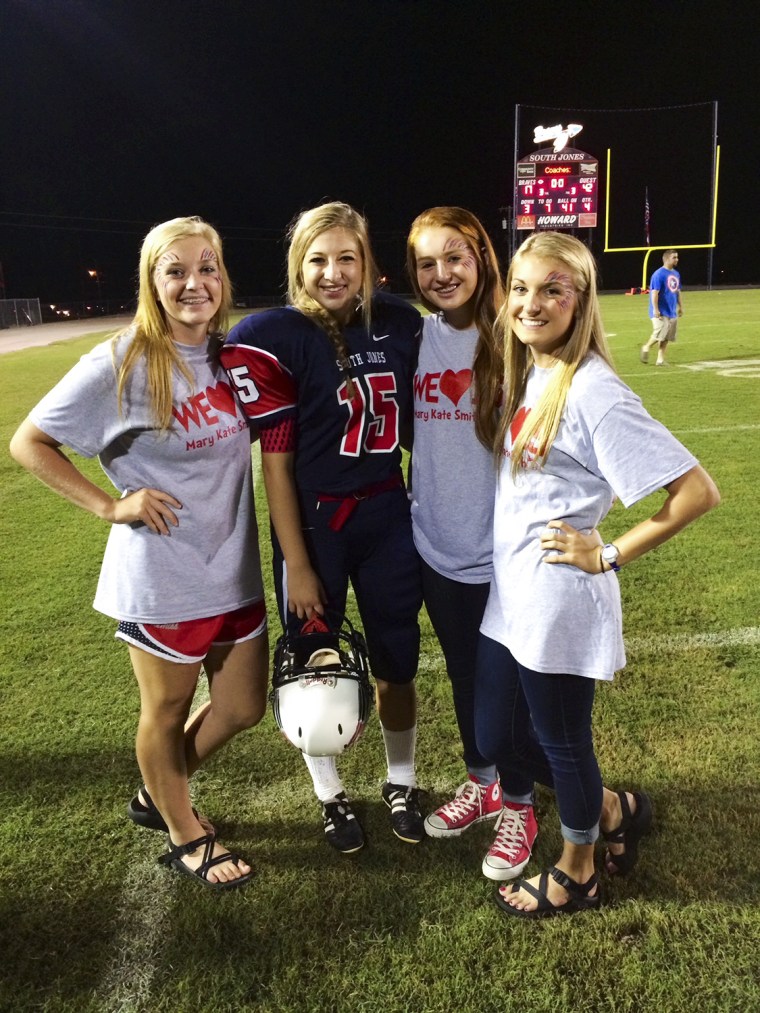 Jesse Smith said he and his wife, Jennifer, are elated by how the community has embraced their daughter. "Here, in the South, where traditional values are very traditional, we were a little concerned about how well she'd be accepted," he added. "We've been pleasantly surprised by the support that the community has shown her. We've got a renewed faith that things are equalized for her, and for girls like her."
Mary Kate Smith said her favorite athletes range from women's soccer legends (Mia Hamm, Abby Wambach and Alex Morgan) to football pros (Peyton and Eli Manning, Brett Favre, and Deion Branch, who began his college career at JCJC). And while she's prepared to play Division-I soccer next fall at the University of Southern Mississippi and considering a career as an orthodontist, she's still getting used to being a football hero at home.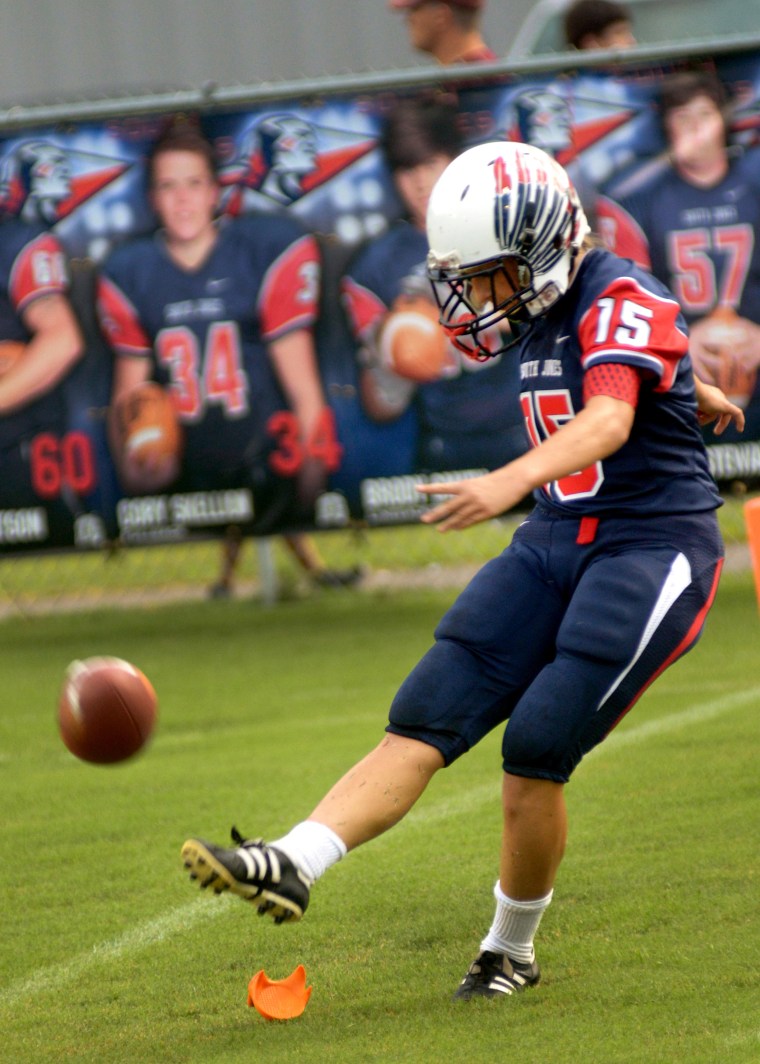 "I was running off the field during a break in the game," she said, "and two little girls ran up and said, 'Mary Kate, we love you! You're my hero!' I was like, 'Oh, my gosh! I love you, too.'"

Follow TODAY.com writer Chris Serico on Twitter.