Fossil Ridge High School quarterback Max Akin is usually getting attention for his moves on the field. But this time, it was for a play he made during halftime.
The 17-year-old Texas senior was recently named homecoming king by his classmates. After accepting the honor, Akin posed for photos with the homecoming queen.
Then he beckoned to one of his fellow nominees, friend and football team manager, K.L. Norwood, who has cerebral palsy. After Norwood walked over, Akin said a few words, bent down on one knee and turned over his crown.
"He gave me a hug, and then he said, 'I love you,' and then he gave it to me," Norwood told TODAY.
While unexpected, those who know Akin said they weren't surprised by the gesture.
"He's got a big heart. He treats everyone like that, which is why he gets along with everyone," said Fossil Ridge football coach Tony Baccarini. "He's just a great spirit."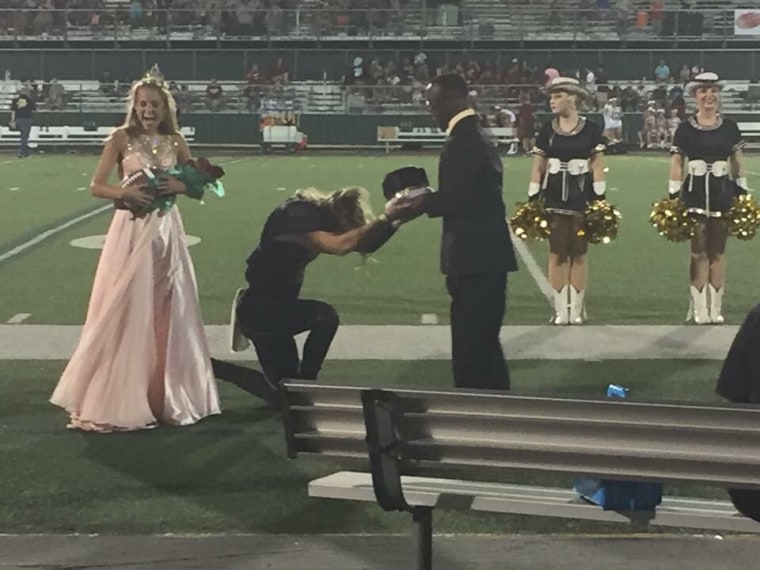 For his part, Akin was the only member of the royalty court who didn't make a plug for himself in a video clip the school shared with students. Instead, he told his classmates: "I think whoever positively uplifts this school the most should win."
Akin said that's why he turned over his crown to "my boy, K.L."
"It was a whole bunch of great guys," he told TODAY about the other candidates, "but I knew exactly who deserved the crown. As soon as I heard the nominees, I knew K.L. was the one who should get it."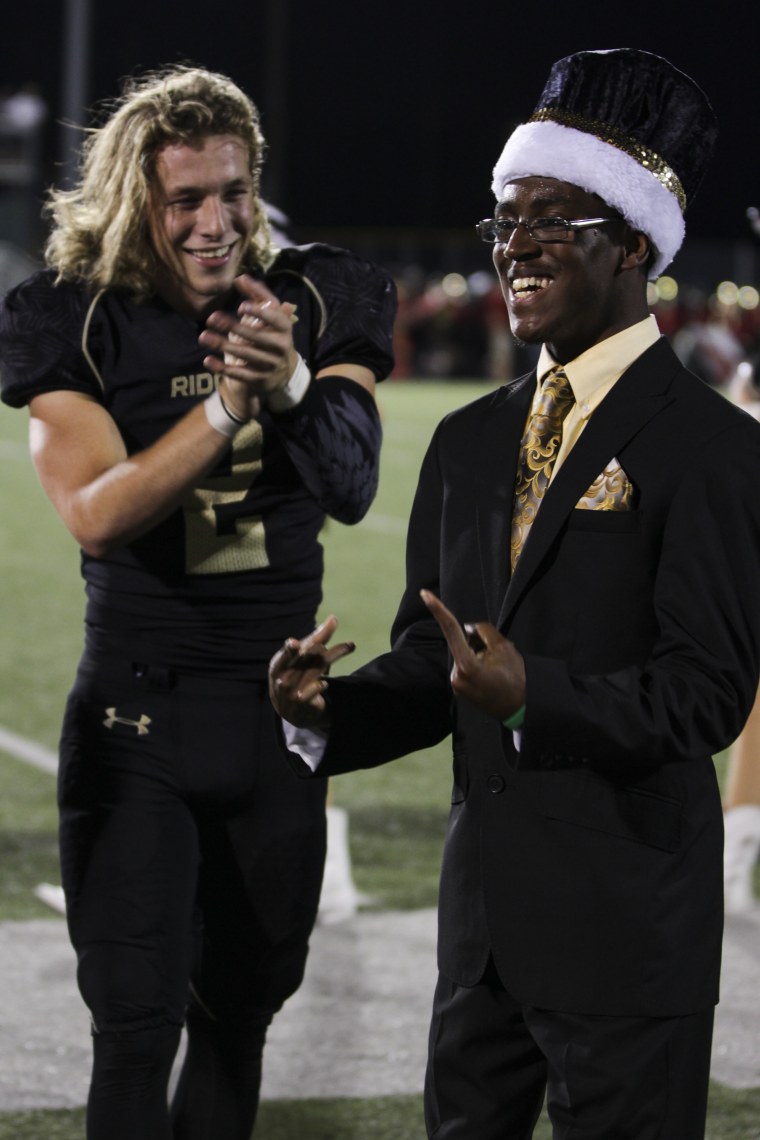 Akin said Norwood has the ability to lift spirits regardless of anyone's mood.
"K.L. is honestly the most positive guy I've ever met in my life," he said. "At practice, all the football guys love having him around because he'll laugh at your jokes and make you feel a lot funnier than you actually are, me especially."
But Norwood's popularity extends beyond the gridiron and locker room.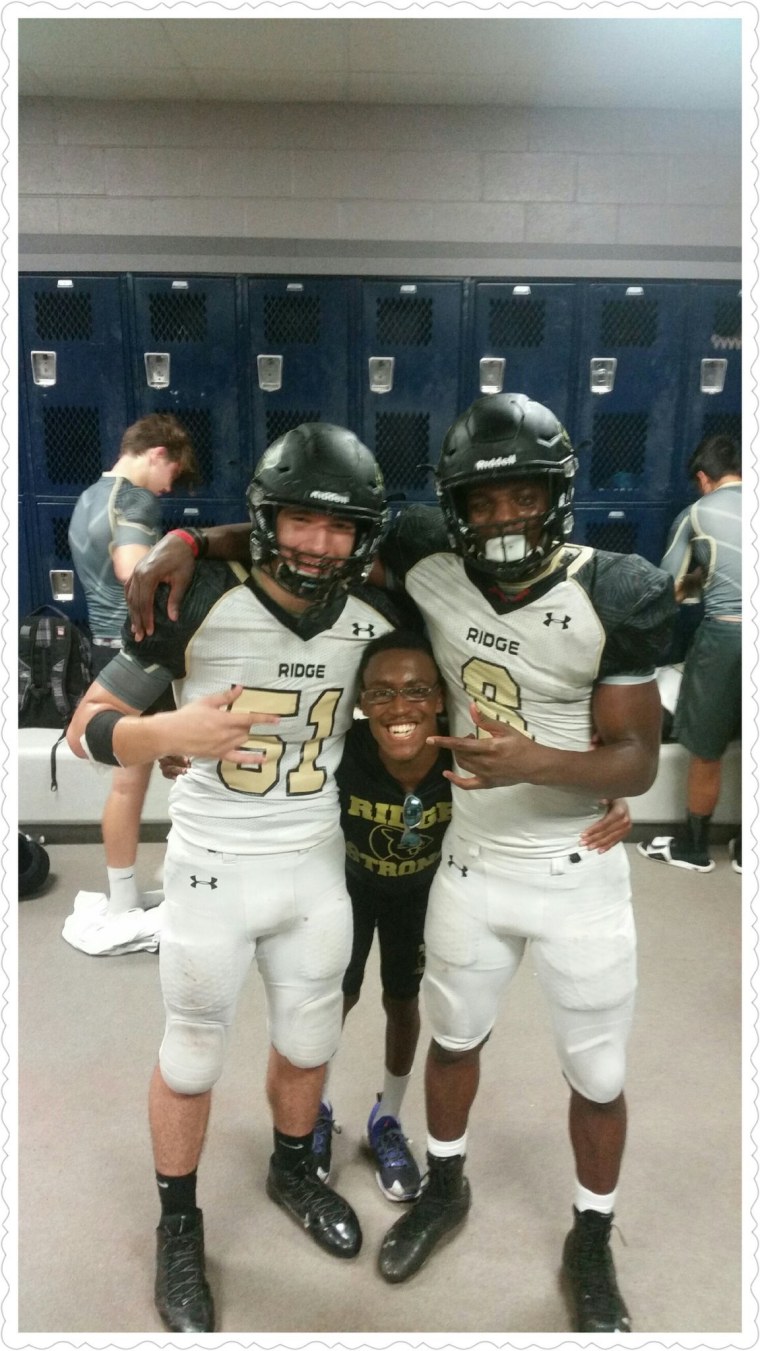 "Everybody in the school loves K.L," Akin said. "You see him walking down the hallway and he's shaking at least 12 hands at a time."
RELATED: Man with cerebral palsy motivates others with his YouTube channel
Norwood admits he was hoping for the crown but was certain Akin would get it.
"It was really exciting. I knew he was going to win from the get go, so I clapped for him," he said before describing the shock he felt when Akin turned over the crown.
"It was really nice of him to do that, and I'm actually glad he did but yes, it did surprise me," he said. "It made me really, really happy."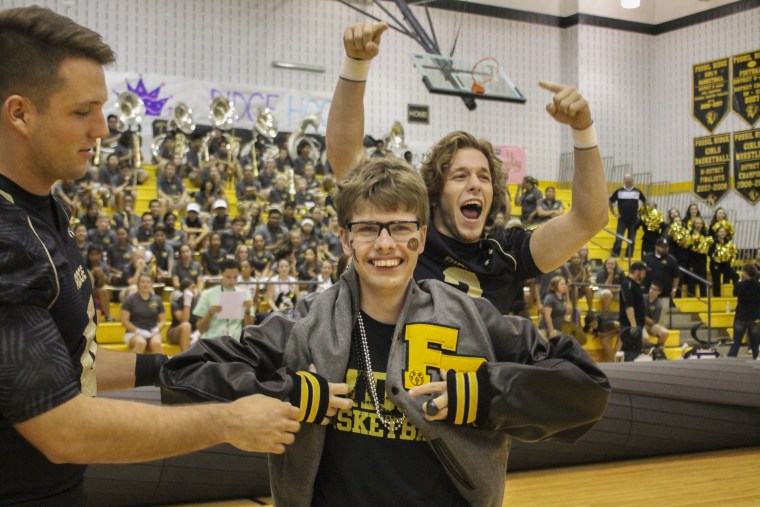 Akin tried to deflect attention from his actions by saying if there's a takeaway from what happened during homecoming, it should be a message about being kind to others.
RELATED: Mom grateful football player chose to have lunch with son who has autism
"If you spread a little bit of love and compassion around, that's all we really need and something lacking in today's world — a little bit of positivity every once in a while," he said. "As corny as it may sound, treat everyone as you deserve to be treated, just like K.L. does every day."
And as if Akin turning over his crown wasn't enough to show how he leads by example, the quarterback threw three touchdown passes and ran for two more by the end of the evening. He lead his teammates, once again, to a 40-12 victory in that night's game.
Follow Eun Kyung Kim on Twitter or Facebook.