Most people who have occasion to use a hole punch just discard the little paper dots that fall out of the tool, but artist Nikki Douthwaite saw something more in the colorful little circles.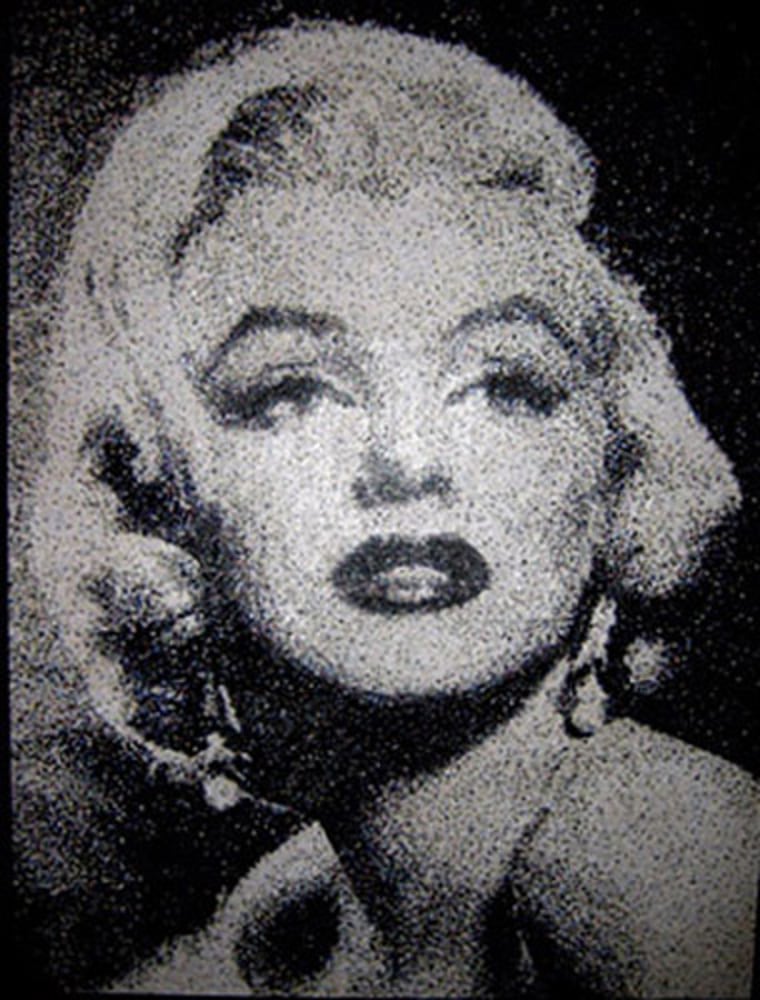 For the past three years, Douthwaite has been collecting paper dots, painstakingly sorting them by color, and crafting them into images of some of the world's most celebrated icons, including Marilyn Monroe, John Lennon, Jimi Hendrix, and Muhammad Ali. The work of the Manchester, England-based artist has been featured in galleries around the U.K., and recently, photos of her pieces wowed the Internet. (You can see more of Douthwaite's art on her site -- note that she's a big fan of Formula 1 racecar drivers.)
"The idea to use hole-punch dots came from studying pointalist artist (Georges) Seurat for my degree," Douthwaite tells NBCNews.com. "I don't really have a trick, just hard work and an obsession. Tweezering one dot on at a time and making sure the color mix is right before I start. I will often stick my hand in a bucket of 30,000 hole-punch dots and say, 'That needs more light purple.'"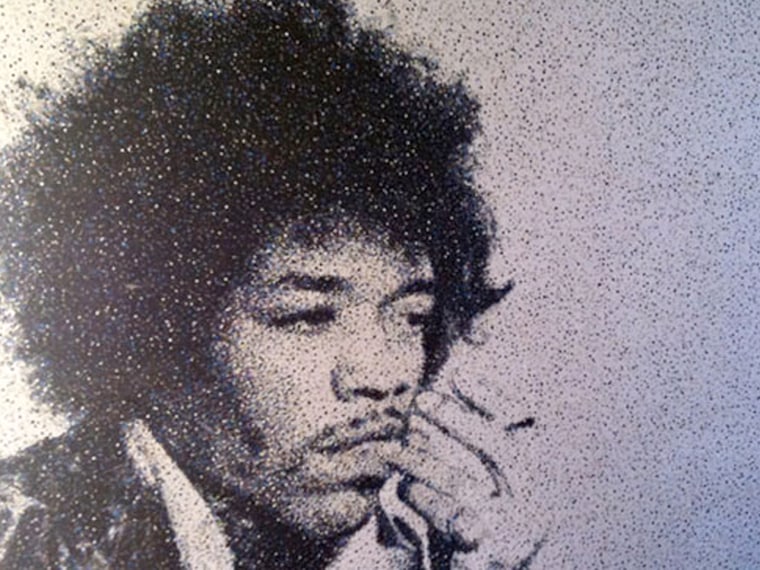 Each picture is inspired by a magazine photograph and takes anywhere from six to 15 weeks to create. For Monroe's image, she used approximately 100,000 dots, and for Hendrix, 140,000.
"The younger and prettier someone is the harder I seem to find it, as there tends to be less distinguishing features," says Douthwaite. "I find facial features really easy. I spent the most time on their hair, and making John Lennon's glasses look real. Marilyn's eyelashes were tricky, trying to make them visible without being over the top."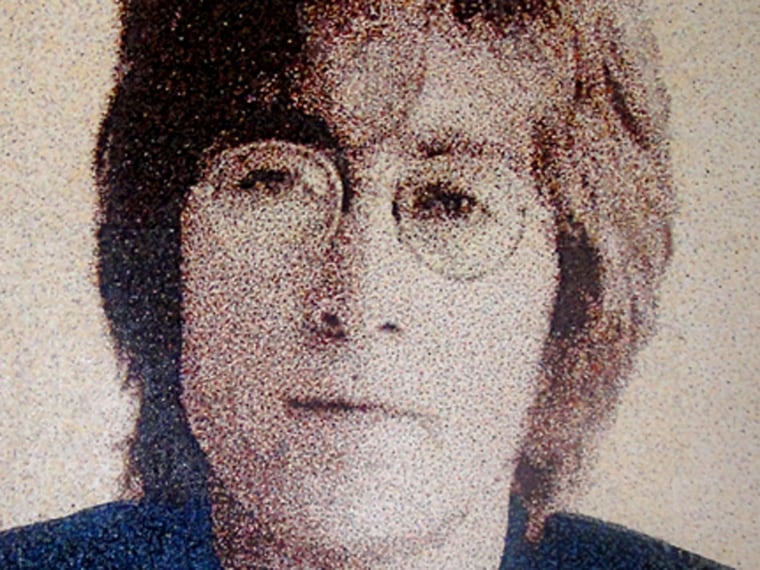 Many pieces of her work have been sold; some, like the portrait of Monroe, were commissioned. Hendrix's portrait went to a private collector, and Lennon's image has been shown in galleries worldwide, including at The Beatles museum in Liverpool. In the U.S., a portrait by Douthwaite is owned by Ripley's Believe It or Not in San Francisco.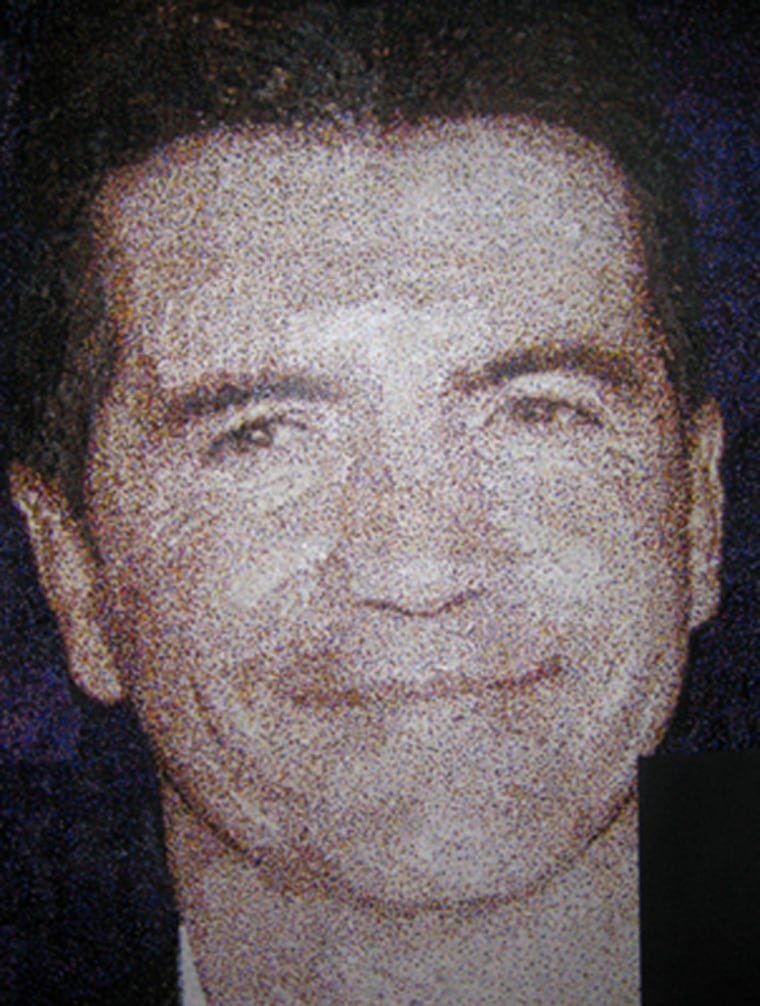 Of course, all artists have critics, and in a medium as unique as Douthwaite's, the commentary can be equally bizarre.
"People sometimes accuse me of blowing up huge photographs and pixelating them, then sticking dots over the top by matching the colors," the artist says. "Seriously, can you imagine how long that would take? I use the dots like paint. I do different colors for the feel of the picture, and there are thousands of colors in each piece."
She adds, "My house has constantly got dots spilled everywhere. My friends call me up and say, 'I have a blue dot on my shoe, do you need me to bring it back?'"
Marvel at artwork made from pennies, Oreo cookies, shoelaces, rubber bands, pumpkins, CT scans and — ummm — brightly colored vomit.