Hoda Kotb is back on TODAY!
She returned to the show March 6 after she had been away for the past few weeks to tend to a personal matter. The TODAY co-anchor told viewers that her younger daughter, Hope, 3, had been ill, but is back home now.
"My youngest, Hope, was in the ICU for a few days and in the hospital for a little more than a week," Hoda said at the top of the show. "I'm so grateful she's home. She is back home. I was waiting for that day to come. And we are watching her closely. I'm just so happy."
Hoda then got choked up while expressing how grateful she feels while discussing the matter with co-anchor Savannah Guthrie.
"You know what I realized, too, Savannah? When your child is ill, the amount of gratitude you can have for people who helped you out," she said.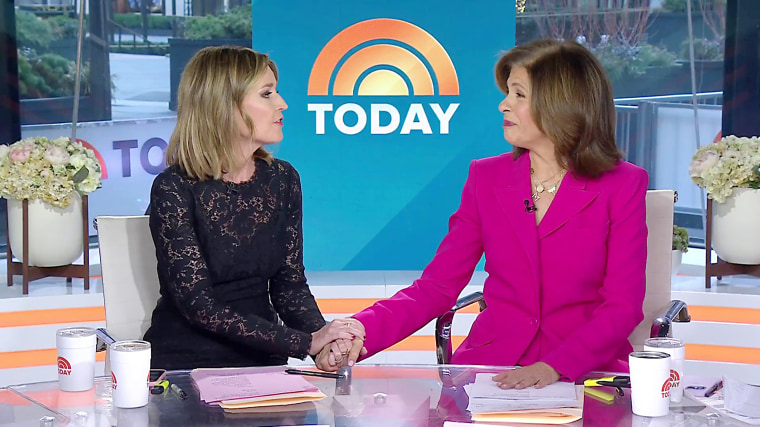 "I'm grateful for the doctors at Weill Cornell who were amazing and the nurses. And I'm grateful to my family, and I'm grateful to friends like you who were there every single day. So, I want to say thank you for that. I love you."
"I love you, too," Savannah replied.
During TODAY with Hoda & Jenna, Hoda described the ordeal as "really scary," and reiterated how happy she is now to have Hope out of the hospital.
"I'm over the moon that she's home," she said. "And I can't believe how amazing people are. Like, that's the thing I learned through all this; the nurses who stood by her all the way, the nurses who checked on her constantly, the doctors who came in, the people who took care of us. And I felt like we were held."
Hoda also said she had to take a step back to realize her good fortune.
"Sometimes, you talk about gratitude, and then when you're pushed to the limit, you're like, 'Do I feel it?'" she told fourth hour co-host Jenna Bush Hager.
Hoda, who also showed off a little pendant a friend gave her that she now wears around her neck that says "God's got this," added she now can relate to the anxiety that comes with having a sick child.
"I feel blessed and grateful: really, really, really grateful," she said. "And, also, anyone who's ever gone through an illness with a child, boy, I thought I understood you, but I didn't, until you're sitting in that position."
On March 1, TODAY addressed Hoda's absence.
"As for Hoda, we know some of you are wondering how she's doing," Craig Melvin said. "We can tell you, Hoda's OK. She's got a family health matter she's been dealing with."
Hoda's absence coincided with Savannah taking a break from the show, as well. Savannah tested positive for COVID-19 on Feb. 28 and left the anchor desk in the middle of that day's broadcast.
"Savannah left early, she wasn't feeling great, so she took a COVID test," Sheinelle Jones said at the time. "It came back positive. So, as soon as we found out, she rushed home to rest up. So Savannah, we love you."
"We look forward to seeing (Hoda) and Savannah back here soon," she said March 1.