Hoda Kotb has been named the co-anchor of TODAY, making her official debut Tuesday just after an announcement by NBC News Chairman Andy Lack.
Kotb, 53, will join Savannah Guthrie at the anchor desk during the first two hours of the morning news program. She also will continue to co-host TODAY's fourth hour with Kathie Lee Gifford.
"It's 2018 and we are kicking off the year right because Hoda is officially the co-anchor of Today," Guthrie announced after the program's opening announcement featuring Kotb's name for the first time. "This has to be the most popular decision NBC News have ever made and I'm so thrilled."
After the pair replayed the opening program, Kotb noted her name was "pronounced right and everything."
"I'm pinching myself," she said.
"You are a partner and a friend and a sister and I am so happy to be doing this," Guthrie added.
Kotb, who joined NBC News in 1998 as a correspondent for "Dateline," has been a frequent substitute in the TODAY anchor chair over the years. She became a fixed presence in the spot after Matt Lauer was fired as TODAY anchor on Nov. 28 following allegations of sexual misconduct by a female colleague. When Guthrie announced the following morning that Lauer had been dismissed, Kotb was by her side.
"Over the past several weeks, Hoda has seamlessly stepped into the co-anchor role alongside Savannah, and the two have quickly hit the ground running," Lack said in an email Tuesday to staff. "They have an undeniable connection with each other and most importantly, with viewers, a hallmark of TODAY."
"Hoda is, in a word, remarkable. She has the rare ability to share authentic and heartfelt moments in even the most difficult news circumstances. It's a tribute to her wide range and her innate curiosity," Lack said.
Kotb and Guthrie, who has co-anchored TODAY since 2012, will be the first pair of women to anchor TODAY, although they are not the first all-female morning show duo. (ABC News' Diane Sawyer and Robin Roberts co-anchored from 2006-2009.)
Kotb began her news career with reporting and anchoring positions for broadcast stations in New Orleans and Fort Myers. She became the co-host of the TODAY fourth hour with Gifford in 2008. She also hosts "The Hoda Show on SiriusXM."
In 2017, Kotb announced her adoption of a baby girl. Her daughter, Haley Joy, serves as the inspiration of her upcoming book, "I've Loved You Since Forever."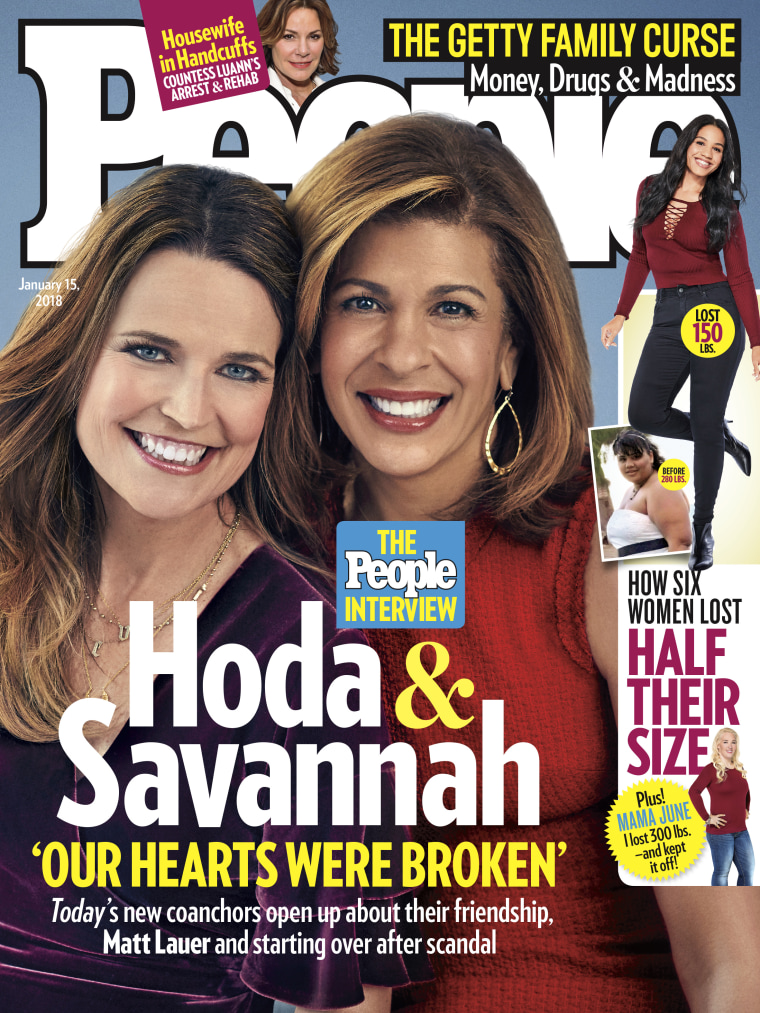 In the upcoming issue of People magazine, Kotb said NBC executives offered her the co-anchor position just before the holidays.
"Weirdly it doesn't feel like the headline because we've worked together for a long time," she said.
In their joint interview with the magazine, Guthrie said "we're grateful to NBC for not having some old fashioned notion" about what an anchoring team should look like.
"I think they looked at it and said, 'Why would you change this? This is working, it feels good,'" she said.
The new TODAY anchors also discuss their friendship and the synergy they share.
"When you click with someone, man, woman, it doesn't matter. If it works, it works," Kotb said. "We're sort of like sisters."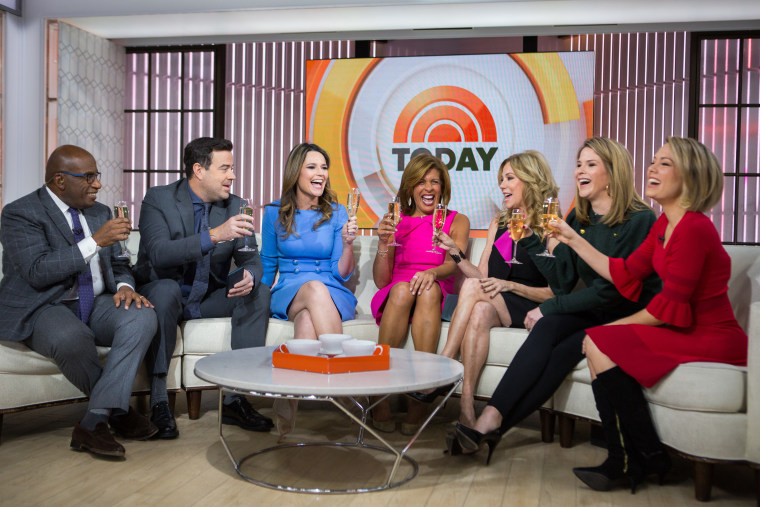 The new TODAY anchors, along with their colleagues, toasted the news with champagne at the end of the second hour.
"I wish everybody could see how everybody's been loving up on Hoda, giving her hugs. Everyone is so thrilled and deservedly so," Guthrie said. "It speaks to the kind of person that you are. This is a new day on TODAY and there is so much to celebrate. What a beautiful family."