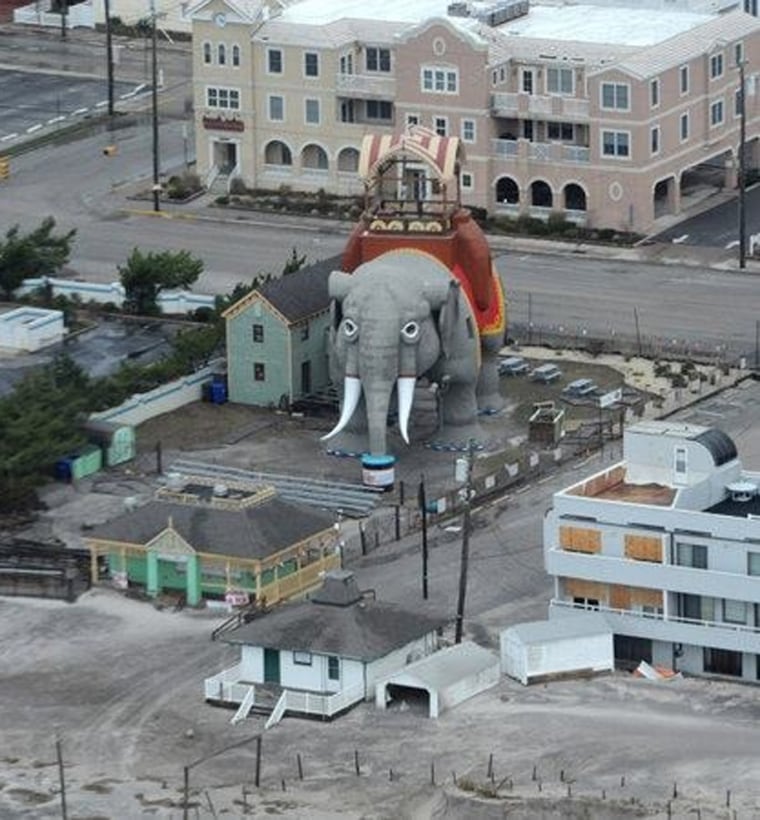 Her toes got wet and her parking booth was blown over, but New Jersey landmark Lucy the Elephant is still standing after superstorm Sandy — as she has been for more than 131 years.  
"I am very pleased to report that there has been no structural or water damage to Lucy the Elephant," the landmark's executive director Richard D. Helfant posted to the historic structure's Facebook page on Wednesday.
Lucy's fans were nervous about the six-story building's fate during Sandy's onslaught, but Helfant assured them she would survive another storm. After all, she made it through the similarly devastating Ash Wednesday storm of 1962.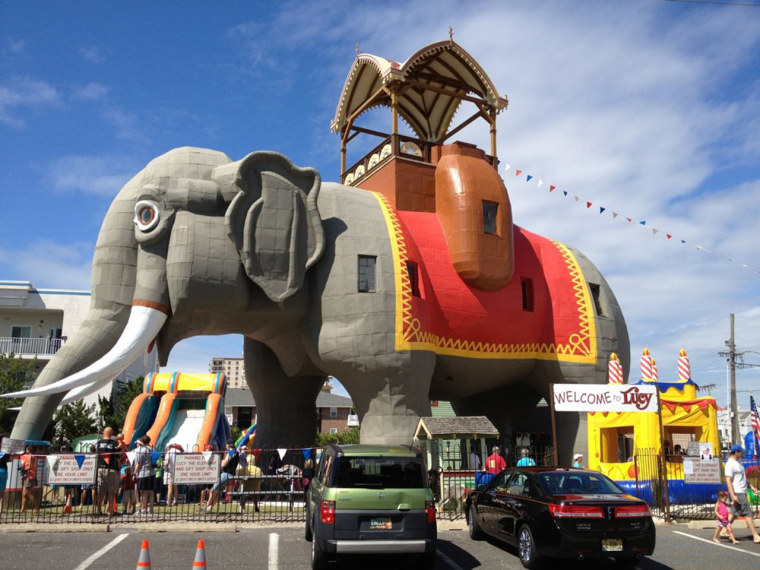 "She is a stronger structure today than she was in 1962 during the March storm," Helfant wrote. "Her main 'superstructure' is now steel; it was wood in 1962."
Lucy is also farther away from the shore line than she was in the '60s. And today, the I Love Lucy Beach Grill sits in front of her, acting as a protective barrier against waves creeping in from the coastline.
"I think she could tell all of us a few stories about past storms. She's a strong old gal!!" Phyllis DePrinzio Bonner commented on Facebook.
Built in 1881, Lucy is billed as America's oldest roadside attraction and "the largest elephant you can walk through and come out alive."
After making it through Sandy, we're hopeful she'll be around for another 131 years.   
More:
Amid Sandy's aftermath, acts of kindness abound
Meet the team who's 'unwatering' NYC tunnels
NYC Marathon CEO: It will help bring city together
Share your photos with us 
We want to see the people that helped you during this time of crisis. Post pictures on Twitter or Instagram by tagging them #NBCNewsPics or upload photos using the form below. Use the caption or Tweet to explain why the person is a hero. Click here for more information.