The first Republican debate provided the nation with some entertaining television, and we're not just talking about the tough moderators.
Donald Trump continued his trend of grabbing the most air time, despite sharing a crowded stage Thursday night with nine other candidates. But some of his answers simply raised more questions. We answer those, as well as address some other debate moments that left many viewers puzzled.
Did Hillary Clinton really attend Donald Trump's wedding?
Yes, she did — and Trump said it was because she felt obligated because of donations he made to both her Senate campaigns and to her family's Clinton Foundation.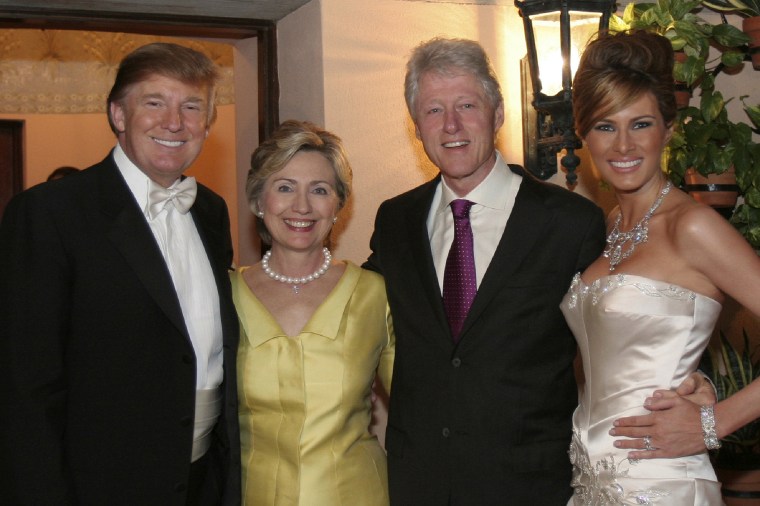 "I'll tell you what, with Hillary Clinton, I said, 'Be at my wedding,' and she came to my wedding," Trump replied Thursday. "You know why? She had no choice. I gave to a foundation that frankly, that foundation is supposed to be used for good. I didn't know her money would be used on private jets all over the world."
RELATED: Donald Trump rates his GOP debate performance
Clinton went to Trump's third wedding, in 2005, to his current wife. Former President Bill Clinton didn't come to the service, but attended the reception afterward, Politico reported.
Why did Trump single out Rosie O'Donnell?
When asked during the debate about calling women "fat pigs, dogs, slobs, and disgusting animals," Trump interrupted to clarify.
"Only Rosie O'Donnell," he said.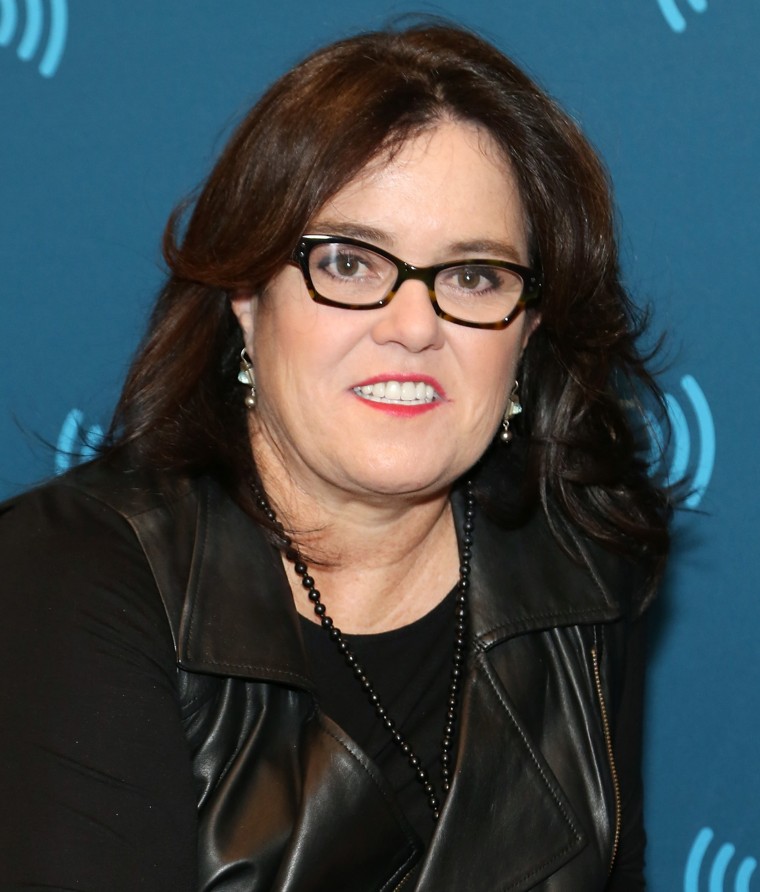 Trump has a history of getting into feuds — mainly over Twitter — with many people, the comedian among them.
It appears to date back to 2006 when O'Donnell called Trump a "snake-oil salesman" for failing to fire a controversial Miss USA contestant over drug claims. Trump later shot back, referring to O'Donnell as "fat little Rosie" and a "real loser."
The pair has not let up since, with each calling the other bullies.
Trump didn't shy away from his comments the morning after the debate.
"The biggest applause of the evening was when I mentioned the name Rosie O'Donnell," he told TODAY's Savannah Guthrie in a phone interview Friday. "The place went wild. There was the loudest applause of the evening. People got a big kick out of it."
What was up with Chris Christie's green wristband?
A newspaper columnist from Christie's state of New Jersey called the neon rubber bracelet "distracting" and reminiscent of the popular 1980s group, "Frankie Goes to Hollywood," but there was a serious reason why Christie went green.
The bracelet represents support for Maryland's governor, fellow Republican Larry Hogan, who was recently diagnosed with advanced form of cancer.
The bands are raising awareness for non-Hodgkin's lymphoma, for which Hogan is currently undergoing treatment.
Christie has called Hogan a "dear friend" and has pledged to continue wearing his "Hogan Strong" wristband until the Maryland governor's condition improves.
Who had the most talk time? The least?
Ben Carson knew he wouldn't be a big focus of the evening, so when he got asked a second question nearly half an hour after his first, he quipped: "I wasn't sure I was going to get to talk again."
Yet, Carson had more air time than three other opponents — five, depending on whose stopwatch you used.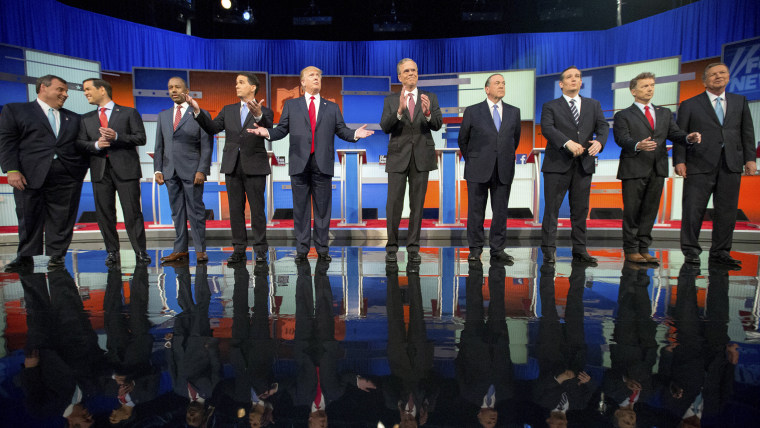 No surprise, Donald Trump grabbed the most airtime, speaking for about 10 minutes, 30 seconds, according to both the Washington Post and NPR's political editors. Bush came in second, with roughly 2 minutes less, both accounts reported. At the bottom in descending order were Chris Christie, Scott Walker and Rand Paul — whose pithy answers helped limit his air time.
Carson came in fourth from last, according to the Post, while he tied with Ted Cruz for fourth highest in NPR's count.
Why did the debate have such a large crowd?
It's understandable if some of the Republican candidates may have felt as if they were at a rock concert instead of a political event. The Quicken Loans Arena, known as "The Q" in Cleveland, is huge. Home to the NBA's Cleveland Cavaliers, the arena also will host next year's Republican National Convention. The large, raucous crowd that filled seats Thursday night had no problem cheering on, and sometimes booing, answers provided by the candidates.
Fox News moderator Bret Baier noted he expected the big crowd "to be enthusiastic" as he opened the debate, but "we don't want to take anything away from the valuable time for the candidates."
He continued: "So, we're looking for somewhere between a reaction to a LeBron James dunk and the Cleveland Public Library across the street."
Follow TODAY.com writer Eun Kyung Kim on Twitter.