After a disturbing racial slur showed up on a rock outside a South Carolina high school this week, an art teacher took matters into her own hands, rallying students to quickly combat the hateful language—all in the span of a class period.
Early Sunday morning, a custodian found a derogatory message about Black History Month scrawled in spray paint on the "spirit rock" of South Pointe High School in Rock Hill, S.C., and quickly covered the slur with black spray paint. Even so, photos of the rock with the hateful speech had already begun to circulate on social media.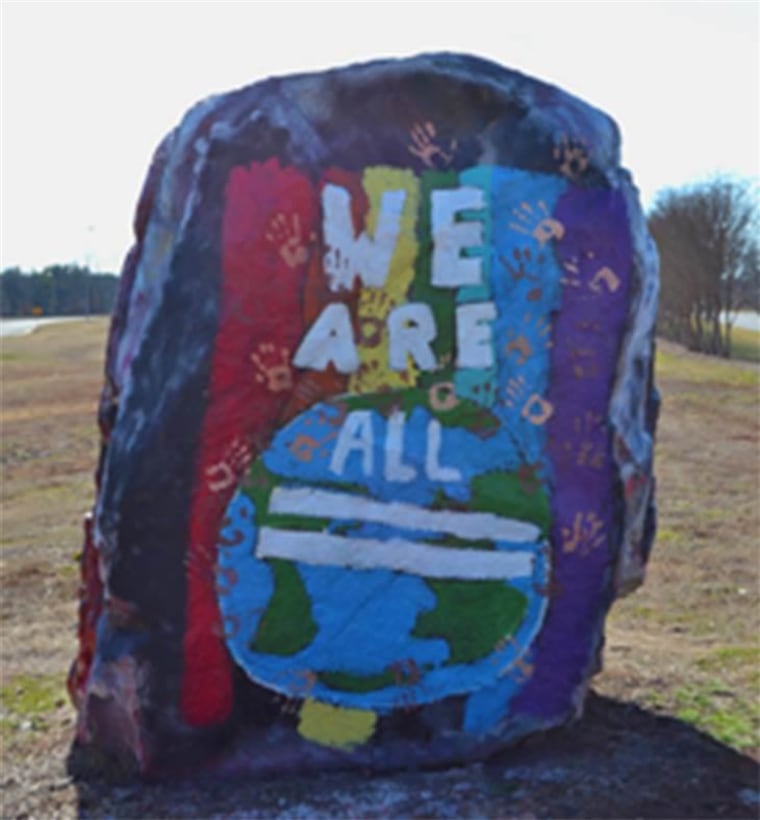 Art teacher Ashley Beard learned about the incident on Monday morning from an e-mail sent to faculty members, and quickly sprung into action. After learning that the rock—which students often paint for sporting events or birthdays—was now a solid color, she realized it was an opportunity: "I said, 'We have a blank canvas out there!'"
With the help of three Advanced Placement senior art students, who had about 10 minutes to put together a plan and another hour to pull it off, Beard transformed what had been a hateful slur into a message of hope.
The result: a rainbow-striped rock with a clear message that read "We are all equal" (represented by an equals sign) in large block type.
The events come at an emotional time in the community: Just last week, a judge overturned the convictions of the "Friendship Nine," a group of black protesters who were arrested and jailed for a sit-in at a "whites only" lunch counter in Rock Hill, S.C., in 1961.
Beard's classes had already been discussing civil rights recently in light of the court case.
"It seemed like the logical thing to do—fight the hate with art," she says.
The teacher, who has been at the school for 10 years, said she believed social media worsened the unfortunate situation. "I hate that students were passing around that image—they were doing exactly what the vandal wants us to do: give exposure to that message of hate. It was part of our motivation to have people circulate a positive image."
Senior Andrew Swiger, 17, one of the art students who re-painted the rock, says the design helped shift the mood of the student body. "Before people realize what we did, people were very angry about what happened. Later on, a couple people congratulated me and thanked me for correcting the rock."
Swiger, who plans to pursue a career in graphic design, says this week will have a lasting impact on him. "I knew art influenced people through emotion, but I didn't know just a simple painting on a school spirit rock could move an entire community."
As for the general feeling in the city, Swiger adds that he does not believe the slur incident was a step backward. "In the long run, somebody, somewhere will try to invoke a little hatred and try to make someone feel bad. We're here to take that in stride and show that we can be the better person. For every step back, there are two steps forward."
The school district said in a statement that there are outdoor surveillance cameras at the school and police are investigating the original graffiti.
This article was originally published Feb. 4, 2015 at 1:06 p.m.