/ Source: TODAY contributor
At first blush, 13-pound Chi Chi seems little different than the typical temperamental Chihuahua riding as an accessory in a celebrity tote bag. Even his owner admits everyone thinks of him as a bit of a pest.
But no longer. By sounding a yipping alarm on a North Carolina beach, Chi Chi likely saved the lives of two senior citizens overcome by waves — and was crowned Reader's Digest Hero Pet of the Year in the process.
Chi Chi appeared humble — if a bit standoffish — in his national TV debut Tuesday, appearing on Rockefeller Plaza as his owners, Rick and Mary Lane, told TODAY's Matt Lauer and Ann Curry how their pint-size prize rose to the occasion in a big way when danger loomed.
Sound of alarm
Mary Lane said it was a typical day at the beach for the family last October. She and Rick were relaxing on beach chairs at Indian Beach on North Carolina's Outer Banks while Chi Chi rested on his own chair — restrained, of course, since he tends to chase after other beachgoers.
"He leapt out of his beach chair, still attached, dragging the beach chair, and he started sending out an alarm," Lane told TODAY. "He was making a sound we never heard before. Rick said, 'Hey, what's the matter with the dog?' "
It turned out nothing was the matter with Chi Chi — but there was danger some 100 yards down the beach, where Mary Lane spotted a horrific sight.
"There was a storm surge, and there were two elderly ladies — one had fallen on her back headfirst into the surf," she said. "The other lady — a little bitty lady about 90 pounds — was trying to hold her head up, and she was in danger of being washed out."
The Lanes rushed to pull the ladies out of the riptide, and after determining the pair were shaken but otherwise fine, returned to their spot on the beach — to find Chi Chi happily sleeping in doggy dreamworld in his chair.
The Lanes were amazed that their pampered pet could sound an alarm of danger, bellowing out strange yips that "would not let us ignore him," Mary Lane said. And readers of Reader's Digest were so impressed by Chi Chi's story they voted him Hero Pet of the Year.
The alert Chihuahua pulled in 31 percent of the vote over a field that included another dog, a cat, a parrot and a horse — all of which had performed potentially life-saving acts. You might think that would be enough to earn Chi Chi at least a pat on the head from Lauer and Curry, but they kept their distance — the Lanes advised them Chi Chi tends to snap if he feels threatened.
And, as if to prove the point, Chi Chi bared his teeth ominously at the hosts of America's favorite morning show.
Chi Chi can perhaps be forgiven his temperament in light of his early life: He was rescued as an abused dog by the Lanes' niece when he was just a pup. Now he's a local celebrity in the Lanes' native Greensboro, with newspaper coverage and his gray-white mug posted in his veterinarian's office. "Everyone recognizes him," Mary Lane said with pride.
Animal heroesChi Chi's story was just one of many moving stories of animals repaying the love lavished on them that Reader's Digest profiled in its Hero Pet of the Year contest.
For example, Vivian, La., quarter horse Sunny Boy proved his mettle when his owners came face to face with a snarling, 75-pound pit bull. Chloe-Jean and Kristen Wendell were riding in a local festival when the pit bull ran out of the crowd — spooking Kristen's horse, Angel, so much that Kristen dismounted for fear of being thrown. Chloe-Jean dismounted Sunny Boy to help protect her sister — but as it turned out, Sunny Boy had the situation in hand.
As the pit bull prepared to pounce on Chloe-Jean, Sunny Boy leapt between them, kicking the dog square in the face. The dog was captured and later euthanized, but dad Mark Wendell says he still shakes his head in wonderment at how Sunny Boy protected his daughters. "I've been around horses all my life and have not seen one take on another animal like that."
Then there's Denver, Colo., parrot Willie, who is rarely at a loss for words. He calls his owner Megan Howard "Mama" and isn't bashful about asking for a kiss. But he learned a new word on the spot that turned out to be a life saver.
Howard was baby-sitting her roommate's 2-year-old daughter, Hannah, when she made a quick trip to the bathroom — but within seconds, she heard a tremendous commotion in Willie's cage. Willie was screeching, "Mama, baby! Mama, baby!"
Howard dashed out to find the tot turning blue from choking on a Pop-Tart. After dislodging the food from Hannah's throat, she took a moment to reflect on what her parrot had done. "He was clearly trying to get my attention," Howard told Reader's Digest. "He's loud and talkative, but what really amazes me is that he added the word 'baby' on his own."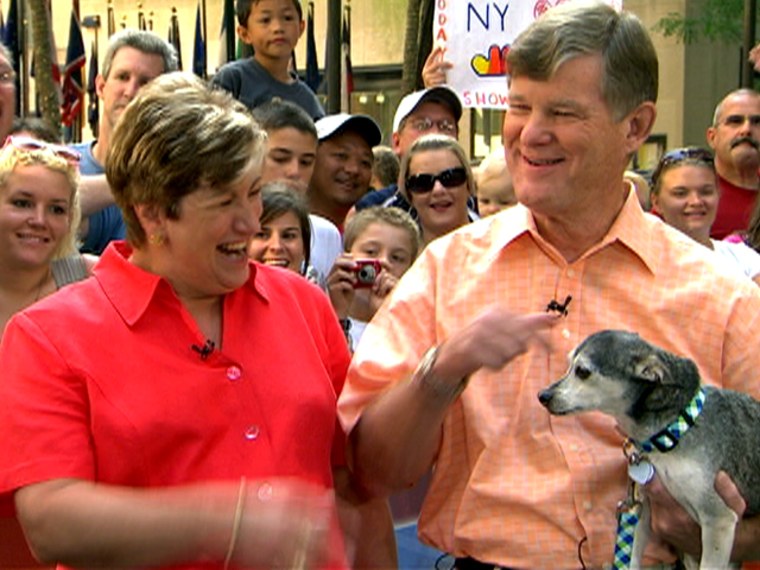 Not to be outdone, Waukesha, Wis., terrier-poodle Oscar was a rescue dog, but he ended up coming to the rescue of his owner Ron Gillette. Gillette, a diabetic, got up in the middle of the night with his blood sugar level sinking to dangerous levels, and fell awkwardly in the bathroom.
Gillette was barely conscious, but heard Oscar "let out sounds like a wild animal — honestly, it sounded like the dog from hell." Ron's wife Ann was awakened by the howls and found her slumping husband; she called an ambulance and Ron was rushed to the hospital.
Gillette made it through his medical ordeal in good shape, thanks to an alert pet pooch. And afterward, they decided Oscar was just too ordinary a name for a dog of his stature. They rechristened him Eduardo.
And cats can be heroic, too. New Castle, Ind., kitty Winnie usually whiles away the hours curled up on the Kessling family windowsill, but leapt into action when danger loomed. A pump the family was using to suction out a flooded basement was leaking carbon dioxide, and when the family's heating system kicked in on a cold night, it sent toxic gas streaming throughout the house.
The family was sleeping unawares, but Winnie sounded the alarm. "Winnie jumped from her window perch right onto me, meowing like crazy and scratching at my hair and face," owner Cathy Kessling told Reader's Digest.
A groggy Kessling managed to rouse her husband and when she ran downstairs to call 911, found her son lying facedown on the floor. The family was hospitalized overnight, but happily lived to tell the tale of their guardian angel of a cat. "One of the rescuers said that we could've been dead in five more minutes," Kessling said.