/ Source: TODAY contributor
The young woman sat in a wheelchair, her feet swaddled in special bandages for burns, her right arm and hand also heavily bandaged. Snuggling under her left arm was a 5-year-old boy who looked up at her frequently and from time to time caressed her fingers.
This was Friday morning, three days since the boy, Aden Hawes, had last seen his nanny, Alyson Myatt. Which was just after she had run barefoot through a wall of flames to save his life.
"I love her so much," Aden told TODAY's Ann Curry Friday from Kentucky's University of Louisville Hospital, where the heroic nanny is recovering from burns she received during the courageous rescue. "I miss her when she's gone."
Life saverThe words made the 22-year-old Myatt smile and choke back a tear or two. That was something she found herself doing frequently as she recounted how she awoke Tuesday morning to find the house on fire and Aden trapped in his room with flames running through the carpeted hallway outside his door.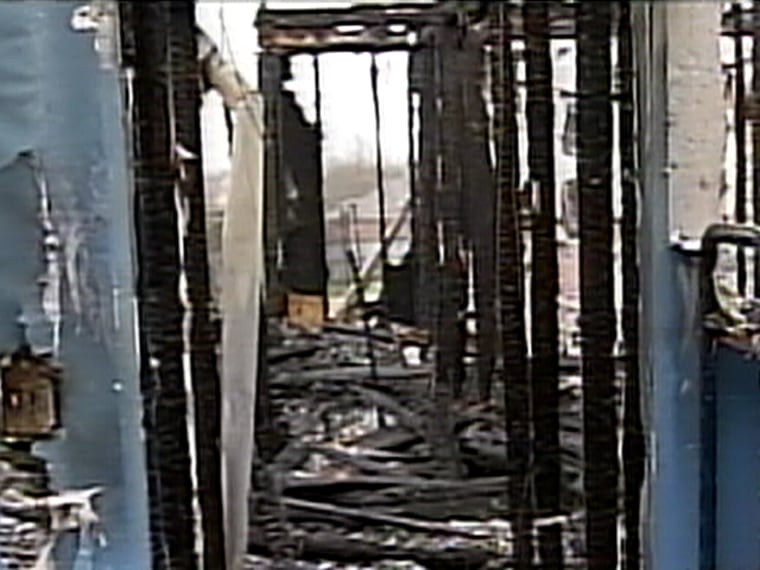 Fire officials said there's no question that Myatt's fearless actions saved Aden's life and allowed him to come through the experience unscathed.
J.B. Hawes, a single parent who hired Myatt two months ago to be a live-in nanny, joined her and Aden at the hospital and choked back some tears of his own. He had been in Minnesota on business when the fire broke out and rushed home Tuesday.
"I came straight to the hospital and saw her on the bed," Hawes said. "To realize what she did, saved my son's life, you can't thank someone for that. There's nothing you can do to repay them for taking that kind of a risk."
Hall of flamesAround 3 a.m. Tuesday, a broken ventilation fan in an upstairs bathroom had overheated and caught fire. Myatt, whose room was in the basement of the house, doused the small fire with water and called Hawes to report the problem. Both agreed that as the fire was out, there wasn't any cause for concern.
But at 6 a.m. Myatt awoke to a crashing boom and wailing smoke alarms. The booming sound was that of the fan falling out of the ceiling and hitting the floor after catching fire again.
Myatt jumped out of bed and rushed upstairs in her bare feet.
"I just saw flames all down the hallway and the bathroom door was on fire, because I hadn't shut the bathroom door before this big fire, so there was no way to avoid the flames," Myatt told Curry. "But before I had even looked at the fire or anything, I was yelling for Aden. He said he was in his room underneath the covers."
To get to him, Myatt had to run through the burning carpeting with nothing on her feet.
"I didn't even think about me getting hurt or getting burned," Myatt said. "I really didn't even think that I was barefoot. I was just yelling for Aden and I ran and got him. All of it happened really quick."
"To physically run through flames is heroics to the nth degree," Shelbyville Fire Chief Willard Tucker told The Courier-Journal newspaper. "To make a choice to charge right through flames is kind of above what are normal heroics."
When she got to carpet that wasn't burning, Myatt realized that her feet were in pain she described as excruciating.
"It was like I was walking on goo 'cause all the skin. My feet were just burned off," she told NBC affiliate WAVE 3 in Louisville.
Myatt didn't have time to think about it, though. The flames were advancing and she still had to get out of the house and call the fire department.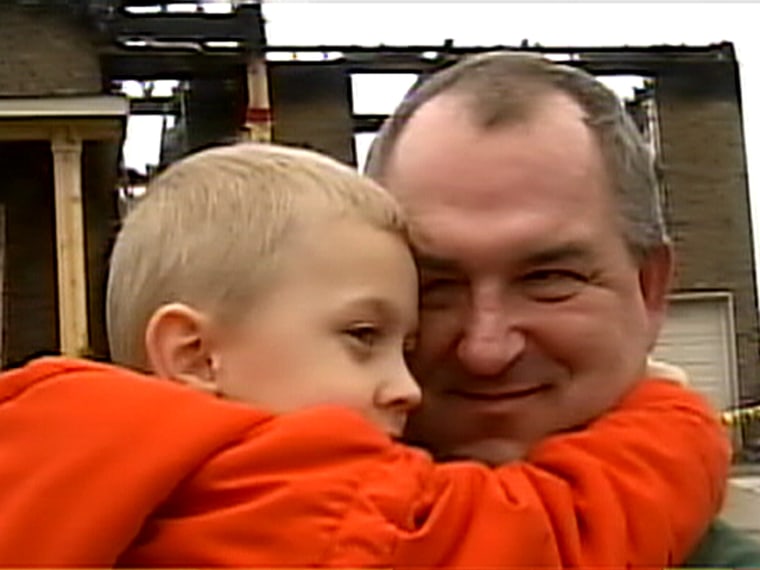 "We just went down the steps. I just grabbed my purse. I was thinking, 'Oh, man, I dropped my cell phone. Now I can't call anybody,' " Myatt said. "I jumped in the minivan, got Aden in and whatnot, and went to Lucy's house, a neighbor down the street."
She worked the pedals with her toes, which weren't as badly burned as the soles of her feet. On the way to the neighbor's, Myatt explained to Aden that he would have to get out of the van, run to the door and keep ringing the doorbell until somebody came to the door.
"That's what he did, and he was very brave," Myatt said. "He got out of the van as soon as I opened the automatic door and ran up there and rang the doorbell until Lucy came."
No time to spareIf Myatt had called the fire department and waited for them to rescue Aden, the boy would be dead, Chief Tucker said.
Aden's father told Curry that officials told him that Myatt's rescue came literally in the nick of time. "There was only one minute left," Hawes said, before the flames would have ended Aden's life.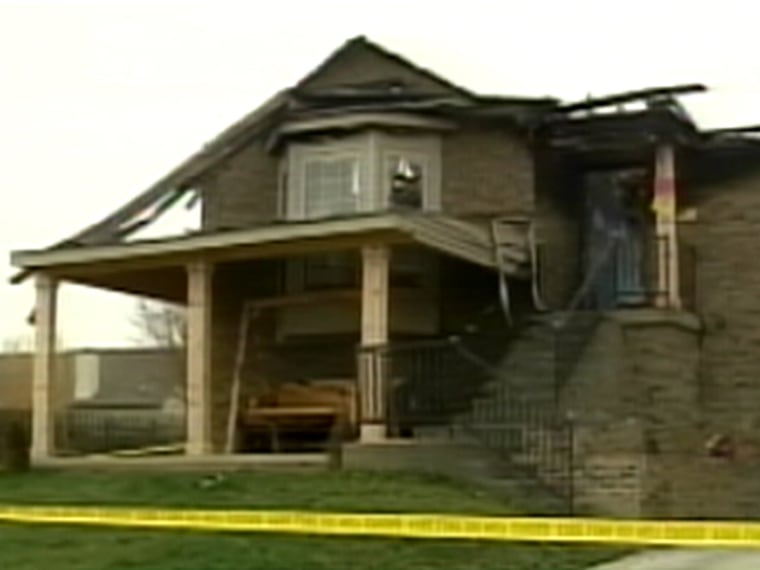 Pictures of the house show a forest of charred studs where the upstairs hallway and Aden's room used to be. The entire upstairs was consumed, and the house looks like a total loss.
"There's no words to put how grateful I am to have my son with me, how grateful I am to have Alyson in our world, and it's just one of those things you can't put any value on," Hawes said. "There's no price to be paid. It's a debt that will never be able to be repaid."
Hawes said he had interviewed five other candidates for the nanny's job before Myatt.
"Her and Aden just clicked right away and got along. I just followed my instincts," he told Curry. "She had impeccable references. She moved in and just started taking over to help me out with him. God brought her into our world, that's for sure."
Aden said he is looking forward to doing puzzles with Myatt again and reading books with her.
Myatt, who does not have health insurance and doesn't know how she will pay for medical treatment that may include skin grafts on her feet, said doctors have told her she could be well enough to leave the hospital by next Tuesday.
Meanwhile, Hawes has to find somewhere to live. It needs to be big enough for three.
"Alyson is part of the family," he said. "I know that she's got her family to go to, but I've got to find another place so that she can come home."