She may have been fined $17,000 for throwing her racquet and other violations, but Serena Williams was every bit the champion when she helped console the player who defeated her.
U.S. Open winner Naomi Osaka opened up about the tense moments during last weekend's match against her idol and tennis superstar, whom she defeated in straight sets. The game featured plenty of controversial moments between Williams and a chair umpire, and it ended with fans booing over the calls.
The crowd's reaction brought Osaka to tears because she thought she was the one being heckled, she said told Ellen DeGeneres during an appearance Wednesday on her talk show. That's when Williams put an arm around her and whispered some assurances.
"She said that she was proud of me and that I should know that the crowd wasn't booing at me, so I was really happy that she said that," Osaka said. "At the time, I did think that they were booing at me. I couldn't tell what was going on, because it was just so loud in there. It was a little bit stressful."
On Saturday, Osaka claimed her first Grand Slam title by defeating Williams in 6-2, 6-4 sets. But the match was marred by controversial calls that started after chair umpire Carlos Ramos penalized Williams for getting illegal coaching from her coach in the stands.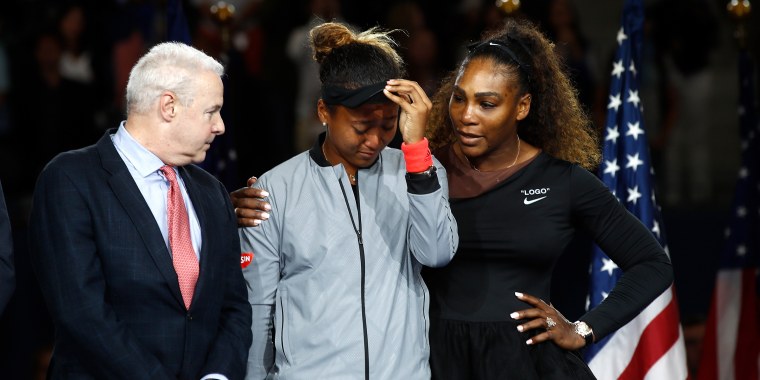 Williams received another penalty later after she smashed her racket in frustration. Ramos then took the rare step of docking Williams a game for verbal abuse when she disputed the rulings and called him a "thief."
In an interview earlier this week on TODAY, Osaka explained why she had apologized in a post-match interview for how the tournament ended.
"I don't know, I just felt like everyone was sort of unhappy up there. I know that the ending wasn't how people wanted it to be," she said. "I know that in my dreams I won in a very tough, competitive match. I don't know, I just felt very emotional, and I felt like I had to apologize."
Her mood was much lighter speaking with DeGeneres, particularly after the talk show host got Osaka to reveal her celebrity crush, "Black Panther" star Michael B. Jordan.
DeGeneres snapped a selfie with Osaka and then texted it to Jordan on the air.
"You're stressing me out," a clearly embarrassed Osaka responded. "I'm too young to be stressed out like this."