/ Source: msnbc.com staff and news service reports
The bride wore a white veil, a red garter and black neoprene. The groom, too, was in diving gear, set off by a red bow tie. When the pastor pronounced them man and wife, Brian Wilson and Christina Gunn took off their breathing gear and exchanged a kiss 20 feet under the surface of the Illinois River in Southern Oregon.
The underwater ceremony was performed last week.
The vows were written in pencil on a white slate, which were displayed for Pastor Jim Bard, also a diver.
"He asked us if we did, we held up our cards that say, 'I do,' he pronounced us man and wife, then we took off our regulators and we kissed," said Gunn. "I cried."
Wilson is a former captain of the Josephine County swiftwater dive team who said, "I darn near cried, too."
Gunn picked up the sport after meeting him.
The couple, who have been together for 2 1/2 years, planned the wedding in less than five days."I presented the idea to Christina on Tuesday and we got married on Friday." Wilson told TODAYshow.com. "The more we planned, the more excited we got about getting married underwater."They chose their wedding spot, under a bridge, for romantic reasons.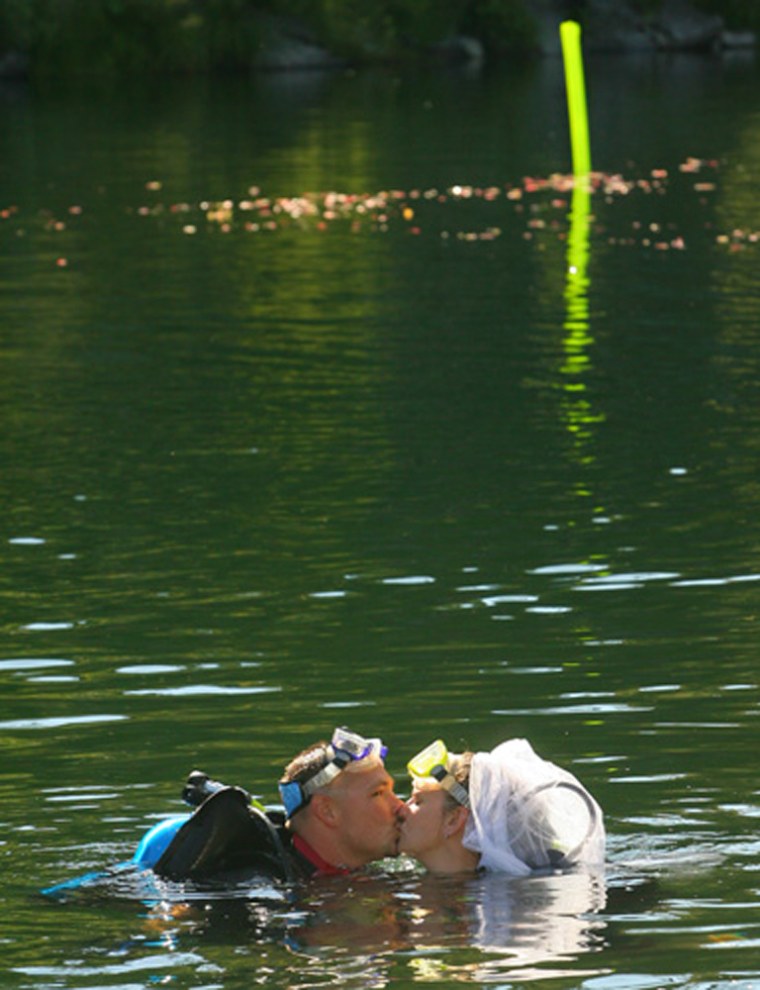 "That was the first place we dived together," said Wilson. "We're both previously married with kids, and we were thinking, 'Why do we want to have a traditional wedding? Let's do something unique and cool.' "
But unfortunately Gunn or Wilson's family did not share the same excitement.
"My family thought it was kind of corny," said Wilson. "Christina's family was a little nervous about it because she's still a novice at diving."
They eventually jumped on board though.A small group of family members gathered on the riverbank.
"It's really different, I'll tell you," said Gunn's grandmother, Genevieve Eppele, who scrambled down the rocks with her husband of 63 years, Fred.
"I told her, 'Can't you get married like normal people?'" said Gunn's mother, Gail Stading.
For the benefit of family members, the couple afterward repeated their vows on dry land.