/ Source: TODAY contributor
For 13 years, Bryan Martin kept the book hidden from his daughter, dutifully taking it to her teachers, coaches and school principals every year to have them append it with positive comments and messages.
Finally, on June 8 — the day of her graduation from North Johnston High School in Kenly, N.C. — Brenna Martin received a special copy of the Dr. Seuss classic "Oh, the Places You'll Go!''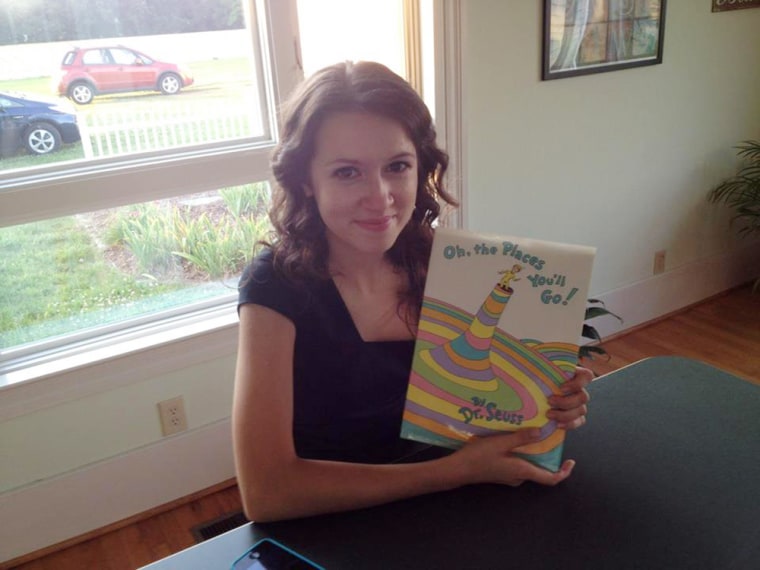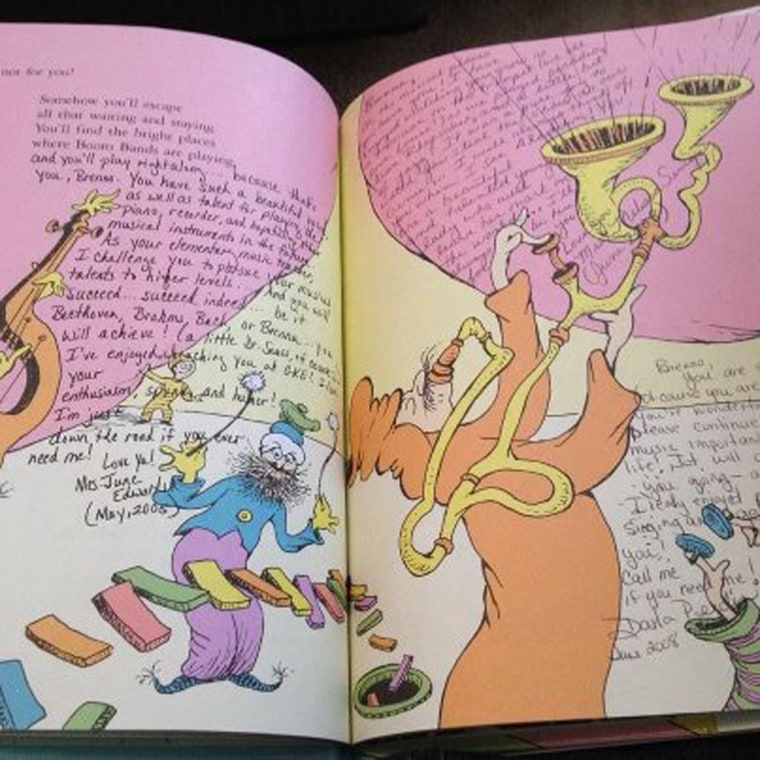 "At first I just smiled and said that it meant a lot and that I loved that book,'' Brenna wrote on her Imgur.com page. "But then he told me 'No, open it up.'
"On the first page I see a short paragraph written by none other than my kindergarten teacher. I start tearing up, but I'm still confused. He tells me, 'Every year, for the past 13 years, since the day you started kindergarten, I've gotten every teacher, coach, and principal to write a little something about you inside this book.'''
13 years in the making
Initially thinking she was just going to get a "cheesy card" when her dad said he had a present for her, Brenna received a heartfelt gift more than a decade in the making. Her father turned a children's book that sells for about 10 bucks online into the gift of a lifetime.
On her graduation day, Brenna tweeted: "I can't explain how moved I am by all of this, and somehow they kept it a secret for all these years. #amazed."
She added, "Every teacher since I was 5 has written something sweet to me in this book."
Brenna posted a photo of herself holding the book and one of the inscriptions inside it. The message inside it range from her early teachers mentioning her "pigtails and giggles" to her high school teachers commenting on her "wit and sharp thinking."
"Yes the intended effect occurred... I burst out in tears,'' Brenna wrote on her Imgur.com page. "Sitting there reading through this book, there are encouraging and sweet words from every teacher I love and remember through my years in this small town.
"It is astounding to receive something this moving, touching, nostalgic, and thoughtful. I can't express how much I love my Dad for this labor of love.''
Since Brenna posted the news of her gift, her Imgur.com page has received 10.8 million views and counting in only two weeks. And it has inspired other parents of young children to start similar projects of their own.
Brenna also posted her account of her special present on Reddit, where it quickly became one of the top stories. 
Bryan tweeted on Thursday that his daughter has been "deluged'' with interview requests, but "is not interested" in doing any interviews after the crush of attention.