Snow angels have never been so delightful!
In a Facebook video uploaded on Jan. 30, Pennsylvania grandmother Betty Ritchie is seen being helped to the ground by her daughter and son-in-law so she could play in the snow.
Ritchie's attempt to make a snow angel has been seen by more than a million people, and the 85-year-old grandmother says she's glad it's bringing joy to so many people. But she wants to emphasize she didn't do it for the attention.
"I've just always made snow angels with my kids and everything," she said. "So I didn't want to be a big wheel. I just wanted to make an angel."
Ritchie, who said she always made snow angels with her six children when they were younger, said she felt the desire to make one last month while riding around town last month with some family members shortly after her birthday.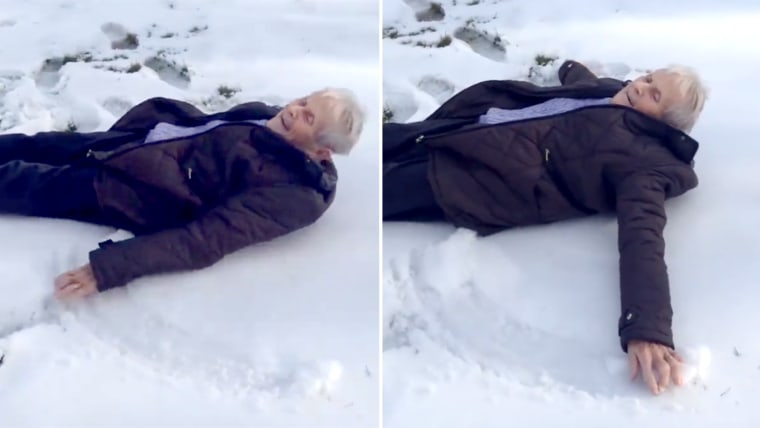 "My daughter and her husband were driving down there one day and I said, 'I want to make a snow angel,' so my granddaughter helped me get in and out of the car and we did it," she said.
RELATED: Grandmother's thrilling reaction to virtual-reality roller coaster goes viral
Sherry Spangler, the daughter who uploaded the video to her Facebook page, said her mom has always had a playful personality.
"She was the kind of mom who always went sled riding us, she always went swimming with us. She wasn't the kind of mom who just sat around," she said. "And every time it would snow she'd say, 'Come on, we'll make snow angels.' That's just what we always did. We still do, even us big kids."
Ritchie recently lost another daughter to heart and other health-related illnesses. News about the popularity of her snow angel video has helped ease her mourning process, Spangler said.
"She's been really down in the dumps about my sister dying last August. We just think it's been a boost for her spirit. I said, 'Mom, you've just brought a smile to a million people's faces," she said.
Ritchie said the video has somewhat turned her into a local celebrity when she goes out into town, where she has been recognized at places like Wal-Mart.
"I'm glad it's making so many people happy," she said. "That's what I'm here for. That's what God's got me here for."