When you run with the bulls in Pamplona, anyone can get gored. Even a guy who literally wrote the book on it. 
"I was tripping on somebody else's feet,'' American goring victim Bill Hillman told TODAY from a hospital bed on Thursday. "It could've happened to anybody, and getting gored isn't out of ordinary for a runner."
Hillman, 32, co-author of the book "Fiesta: How to Survive the Bulls of Pamplona,'' got the horns on Wednesday from a lone bull who had separated from the pack and also gored another man during the nine-day medieval festival in the Spanish city.
"I really didn't realize I had been gored to be honest, at first," he said. "I didn't realize it until I came unhinged from the horn.
"I survived. I'm here. I'm alive."
Hillman, a former Golden Gloves boxing champion, suffered non-life-threatening injuries in his thigh after he fell down while running and was gored in the leg. He is currently in a Spanish hospital, where doctors say he should make a full recovery, and he expects to run in next year's event. As for the bull, it was later killed in the traditional bullfight that follows the running. 
"I want people to know that when you step into the street with Spanish fighting bulls, you may get gored and may die, and it's something you should never take lightly,'' Hillman said.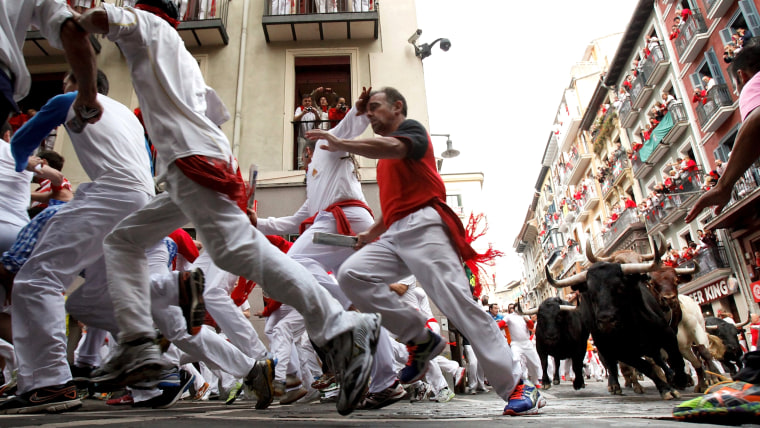 Hillman co-wrote the 220-page e-book on surviving Pamplona with Ernest Hemingway's grandson, John Hemingway. The Running of the Bulls figures prominently in Ernest Hemingway's classic 1926 novel "The Sun Also Rises." Fourteen runners have died in the past century and dozens of runners are injured every year in the event, which has received criticism from animal rights activists but still attracts thousands of foreign tourists annually. 
Predictably, some Amazon reviewers have had some fun with Hillman's book. 
"I thoroughly recommend this book,'' one writes. "It lulls foolish humans into a false sense of security.
Kind regards,

A bull." 
"Looking forward to his new book coming out,'' reads another. "Guide to the best urgent care facilities in Pamplona." 
Follow TODAY.com writer Scott Stump on Twitter and Google+.