Coaches and athletes have close relationships — in some ways, as close as the link between parent and child. 
Like parents, coaches work to inspire and encourage their charges to do their best. We asked some Olympians which techniques parents might adopt from their mentors. Here's what they had to say:
Show them how much you believe in them. The medal-winning U.S. women bobsledders gushed about their coach Todd Hays, calling him "the alpha of the Wolf Pack" (their self-proclaimed nickname), and saying that his passion for bobsledding and belief in them is what propelled them to win bronze.
"He makes you believe every single word he says, and you feel it and you fight for it and you want to prove him right," said Aja Evans. "No matter what, he's just so determined, and it rubs off on you and it makes you a better athlete and a better person."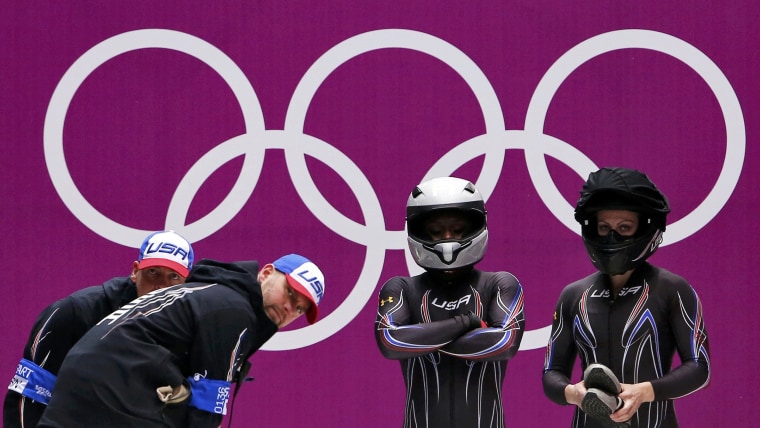 Snowboarder Alex Deibold, who won a bronze in snowboard cross even though he was a distant underdog, said that his coaches' belief in him — even when he isn't having a good run — is key to his success.
"They'll pull me aside and say, 'Come on, you KNOW how to do this, everything else will fall into place,'" he said. "And that gets me in the right mindset."
Know when to back off and when to push harder. Strategy is key to helping young athletes get their heads in the game — especially when youthful rebellion becomes a factor.
"[My coach] was great because she knew how to read me, and if I started to get frustrated, she knew what buttons to push, either turn it around or back off," figure skater Kristi Yamaguchi said of Christy Ness, who coached her from age 9 through her 1992 Olympic gold.
"Sometimes you need to battle it out a little bit and then come back the next day and start fresh. There were times that, of course as a teen, I wanted to rebel against any authority figure. But deep down inside, I knew she was the one with the knowledge and experience, so having that little bit of space helped."
Other times, Yamaguchi said, her coach knew that she just needed a dose of reality. "When I was just being lazy, she would say, 'If you're not working hard, I know who else is' — my competitors. And with comments like that, I was like, 'OK, you've got a point.'"
Help them stay positive. Even the talented Julia Mancuso, who took bronze in Alpine skiing super combined slalom at the Sochi Games, has off days, and gets frustrated enough to want to quit practice. But Chris Knight, her personal coach since 2006, finds ways to inspire her and turn around her negativity.
"What he likes to do is put on video of a good run or an inspiring run that I've made and he'll sit me down and say, 'Forget about what you just did and look and this — this is what you can do.'"
Keep your emotions in check. Frank Carroll, the famed figure skating coach who has worked with Michelle Kwan, Evan Lysacek and now Gracie Gold, says he's learned a lot of lessons over the years when it comes to communicating with his athletes.
"I've mellowed out over the years," he told TODAY.com. So before his skaters get on the ice, he puts on his poker face.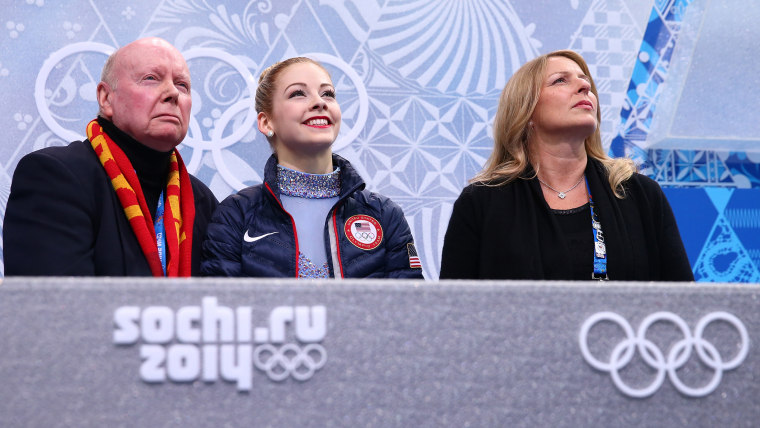 "I've realized that it's very important to be calm and to give them the feeling that you're not nervous or anxious, because when you are, you pass that feeling right on to them," he said. "They can pick up on it in a second. You can't pull the wool over their eyes, you can't tell them something is wonderful when it's not, so basically you have to put a lid on it all."
Instill in them that there are no shortcuts. Kristi Yamaguchi, a mother of two, says that her coach taught her many lessons that she passes down to her kids, including a strong sense of discipline and work ethic.
"Not all kids are going to be elite athletes, but I teach them about having a work ethic and dedicating themselves to their craft — whatever it is, music, school — and doing everything in their power to accomplish their goals," she said. "One of the things my coach would always say was that there's no secret to success; it's just plain and simple hard work."
Focus on the big picture. Most of us could never imagine the pressure Olympic athletes face when the eyes of the world are watching them, but it's all relative. Kids can feel a lot of pressure whether they're facing a gold-medal run or a local spelling bee. Julia Mancuso, Alex Deibold and gold medal free skier David Wise all point to their coaches' abilities to help take the pressure off of them.
"When you're young, you get caught up — like, this is it, this is the moment, I HAVE to do it right here," Wise told TODAY.com. "And then coaches broaden your perspective — that this isn't your only shot, so you can go out there and take the pressure off and have fun."