/ Source: TODAY contributor
That man's best friend thing works both ways, as a lucky Florida dog that was saved from the jaws of a hungry alligator by her owner can attest today.
Mandy, a 45-pound Wheaten terrier, sat docilely by her master's side Thursday as David Grounds, his right hand heavily bandaged, revealed to TODAY's Meredith Vieira just how far a man will go to save his furry companion.
"It wasn't a bad trade," the 66-year-old Grounds said from his home in West Palm Beach, Fla. "Mandy for two fingers."
Jaws of deathGrounds was remarkably calm, considering that just a few days earlier — on Saturday, July 18 — he'd watched in horror as the dog he'd had since she was a puppy seven years ago ran to the edge of a backyard pond and was snatched by a 7-foot alligator.
Without a thought for his own safety, Grounds ran through the brush to the water's edge, where the gator had what it thought was breakfast clamped between its crushing jaws. "I just grabbed the lower jaw with this hand and the upper jaw with this hand," he said, indicating his bandaged right hand and his left.
At this crucial moment, Grounds remembered something he'd heard long ago: If you jab a gator in the eye, it will release whatever it's got hold of. Grounds jabbed, the alligator let go of Mandy, and for an instant, everything stopped.
"When he released Mandy for a split second he was still frozen, and he didn't move," Grounds told Vieira. "I'm thinking, 'OK, that was easy, but now what do I do?' I knew I only had a split second before it started reacting, and I tried to throw him and run to the right. But unfortunately, he caught my right hand."
'I knew I was in big trouble'Grounds said he never thought he was in mortal danger, but he also didn't know how he was going to get his hand free. That's when the alligator went into the roll the big reptiles use to subdue prey.
"I knew I was in big trouble when he had my hand and he was twisting, but in a split second he had broken my fingers off, and I was free and I knew I was safe from him at least," Grounds said.
The hero pet owner lost parts of his index and ring fingers on his right hand. But other than worrying about how he's going to type, he didn't seem particularly concerned. After all, his precious pet was sitting at his side, a white T-shirt covering the cuts and scratches on her back and belly inflicted by the alligator, but otherwise none the worse for wear.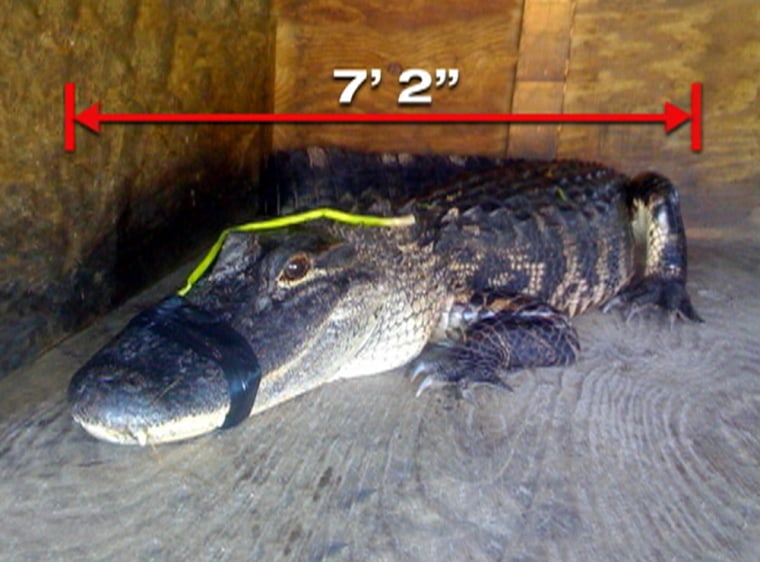 Grounds' 25-year-old son, Joe, joined the conversation. Mandy had originally been added to the family as his pet, and Joe Grounds said his dad is a hero for what he did.
"What Mandy means to us ... she's pretty much my little sister," Joe said, visibly emotional. "I hate even calling her a dog; I almost think that's demeaning to her in a way. I'm very proud of my dad, and he's very heroic. I'm very thankful that's Mandy's OK and that my dad's going to be OK and his hand's going to be OK, as well."
"She's just a real special dog," added Joe's father, who jokes that if he hadn't saved Mandy, his wife, who is in a Miami hospital being treated for severe back pain, or his son would have killed him. So what he did was really self-preservation.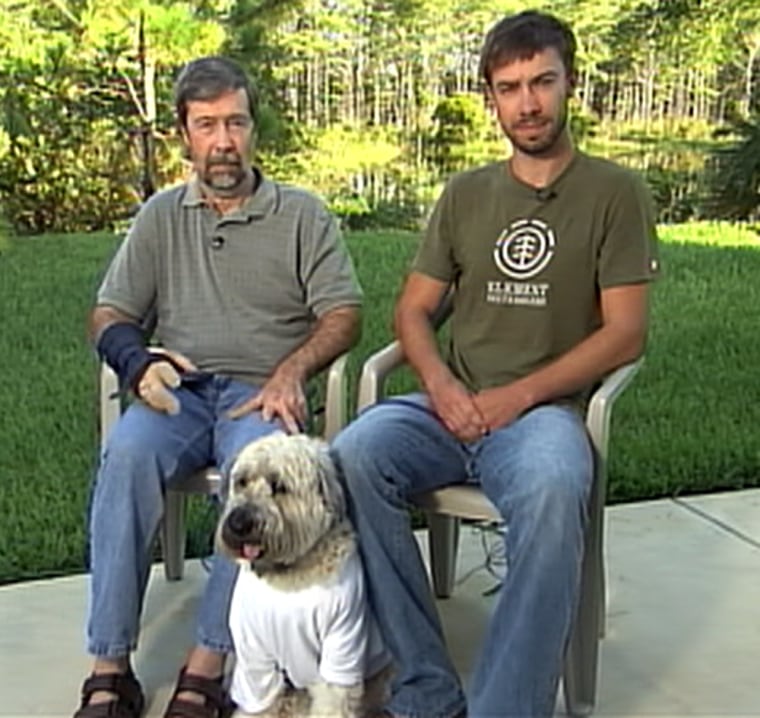 After the attack, animal control officers trapped and euthanized the gator, which had been a regular visitor at the Grounds' backyard pond for a number of years. It had never acted in a threatening manner before, Grounds said. But in the future, he's not letting Mandy take her morning constitutional stroll to the pond without her being on a leash.
Alligators frequently snack on dogs and cats, the household pets being the same size as the reptiles' normal prey in the wild. But they rarely attack humans. Grounds is just the sixth person bitten by an alligator in Florida this year, according to wildlife officials. Going back 60 years, there have been 315 unprovoked alligator attacks on humans, with 22 resulting in human fatalities.
Vieira asked Grounds what he'd learned from his experience.
"I learned a lesson about being more careful for sure," he said. "It won't happen again."