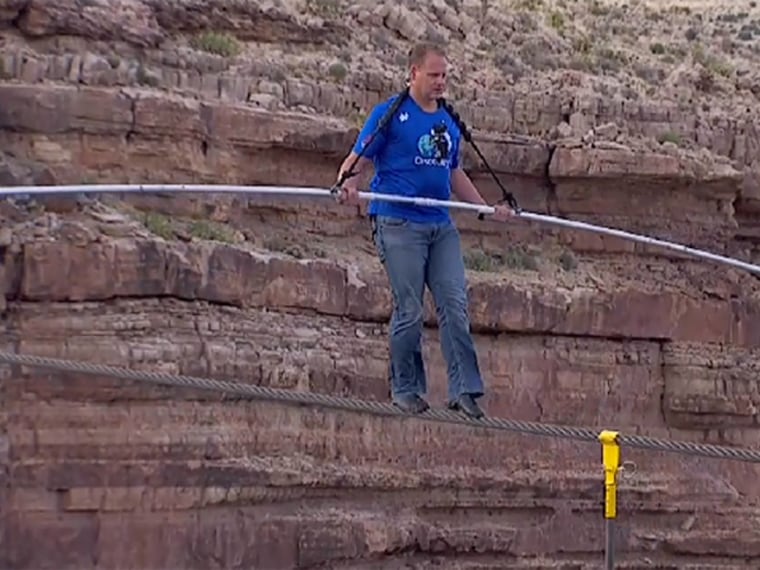 Daredevil Nik Wallenda succeeded in becoming the first person to walk across the Grand Canyon on a wire, during the Discovery Channel's "Skywire Live" special on Sunday hosted by Natalie Morales and Willie Geist.
After a tense 22 minutes and 54 seconds of walking the 1,400-foot wire, Wallenda kissed the ground at the finish line and hugged his wife. He was then presented with gifts from the president and vice president of the Navajo nation.
The biggest challenge Wallenda faced was strong gusts of wind, which clocked in at 48 miles per hour before he started his walk.
"It was stressful," Wallenda told Morales and Geist of the feat. "It was a combination of the wire moving the way it was. I think the tension really played a key role in that and those winds – as I said from the beginning -- so unpredictable…"
Wallenda said his faith helped him stay focused on making it to the other side. Just before his stunt, Wallenda had preacher Joel Osteen with him to offer spiritual support and lead prayer with the family.
"Praise God, this is awesome," Wallenda said as soon as he stepped out.
As he walked the wire, he continued praying, asking God to help him relax.
"Winds are way worse than I expected," Wallenda said while walking. When told to relax by his father, Wallenda responded, "Kind of hard to relax when you're 1,500 feet above the ground."
Later, he added, "Joe Cool ain't so cool right now."
At about 13 minutes in, Wallenda had to stop and sit on the wire to steady himself and get the bounce out of the wire.
"It was just getting really, really uncomfortable," Wallenda recalled after he finished. "I didn't know if I wanted to get up at all. I just wanted to sit there and call out for mommy."
It was 1,500 feet straight down on either side and 1,400 feet across on a 2-inch-thick, 8 and a half ton steel cable to record-setting glory for Wallenda, 34, a seventh-generation member of the famous "Flying Wallendas" family.
For Wallenda, completing this goal was a way to pay homage to his family's legacy. "I'm carrying on a legacy, this is in my blood…" Wallenda said afterwards. "It's such a huge honor to be able to carry on the legacy in a huge fashion like this."
Wallenda spoke to Geist and Morales about his state of mind just before the stunt.
"I'm feeling very excited," he said. "This is a dream come true. Ever since I was a teenager and the first time I visited the Grand Canyon I wanted to cross it."
Harness-free

Unlike Wallenda's high-wire walk across Niagara Falls in 2012, he was not wearing a tether or safety harness of any kind and there was no net at the bottom of the canyon to catch him. Wallenda was wearing an earpiece and a microphone to be able to talk during his attempt, which was being broadcast live but with a 10-second delay. A fall would have almost certainly been fatal.
"The biggest purpose is, or reason is, because I've never worn one before other than that Niagara Falls walk, which I had no training for, so it's something that's very uncomfortable for me,'' Wallenda said of not wearing a harness. "It's like telling you to get in the car and drive on the other side of the road today, it's something that you're not accustomed to."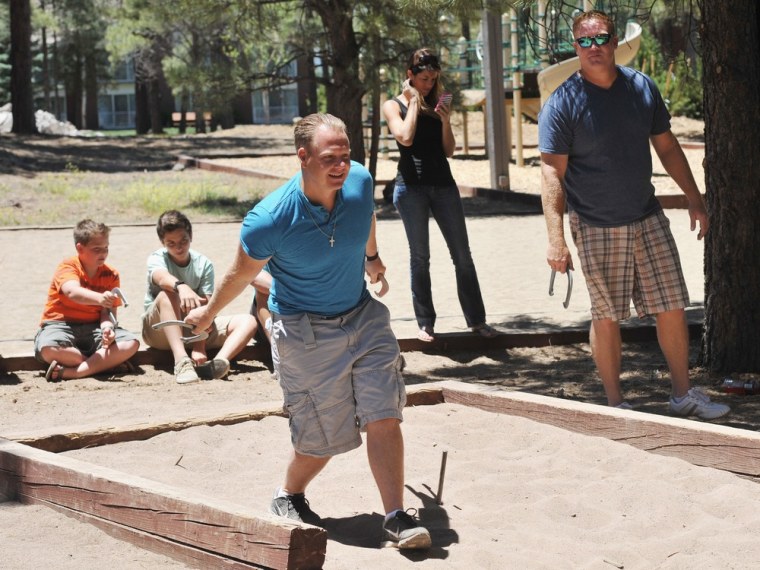 The stunt did not technically take place inside Grand Canyon National Park because authorities declined to grant him permission to perform it there. Instead, it was held on the eastern part of the Grand Canyon within the Navajo Nation territory. With wind gusts at 48 miles per hour on the midwire kicking up dust, Wallenda faced several obstacles. The temperature was 84 degrees up top and about 95 degrees down at the bottom of the canyon. An element that creates uncertainty is the powerful updrafts of hot air that can emanate from the bottom.
"It's hard to prepare for that,'' Wallenda said. "We've done our best. We've tried to create some updrafts, but you're right, when it comes down to Mother Nature, we're not in control. It's the one thing that I'm not in control of, and that's the only thing that really concerns me — those winds."
'Not worried'
This is the first time Wallenda has walked across this particular wire, which is 1,400 feet long, approximately the length of four football fields. He used a balancing pole that is 30 feet long and weighs 43 pounds.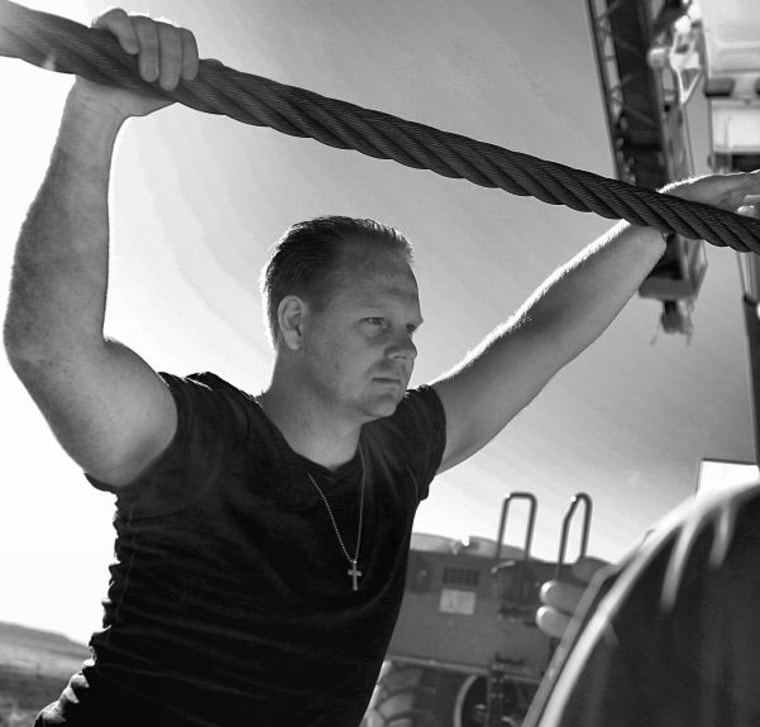 His father, Terry Troffer, and his uncle, Mike Troffer, served as his safety coordinator and chief engineer in charge of the rigging of the wire. Terry Troffer communicated with Wallenda during the attempt via Wallenda's earpiece.
Also on site watching his walk was Wallenda's wife, Erendira, who is an eighth-generation circus performer, and their three children, Yanni, 15; Amadeus, 12; and Evita, 10. Wallenda made the walk in jeans and a T-shirt while wearing his special high-wire shoes, which are part moccasin, part ballet shoes, and were custom-made by his mother, fellow wire walker Delilah Wallenda.
Wallenda previously said he was prepared for the various conditions he would face.
"I've trained very, very hard in my hometown of Sarasota, Fla.,'' he said. "I've trained during tropical storm Andrea with wind gusts of 52 miles per hour in a torrential downpour. I've trained with my wind machines, 91-mile-an-hour winds last week on the wires."
Wallenda also has trained to deal with the nuances of the wire itself. His uncle held tightly on to one side of the wire and the head rigger from his crew held tightly to the other side to act as shock absorbers.
"It has a life of its own,'' Wallenda said about the wire. "It's important that I change my rhythms because I can build a frequency into this cable that will become larger and larger, and I have to slow down, speed up and adjust my step sizes, which is a key reason why my father and safety coordinator is in my ear as well. A lot of it is peace of mind as well.
"Really, it's about focusing on the other side. Because it's so long, I'll actually look about halfway across, and I'll kind of change my focal point as I make my way across."
A legacy to honor
Wallenda first stepped onto a wire when he was 2 years old, and has since set seven Guinness World Records. For 32 of his 34 years, he has trained on walking a wire for three to four hours per day, five days a week. Wallenda's personal hero is his great-grandfather, Karl Wallenda, who fell to his death in 1978 while performing a high wire act in Puerto Rico at 73 years old.
"The truth is, it's life or death, and when I make it to that other side, we all know that it's life,'' Wallenda said. "My great-grandfather probably said it best. He said, 'Life is on the wire, and everything else is just waiting.'"
Now that Wallenda has achieved his dream, he says he plans to celebrate by eating prime rib. And he's already thinking ahead to what's next.
"My dream for my next stunt is to walk between two skyscrapers in New York City," Wallenda said. "I can imagine the millions of fans that will be there watching."
From Harry Houdini to Evel Knievel to David Blaine, there have always been those who make their living courting destruction. Meet the daredevils and stunt artists who live on borrowed time.