It's that time of year again, when a stream of celebrities, business executives, big name activists and other important people dispense words of wisdom to college graduates questioning what lies ahead, beyond thousands of dollars of student loans.
As in recent years, slightly more women than men will don those square-top caps this spring. Women outpace men in college enrollment and are grabbing more of the diplomas, too. Women earned about 57 percent of all bachelor's degrees awarded to undergraduate students last year, according to government statistics.
This year's female graduates received specific advice from women who helped pave the way for them, including senior White House adviser Valerie Jarrett. On Friday, she urged the all-female grads of Wellesley College to remember those trailblazers by making sure they help each other as they cut their own paths to the top.
"You have choices because you stand on the shoulders of others who have given you the ability to choose," she said. "It is a rare privilege for all of you who are seated here today, so make sure you reach back and afford others that same opportunity."
She then reminded her audience of the warning issued by fellow Wellesley alum, former Secretary of State Madeleine Albright: "There is a very special place in hell for women who do not help other women."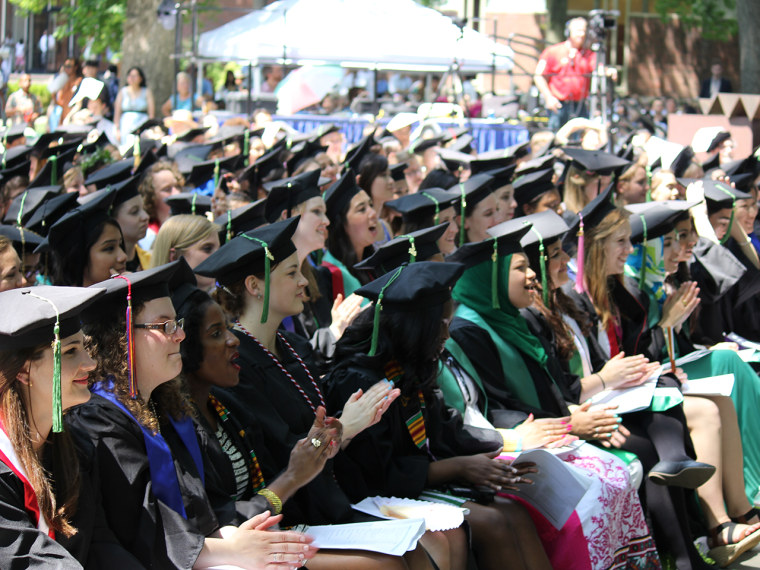 Here are more words of wisdom provided by Jarrett and other women who offered up their life lessons along with guidance and inspiration at commencement ceremonies held recently:
'HAVING IT ALL DOESN'T MEAN DOING IT ALL'
Jarrett, who also chairs the White House Council on Women and Girls, encouraged graduates to be resilient, but to pace themselves.

"For those of you wondering if you can have it all, the answer is yes – but there is a catch," she said. "The arc of life is long, so don't expect to have it all at the same time."
She said choices must be made and skins need to be thickened as life gets adjusted, as career changes are made or as a life centered around the office is swapped for one that centers on raising a family. She said it may be hard for some to watch their classmates have children, or others achieve success in their careers faster because they chose not to stay home with children.
"Don't look at your decisions as sacrifices. They are choices that just simply illustrate your priorities," she said.
Jarrett also encouraged women to recognize their limits and always ask for help from friends.
"We might be a tad bit better than men, but we're not superhuman," she said to laughs.
She recalled how earlier in her life she struggled to balance her career and home life and rarely had time for herself in the process.
"After dropping a ball or two, I began to understand having it all doesn't mean doing it all," she said. "Competing on an even playing field requires you to create your own field with teammates that respect and support, but it takes for you to be healthy and whole. But you see, this where you already have an upper hand, class of 2013.
"You understand the importance of women of supporting other women. And this lesson is going to become even more valuable as you grow older, whether at home, at work or in your personal life, you're going to need to lean on others."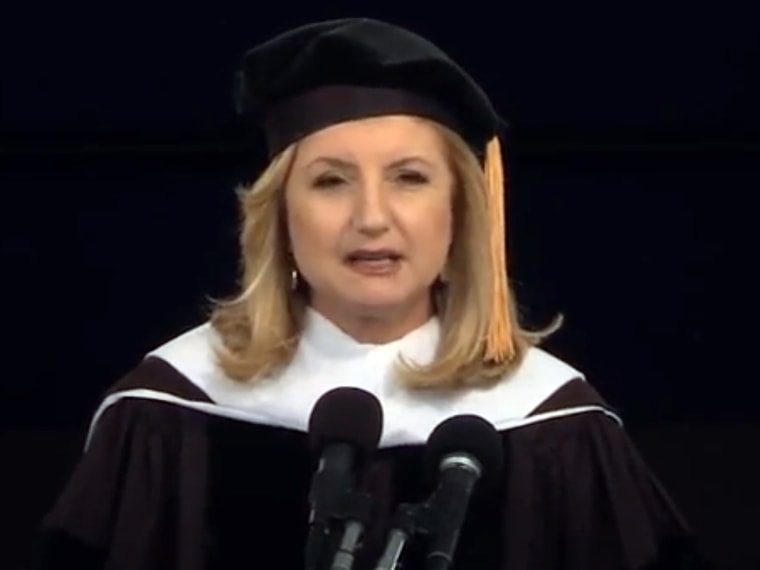 'FIND YOUR PLACE TO STAND'
Media executive Arianna Huffington urged the all-female grads at Smith College to redefine success beyond conventional standards.

"Money and power by themselves are a two legged stool — you can balance on them for a while, but eventually you're going to topple over," she said. "And more and more people, very successful people, are toppling over every day. Basically, success the way we've defined it is no longer sustainable."
She said society glorifies long work hours and ignores resulting consequences like burnout and other health problems.
"Change it by going to the root of what's wrong and redefining what we value and what we consider success," she said.
"Find your place to stand – our place of wisdom and peace and strength. And from that place, lead the third women's revolution and remake the world in your own image, according to your own definition of success, so that all of us – women and men – can live our lives with more grace, more joy, more empathy, more gratitude, and yes, more love."
'WE NEED UNCOMMON WOMEN'
Social justice activist Kavita Ramdas, in her address to the female graduates at Mount Holyoke College, spoke of the role women will play in helping a world that faces "uncommon" challenges.

Ramdas referred several times to her efforts to end violence against women across the world. She said the "women's college education" Mount Holyoke students have earned will help prepare its graduate to teach others, men and women alike, how to make attitude changes that can improve global injustices against women.
"We need women who are so strong they can be gentle, so educated they can be humble, so fierce they can be compassionate, so passionate they can be rational, and so disciplined they can be free," said Ramdas, the representative for the Ford Foundation's office in India, Nepal, and Sri Lanka and former president and CEO of the Global Fund for Women.
"We need uncommon women for these uncommon problems. And how deeply reassuring to me it is to know that wherever we go, there you will be."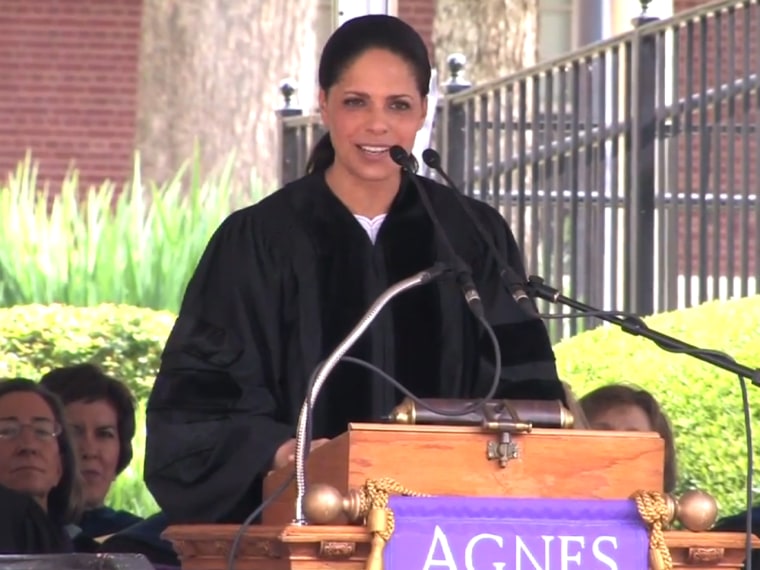 IGNORE THE 'IDIOTS'
Soledad O'Brien shared her mother's advice with the women at Agnes Scott College: "'Most people are idiots,'" the CNN correspondent said, explaining to her audience why they should ignore the doubters they soon will encounter.

"As you leave here, over the next many years, you will be told all the things you cannot do, you cannot achieve and those things you absolutely, positively will fail in," she said. "Please do not listen, because most people are idiots. My mother would add to that, if you listen to those naysayers, well then you're the bigger idiot."
O'Brien also described how her black Cuban mother married her white Australian father, and lived together illegally as a mixed-race couple in Baltimore. The experience shaped their lives and their views on how to help improve the world.
"You have an opportunity to be a role model to those who look like you and those who look nothing like you," she said.