/ Source: The Associated Press
At the gift shops in Union Station, shelves once stocked with ubiquitous FBI T-shirts and mugs now display all things Barack Obama — apparel, action figures and a jack-in-the-box with the president-elect popping out with a big smile.
Even a cigar shop at the busy train station has gotten into the high-demand business with an Obama stogie.
"Everybody's just Obama crazy. It's madness right now," said Johndell McLean, 30, who works at Life on Capitol Hill, a store now full of Obama products, including hot sauce, mints and an Obama bobble-head doll. One T-shirt features a U.S. map stamped with the words, "Under New Management."
Even more popular is anything with Obama's face on it.
"Whatever it is that has Obama on it, they like it," McLean said. "Everything is selling."
Well, almost everything.
A sign on one small shelf at the store reads, "All McCain/Palin tee-shirts now $3.75, while they last!" Mugs from the Republican campaign go for less than $2. Nearby, Obama mugs and T-shirts are selling for more than twice those amounts.
Obama is clearly a big sales opportunity for the multitude of small vendors and gift-shop retailers in the nation's capital and elsewhere. But it's almost impossible to calculate the revenue being generated, partly because many trinkets are sold on the black market by street vendors in Washington, New York and other places.
The fact that Obama will be the country's first black president is driving sales to "a whole different tier than Clinton or Bush or anybody," said Martin Brochstein, a senior vice president at the International Licensing Industry Merchandisers' Association.
And there is more money to be made in upcoming weeks.
Market heating up as Jan. 20 nears"It's almost like the opening of a big movie in that everything builds toward that opening day," Brochstein said. "Opening day here is called Inauguration Day" and that is Jan. 20.
Barry Harris, 27, a business school student at Howard University, recently bought nearly $300 worth of Obama merchandise at Union Station for his family in California. He grabbed T-shirts, including one showing Obama and Martin Luther King Jr. with the message "A Dream Come True," along with an Obama mug and candy bar. The items will be stocking stuffers and Christmas gifts.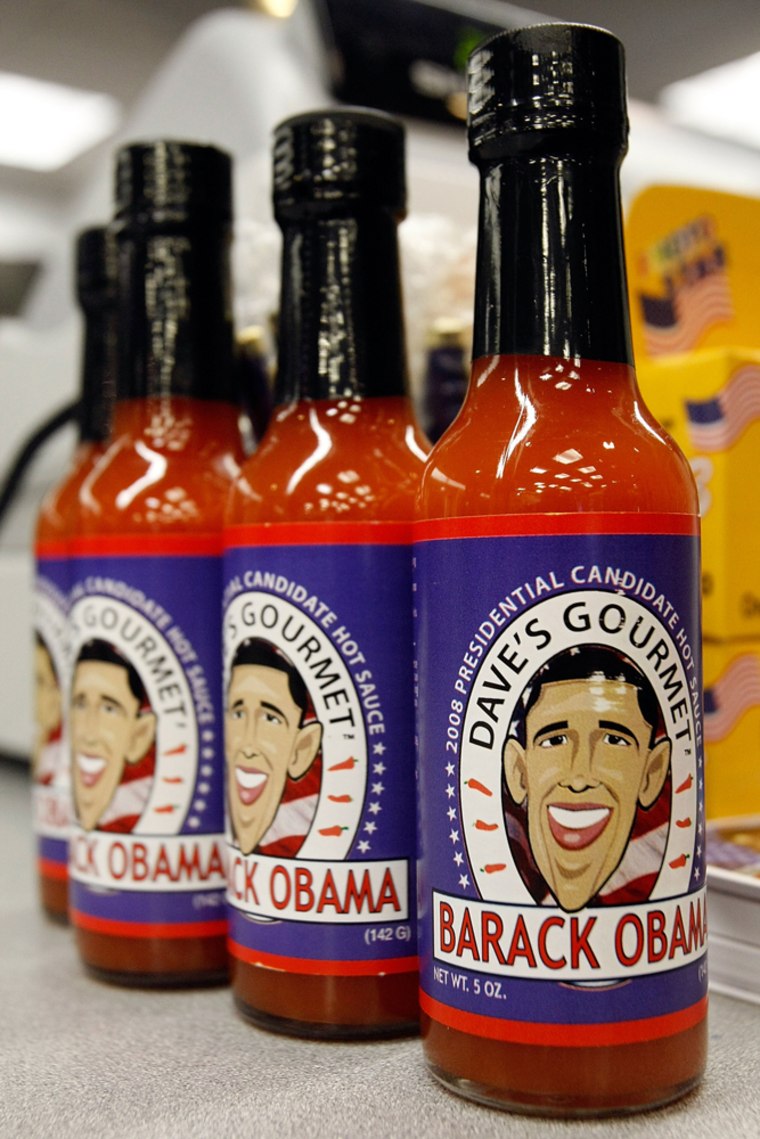 "It's definitely a piece of history — especially in the African-American community," Harris said. "It's definitely just representative of a lot of progress over many years."
Some Obama products can be personalized with your own name. The Web site DemocraticStuff.com, operated by Greenville, Ohio-based Tigereye Design, is selling personalized buttons, banners and rally signs. The Obama campaign is cashing in with sales of commemorative mugs and victory T-shirts; proceeds go to the Democratic National Committee.
Ads for the 22-karat-gold-trimmed Obama "Victory Plate," a "priceless work of art" that sells for $19.99 plus shipping and handling, have bombarded many cable TV viewers. "His confident smile and kind eyes are an inspiration to us all," a narrator says on the commercial.
Totebags, clothing and coffee mugsImprinted with the Election-Day electoral vote and the message "Change Has Come," the plate also comes with a special certificate. The company behind the Obama plate, Fairfield, N.J.-based TeleBrands Corp., is the same group that sells "As Seen on TV" products such as the PedEgg pedicure device and the Stick Up Bulb.
Newspapers also smelled an opportunity because so many papers sold out after the election, said Cathy Trost, the exhibits chief at the Newseum.
The Washington Post is offering tote bags, clothing and a coffee mug with images of its day-after-election front page; prices range from $10 to $43. On Inauguration Day, the paper will print a special advertising section, "Welcome to the White House," that lets people submit personal messages to the new president for $10.
Not to be outdone, The New York Times has even more items for sale — and at New York prices. Photographs of Obama go for $200 (just the basic) to as much as $1,129 for a framed print signed by the photographer.
The Newseum also is selling Obama merchandise, including a poster with 25 front pages about Obama's election from across the country. "It reminded people of how important newspapers really are," Trost said.
Capitalizing on the new president's image is nothing new.
"Historically, Americans have been making and selling commemorative inauguration material, souvenirs, since George Washington's time," said Larry Bird, who curates the campaign collections at the National Museum of American History. The museum has a button from Washington's inauguration and a banner dating to Thomas Jefferson's swearing-in in 1801 that says "John Adams is No More."
The museum, part of the Smithsonian Institution, already has acquired an Obama action figure from its creator (advertised as "An Action Figure We Can Believe In") and campaign materials from the past year. Over the years, manufacturers have improved technology to the point that they can push out products faster than ever, which helps explain the crush of new Obama tchotchkes just after the election, Bird said.
"If you think about it," he said, "anybody can make a button. Anyone can make a poster. ... And anybody can accept a credit card."