/ Source: The Associated Press
This was no time for sensible shoes. Or sensible anything, for that matter.
So Georgina Owen Rafferty decided to rise to Thursday's occasion — Ladies Day at the world-famous Royal Ascot race meeting — and have some Jimmy Choo shoes specially made to match her eye-blasting pink ensemble.
"They are incredibly comfortable," Rafferty said before striding into the Royal Enclosure to mingle with Queen Elizabeth II and other horse-mad dignitaries on a sparkling day with long spells of bright sunshine. "They were made by the man himself, from the couture side of the business, so they fit like slippers."
She was not the only one preening. In a world of casual Fridays, where dressing down has become a depressing fact of life, Ladies Day at Royal Ascot is the one day in the year when people who like to dress up can exact revenge on slackers who prefer track suits and leisure wear.
It was a time for breaking the rules. No one seems shy about ordering a first glass of chilled Bollinger or Veuve Clicquot at 10:55 in the morning, or about placing a bet on what color hat the queen would wear, or donning a top hat that spends the rest of the year in the closet.
When the gates opened precisely at 10:30 a.m., it started a parade of men in morning suits and top hats and women in pastel-colored dresses, the most spectacular and elaborate of hats, and heels normally seen on the TV show "Sex and the City" — not at racetracks.
The queen, wearing a powder blue dress and matching hat, arrived in an open carriage shortly before racetime with her husband, Prince Philip, and other members of the royal family. She personally presented the trophies to the winner of the featured Gold Cup race.
The racetrack has a long royal connection, dating to 1711 when Queen Anne discovered the open heath near Windsor Palace and felt it might be a perfect spot for racing. The first recorded reference to Ladies Day was in 1823.
The day had evolved into a no-holds-barred battle for attention from the creme de la creme of British high society, those with the time and the money to spend months planning their outfits. Top designers were employed, and few seemed daunted by a Royal Ascot edict designed to limit the amount of flesh on display.
Responding to an alarming trend of revealing fashions in recent years — cover that shoulder, dear! — race organizers asked women not to wear skirts that were too short, tops that were too revealing, or contemporary fashions that exposed the tummy.
Spaghetti straps were definitely out — dress straps were expected to be one inch (2.5-centimeters) wide. And there was a warning about fake tans.
No one even addressed the question of naval piercings, exposed tattoos or ankle bracelets. But a slightly tongue in cheek advisory did suggest that women wear outfits that covered up their underwear, while men were told to make sure their zippers were done up to avoid a "schoolboy error" that might ruin their whole outfit.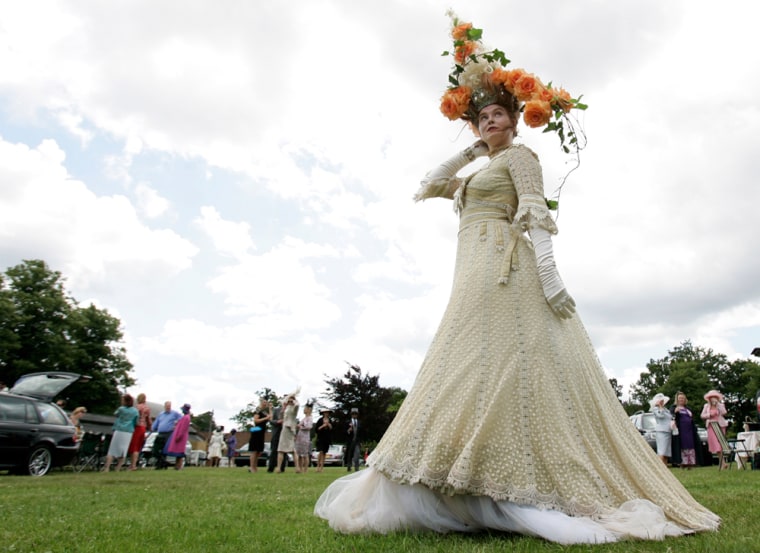 The unusual fashion edicts were an attempt to keep the recent trend toward skimpy tops, exposed bras and tiny skirts from migrating from the streets of London into the royal enclosure where the queen — a devoted fan of horse-racing — entertains each year.
Hadley Freeman, deputy fashion editor of The Guardian newspaper, said the race organizers are trying to prevent Royal Ascot from turning into "Ibiza by the racetrack." She was referring to the Spanish holiday island of Ibiza, where anything — or nothing — goes during the hot summer months.
"It's quite sweet," she said. "Ascot is trying to present an image of old England that doesn't exist any more, not in a country where 'Big Brother' is so popular. They have the idea that showing shoulder flesh would be unbelievably risque, something only Americans would do."
Most racegoers seemed to welcome the new dress code and the fashion police who enforced it with a subtle but firm hand.
"I think it's a really good idea," said Sarah Prowse, who wore a slightly low-cut dress that was not too revealing. "I think you should dress up and be elegant and not show too much. No cleavage or tummy, skirt not too short, don't show too much flesh. It's really nice to be ladylike."
She said there was "a time and a place" for more risque fashions but that Royal Ascot wasn't one of them.
"I love seeing what everyone is wearing," Prowse said, admitting that her elaborate pink hat came from Marks & Spencer, England's middle-of-the-road department store, not Philip Treacy, Britain's high-priced milliner-to-the-stars.
But the unofficial prize for hat of the day — at least in terms of altitude achieved — went to a creation by David Shilling, who designed an asymmetrical globe-shaped pink hat that rose nearly 3 feet (a meter) above the head of Mrs. Edward Claridge, a regular at Ladies Day for a quarter-century.
"I love the ambiance of Royal Ascot," she said. "It's typically English. For us, this is the best week of the year."
And perhaps the most expensive. She works with her dress designer for months to come up with the three outfits she will wear on the three race days she attends. Then, of course, she needs the hat, shoes and accessories to set off each dress. Needless to say, the handbag must be right.
"It takes a lot of work," she conceded after making a grand entrance. "It's a lot of planning."