The Louisiana teacher who was handcuffed after being kicked out of a school board meeting in which she questioned the superintendent's hefty pay raise is speaking out in her first interview following her arrest and encouraging others to take a stand.
A video of the dramatic arrest of Deyshia Hargrave has sparked outrage after the middle school English teacher spoke up Monday night at a Vermilion Parish School Board meeting.
"I just kept thinking, 'This is really happening. He's really doing this,'" she told NBC News in an exclusive interview from her home. "It's sad that a woman has to be forcibly, violently removed from a board meeting for people to start caring."
Hargrave publicly questioned the district superintendent for accepting a $30,000 raise when she and her fellow teachers had not seen a pay increase in nearly a decade. A marshal escorted Hargrave out of the meeting and arrested her.
Hargrave said she's watched the video of her arrest and finds it disturbing and embarrassing.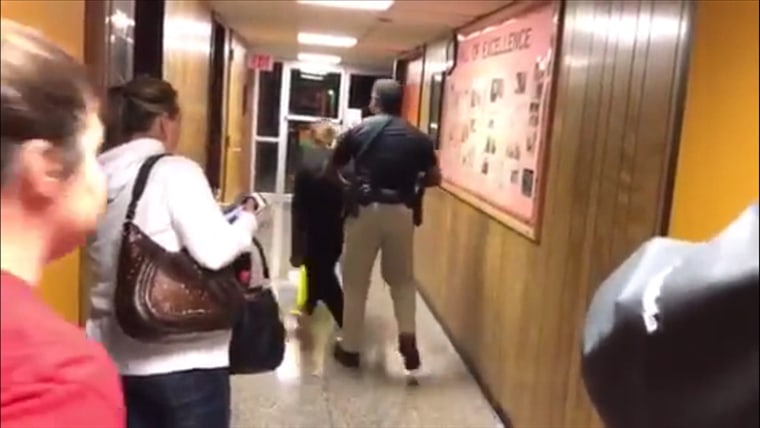 "And the realization that my students were going to see the video and I had to go to work the next day," she said. "And I teach fifth and sixth graders so I wasn't sure how they would feel about it."
But everything turned out well the following day.
"They're fine, so I'm fine," she said.
During the meeting, Hargrave addressed the superintendent directly after the school board allowed the audience to comment on a vote to grant his raise. She called it "a slap in the face."
"How are you going to take that money, because it's basically taken out of the pockets of teachers?" Hargrove asks, prompting the school board president to bang his gavel and call her comment "not germaine" to the agenda.
Law enforcement officials say Hargrove will not be charged and the school district does not plan to discipline her.
"I don't support our people getting arrested. I do not. However, a person has to follow the rules," said Vermilion Parish superintendent Jerome Puyau, who now makes about $140,000 annually with his new raise.
Puyau said the pay bump boosts his salary to the level of what his counterparts make. He also pointed out that his school district ranks sixth in performance while his salary is 57th.
"She was questioning if you deserve a raise, can't you use this better in the classroom? You can always use more money in the classroom, but when is a good time for a superintendent to get a raise?" said Puyau.
He said that his family has been bombarded with death threats since Monday night's meeting.
"My sisters, my family — we're all educators," he said. "It is not fair to our families, anyone's families, anyone in Vermilion Parish."
Hargrave said she would like to receive an apology from both the superintendent and the marshal who arrested her. She also would like to see other people to speak out for what they believe.
"I'm hoping for teachers, people outside of education, to have a voice," she said. "Show up. You don't have to say anything, just show up. Just do something."