First things first: Not THE Hall, and THE Oates. 1980s pop wonders Daryl Hall and John Oates are still touring together and apparently still friends. And one biting the other? They can't go for that, noooo, no can do.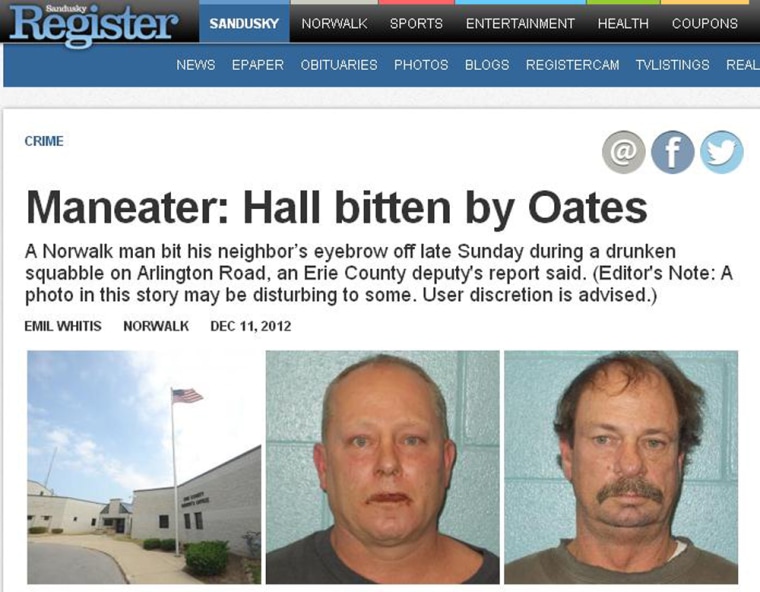 That's not the case, however, for a pair of men from Ohio. According to the Sandusky Register newspaper, Roger Oates, 48, bit the eyebrow off his neighbor, Scott Hall, 40, in a weird confrontation that might have never made news outside their neighborhood if not for the men's last names. (Although come to think of it, eyebrow-biting is not your normal attack move, "Private Eyes" and all.)
The case earned even more fame when the Sandusky Register design desk chief Mike Schaffer slapped a "Maneater: Hall bitten by Oates" headline on the story, leaving media critic Jim Romenesko to declare, "Contest over: We have the headline of the year."
"Maneater," which contains the prescient line, "Watch out, boy, she'll chew you up," reached No. 1 on the Billboard charts for Hall & Oates (the singers) in 1982.
But the reporter on the story was too young to get the reference, according to jimromenesko.com.
"I'd never heard of them," reporter Emil Whitis told Romenesko. "The sheriff deputies were rolling with laughter and I didn't get it. Then they played the song for me."
No one, apparently, told Whitis he was out of touch, or out of time. (another 1980s Hall & Oates hit).
Related content: