You're not seeing double. That's actor Ethan Hawke on the left, and food-show host and restaurateur Guy Fieri on the right. Big hairy deal, huh?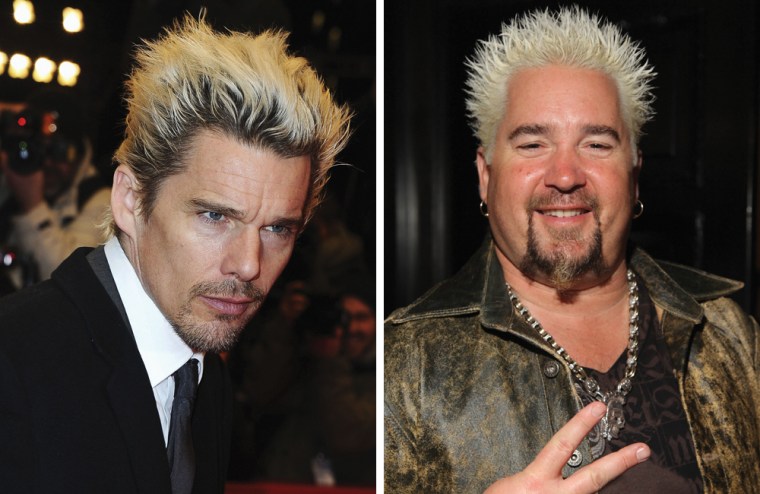 Hawke's usually a brunette, but his punkish 'do is for "Clive," the Broadway show in which he's currently starring. The New York Times describes his onstage look as "spiked iridescent gray hair," though it looks less gray than blonde to us. The newspaper doesn't have high praise for the show, writing "what magnetism there is in this production is generated by (co-star Vincent) D'Onofrio."
Hawke told the Times, "I didn't want to feel like me when I did this role. I'm trying to do that old-school, third-person thing by unlocking something as utterly superficial as my hair. I was shooting for a Bowie thing, but then I saw a picture of him after I did it, and he didn't really do his hair like this."
No, Bowie didn't, but we know a certain mayor of Flavortown who does.
Fieri's mostly stayed out of the news since the November brouhaha about the Times' negative review of his Times Square restaurant, Guy's American Kitchen and Bar. The review, written in all questions by restaurant critic Pete Wells, went viral, with fans jumping in to defend Fieri while others found the review justified.
He regularly pops up, however, in the humor Twitter account @DadBoner, where the account's persona, Karl Welzein, worships Fieri and was hoping he'd make an appearance at last weekend's Grammy Awards.
Do you see the Hawke-Fieri resemblance? Tell us on Facebook.
Related content: