The convergence of fears over terrorism, a perceived threat of gun laws being changed and the Christmas holiday have sent gun sales soaring in what is already the busiest month of the year for firearm purchases.
Guns are at the top of many Christmas lists, especially if November is any indication.
Last month, the FBI ran more than 2.2 million firearm background checks on potential buyers, a 24 percent increase from November 2014. On Black Friday, a record 185,345 background checks were processed by the FBI.
That increase coincided with the coordinated terrorist attacks at multiple sites in Paris by ISIS gunmen on Nov. 13 that killed 130 people and wounded 368.
Weeks later, on Dec. 2, an attack on a holiday party in San Bernardino, California, killed 14 and injured 17 others.
It marked the 355th mass shooting in 336 days this year and the deadliest since the Sandy Hook Elementary School shooting in Connecticut three years ago.
RELATED: 355 mass shootings in 336 days: US has more incidents than days in 2015
At places like Adventure Outdoors in Smyrna, Georgia, business has nearly doubled compared to a year ago at this time, according to manager Eric Wallace.
"Ever since the Paris attacks, we've had a lot of customers coming in,'' Wallace told Gabe Gutierrez on TODAY. "Buying first guns, buying guns to protect their homes, their families, and themselves."
RELATED: Disney theme parks installing metal detectors
"Like any good husband, I asked for the list of Christmas items that you'd like to have and one of the items was a firearm,'' gun owner Louis Cole told Gutierrez. "Above jewelry was a firearm."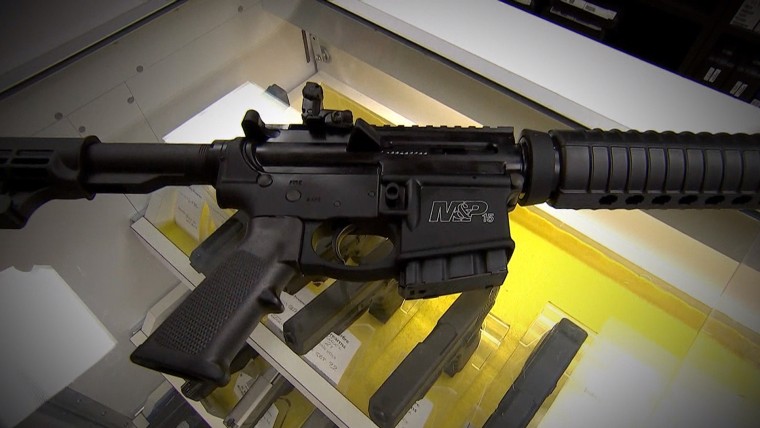 Giving a gun as a gift to another person within your own state is allowed under federal law, and in many states, the recipient is not required to get a background check. The exchange has to be a gift, as so-called "straw purchases" are illegal, meaning the recipient cannot pay the person back for buying him or her a gun.
Sales of gun accessories have also spiked as firearm retailers have seen the biggest demand since President Obama's re-election in 2012.
More companies have also tailored their approach to attract more women.
Companies like "The Well-Armed Woman" in Scottsdale, Arizona, have done brisk business selling accessories like holsters, concealed carry purses and bullet jewelry targeting female gun owners. A shooting range in Las Vegas, "The Gun Store," offers bachelorette parties where guests shoot pink AK-47s.
"It is a significant gift of love, to arm the people that you love with the tools and the training to protect themselves,'' Well-Armed Woman owner Carrie Lightfoot said on TODAY.
Follow TODAY.com writer Scott Stump on Twitter.