Parents of a Marine who was killed in Afghanistan have adopted the bomb-sniffing dog that was with their son on his final mission.
Staff Sgt. Christopher Diaz's parents took in Dino, a 6-year-old Belgian Malinois, on Saturday after a brief ceremony at Camp Pendleton, where the canine was discharged from active duty, the Associated Press reported.
Dino was with Diaz, 27, on Sept. 28, 2011 when the sergeant was killed by an explosive device as he rushed to aid a fellow Marine during a raid in Helmand province.
The Marine's father, Salvador Diaz, reached out to the military shortly after his son's death to see about adopting Dino.
They had to wait about three years to take in the dog, first because he was young and still able to serve, and later because he needed to pass behavioral tests, Salvador Diaz said. It was well worth waiting, Salvador Diaz said.
"This is something that was with Christopher at the time of his death," the father told TODAY.com. "He doesn't replace Christopher, but it does give us a little bit of Christopher."
Now Dino is settling in well with Salvador Diaz and his wife, Sandra, in their El Paso, Texas home.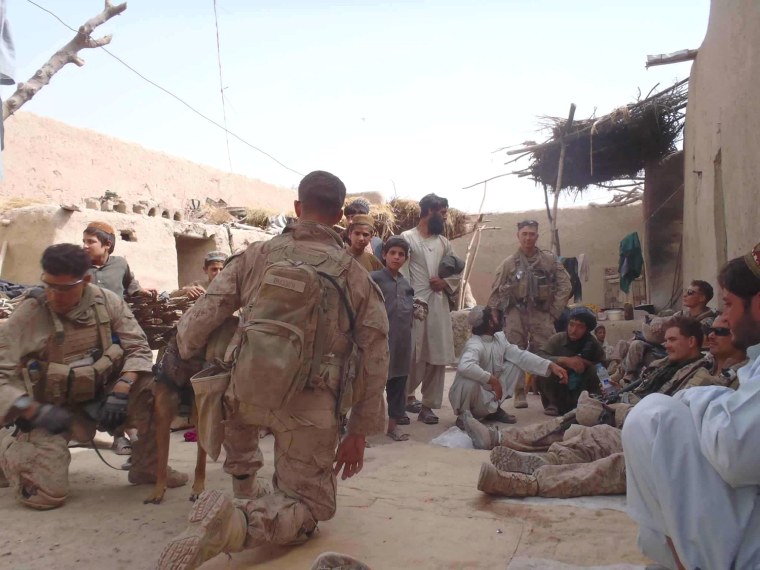 Dino was their son's constant companion ever since 2008, when the young Marine traveled to Israel, where Dino was born, to train alongside the dog in a special off-leash search method. Later the sergeant and Dino trained others in how to conduct searches.
"There's a little language barrier," Salvador Diaz said, because Dino still responds best to commands given in Hebrew and doesn't always understand American pronunciation.
Even so, the dog is blending right in with the family. He shares a lot of their son's personality traits, the dad said.
"He's very affectionate, real rambunctious just like our son, Christopher," Salvador Diaz said. "He's playful. He likes a lot of hugs. But if he doesn't want to do something, he won't do it. He's a little stubborn."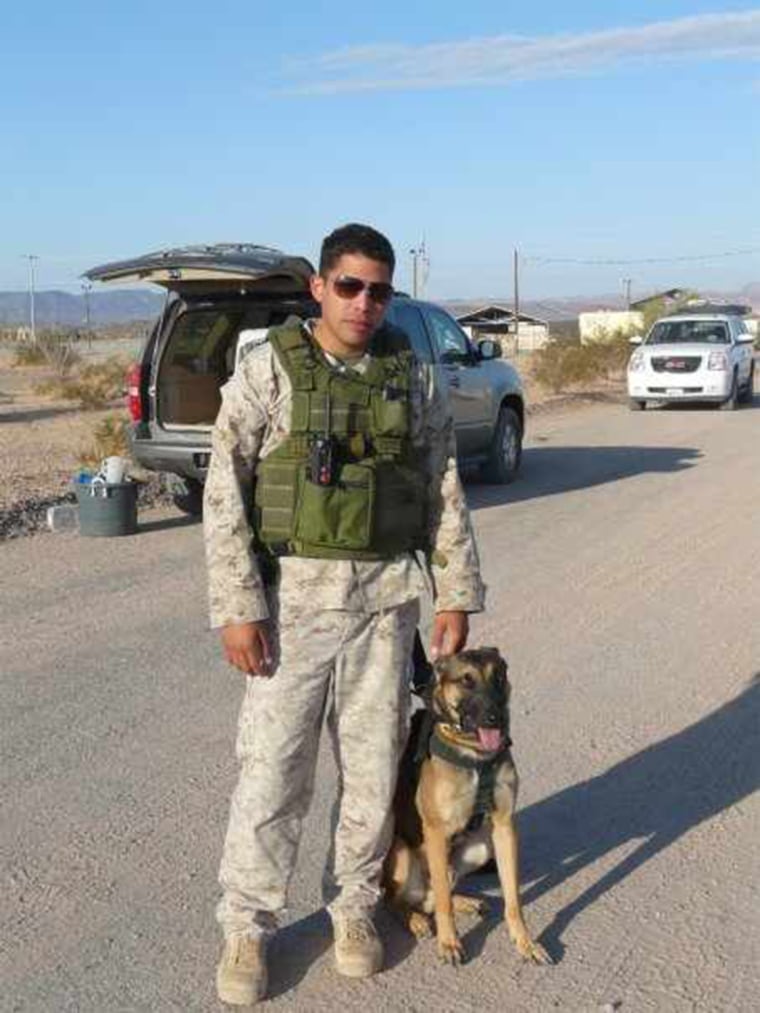 Christopher Diaz grew up in Albuquerque, N.M. with his parents and three brothers. Two of his siblings became Marines, like their father before them. Christopher Diaz was a shy child, his father said, but by about his junior year in high school he came out of his shell. He was a snappy dresser, popular with the ladies, and always urging his parents not to sweat the small stuff, his dad said.
"We heard from his friends in the Marine Corps that he was a very easygoing guy, a good mentor," Salvador Diaz said. "They learned a lot from him."
Staff Sgt. Christopher Diaz left behind two children — Mia Davis, 9, and Jeremy Diaz, 8. The kids will visit their grandparents in Texas in a few weeks, meeting their father's trusted companion for the first time.
"They've been calling daily to know how Daddy's dog is," Salvador Diaz said.
Sandra Diaz said Dino is adjusting well to life as a pet. He isn't grabbing for things or chewing things up. He plays with his ball, enjoys a walk, naps.
"It's like he has always known us," Christopher's mother said.
Faith, friends and family are helping the Marine's parents endure, though they will never forget the loss of their young son.
"It's important to us because it's not Christopher, but it's that small link that can make us all together again," Sandra Diaz said. "I think of my son, who had his fellow comrades, but Dino was there with him. Dino slept with him. He played with Dino, touched Dino, loved him. We were able to hug Dino and say, 'OK, son, we've got him and he's going to be OK.'"