On the day she was supposed to be marrying the man of her dreams, Jessica Padgett got down on her knees in her wedding dress and wept as she touched her forehead to his headstone in a local cemetery.
She wanted to honor what was supposed to be a joyous day with her late fiance, Kendall Murphy, 27, a volunteer firefighter who was killed last November by a suspected drunk driver.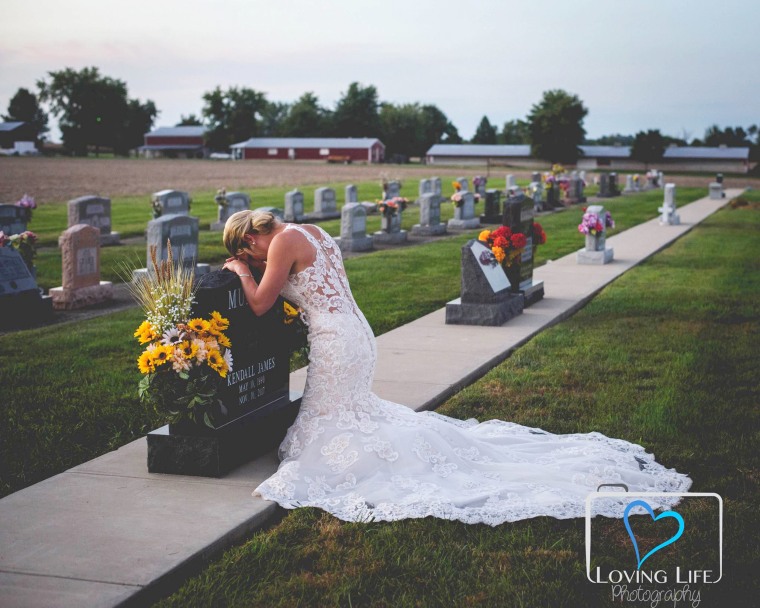 "I still wanted to celebrate our wedding day,'' Padgett told TODAY about the ceremony last month. "I feel like I was still getting married to my best friend. It was a good healing process for myself to get that little bit of closure that I needed, and I felt like he was there in my heart with me."
Padgett, 25, reached out to Mandi Knepp of Loving Life Photography, who shot the couple's engagement photos, to document an emotional day.
She put on the dress she had picked out shortly after their engagement and visited Murphy's grave at Providence Mennonite Church in his hometown of Montgomery, Indiana. She also posed with his firefighter gear and a framed photo.
The maid of honor and best man delivered their speeches near Murphy's grave as guests alternately wept and smiled.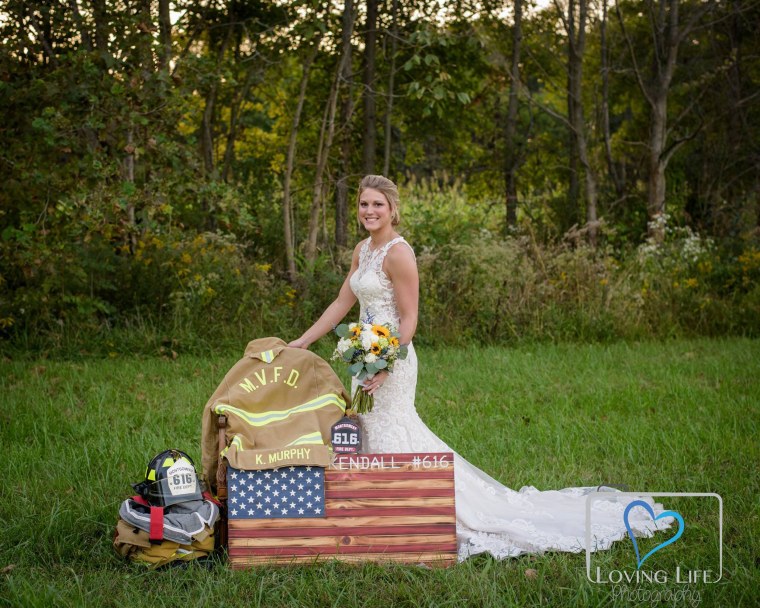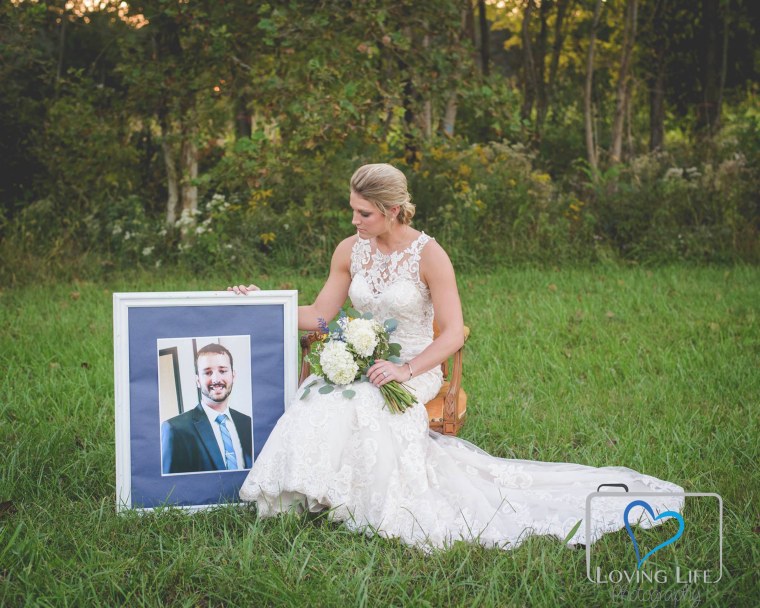 "I woke up that morning and I did not want to get up,'' Padgett said. "September 29th will forever be the worst day of my life, but my bridesmaids, family and friends, they made it a decent day. They made it special, but I was an emotional wreck. I just wanted to ball up and just cry."
Her bridal party, family and friends also gathered with her for a ceremony in nearby Glendale, where their engagement photos had been taken.
"It was very hard to take those photos, but I wanted them because I know later on in life I will look back and remember that was the day we were going to get married and celebrate our lives together,'' she said.
"It was an emotional roller-coaster,'' Knepp told TODAY. "We laughed tons together, and we cried tons together."
Murphy was responding to a car crash on a rural road in southern Indiana on Nov. 10 when he was struck and killed in a collision caused by a fellow firefighter arriving on the scene, The Indianapolis Star reported.
Police said the firefighter, Colby Blake, 26, was drunk when he plowed into three vehicles at the crash site, killing Murphy. Blake was found to have a blood-alcohol level of .21, more than twice the legal limit, according to the Indiana State Police.
Blake was charged with causing death when operating a motor vehicle with a blood-alcohol content of .15 or more. The case has not yet gone to trial.
Padgett had been with Murphy only minutes before he went out on the call. She texted him that she had gotten home safely, but didn't receive a response before going to bed. Her parents had to deliver the tragic news.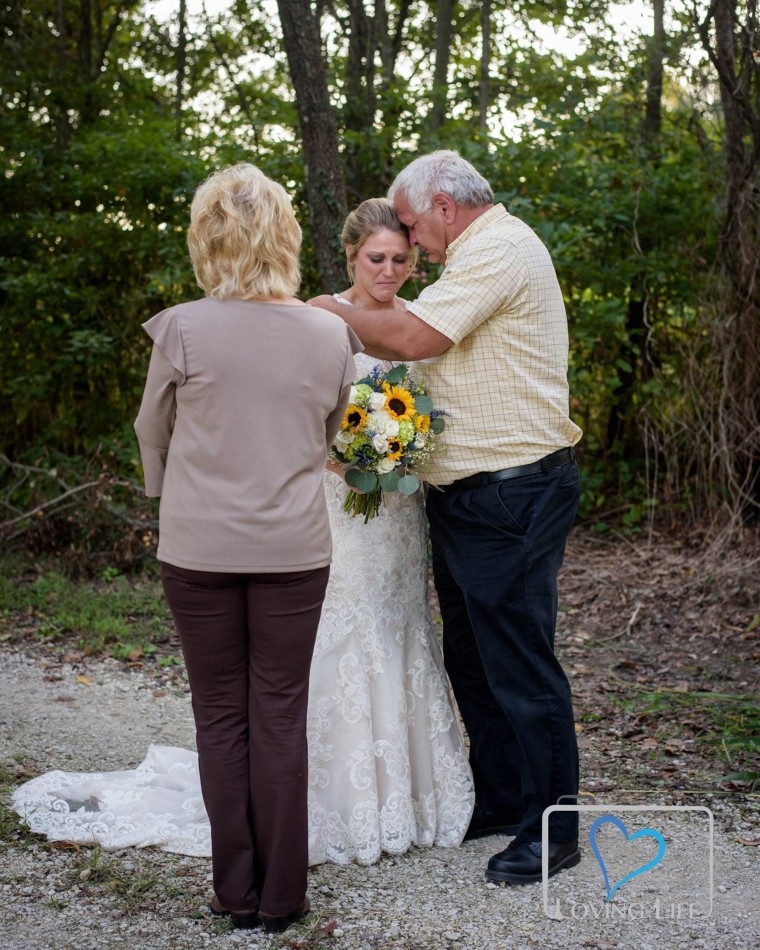 "I instantly fell out of my bed, and I couldn't get up,'' Padgett said. "I felt like I couldn't breathe, like somebody was stabbing me in the heart a million times."
The two had gotten engaged on July 16, 2016, when Murphy got down on one knee at the 50-yard-line at Notre Dame Stadium, the home of their favorite college football team. He had begun working as a volunteer firefighter only a month earlier, following in the footsteps of his father and grandfather.
Murphy, who worked as an insurance agent and coached youth basketball, was a beloved member of the Montgomery community. More than 3,000 people showed up for his funeral to honor a man who loved his family, and loved to make others laugh.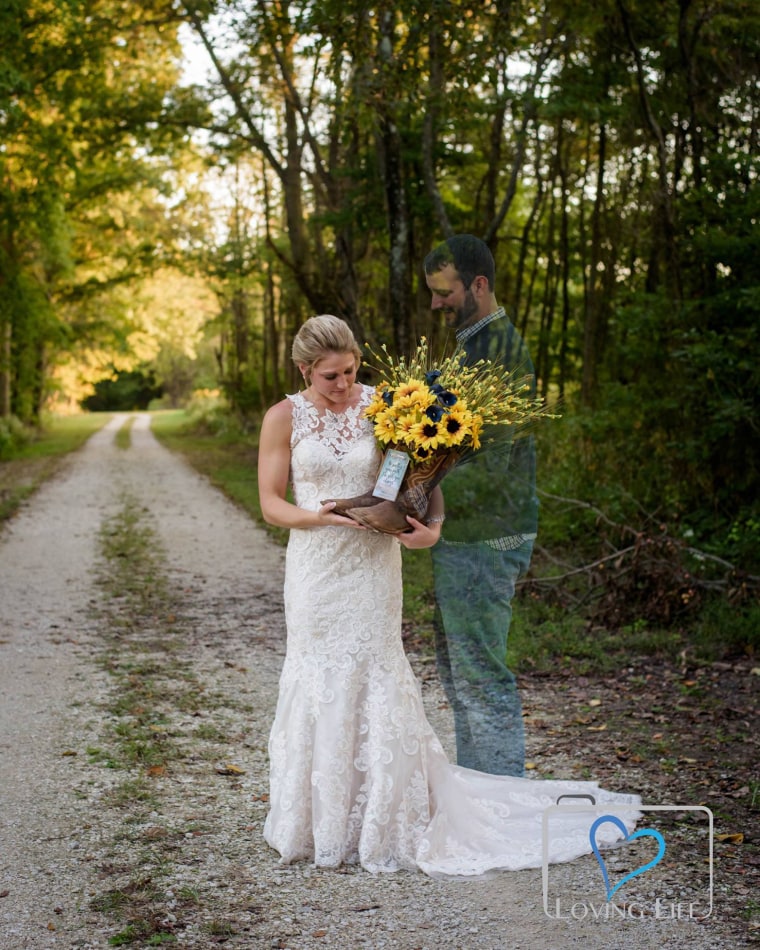 In one poignant photo from the ceremony on Sept. 29, Knepp superimposed an image of Murphy next to Padgett as she held his boots.
"The way that she included Kendall, it meant a lot to me,'' Padgett said. "There's no way she can know how much it really made me feel that he was there even though he wasn't physically there."
Padgett has heard from hundreds of people since Knepp posted the photos on Facebook.
"They've been telling me their stories and how much my pictures have helped their grieving process,'' she said. "I had one lady say she's been struggling for the longest time and she saw the photos and smiled. She said, 'Knowing you're strong, I can be strong, too.'''