/ Source: TODAY contributor
Nine years after she made headlines for surviving three days trapped in her car after it flipped off a highway some 45 feet into a swamp, the legend of Tillie Tooter only grows. Spry and straight-talking at 93, she still drives herself around, revels in the joys of being a new great-grandmother, and is a hit on the speaking circuit in Florida retirement communities.
The nonagenarian proved as plucky as ever when she appeared on TODAY Wednesday as part of a weeklong "Buzziest Stories of the Decade" feature. Sitting with her daughter, Linda Simms, Tooter recounted to Meredith Vieira the events that made her a nationwide celebrity.
Tooter told Vieira she still suffers from the physical effects of her vehicular drama — but she's far from seeking sympathy.
"I have a torn rotator cuff, I have a ruptured disc in my neck, I have back problems," she said. "But I don't dwell on those things. We live today, and I'm happy to be here."
Survival mode
That Tooter is around to tell her story at all is a happy miracle in itself. On Aug. 12, 2000, she was driving her Toyota Tercel to the Fort Lauderdale airport to pick up her granddaughter Lori when a car rear-ended her.
Tooter's car flipped several times before coming to rest in a mangrove swamp infested with alligators, snakes and bugs. She honked her horn for help, but her battery died before anyone heard her.
Tooter prayed — but she also went into survival mode. Her food rations consisted of a piece of peppermint candy, a stick of gum and a cough drop. She used a pair of golf socks to absorb rainwater, then sucked the moisture out of them. Using a trick she learned from an old John Wayne movie, she dislodged a button from her shirt and sucked on it to keep her mouth moist.
Her ordeal finally ended when a teenager, whom Tooter calls "my angel," spotted Tooter's car as he walked along the highway and called for help. By that time, Tooter had been trapped in her car for three days, and admitted to Vieira she was prepared to meet her maker.
"I made my peace with God," Tooter recalled. "I felt repentant for anything I may have done to hurt anybody, and glad for the things that I did that were good."
Tough life, tough ladyWithin days of being rescued, tough-as-nails Tooter gave a press conference, announcing, "I'm itchy all over, I'm black and blue, but I don't care. I'm here."
Daughter Linda said she believes the hard row her mother hoed her whole life led to her being able to survive her ordeal. Raised in Brooklyn, Tooter began working at 13 as her family struggled through the Great Depression. She raised Linda on her own after losing her soldier husband in the D-Day invasion in 1944.
When Vieira expressed amazement that she was able to survive her entrapment in the swamp, Tooter responded: "It was just instinctive. The will to live is very strong, and I had a lot to live for."
Still, Tooter says her ordeal still visits her dreams.
"Not as often as the beginning, but they're just as strong," she said. "They're fleeting; they don't last too long, thankfully."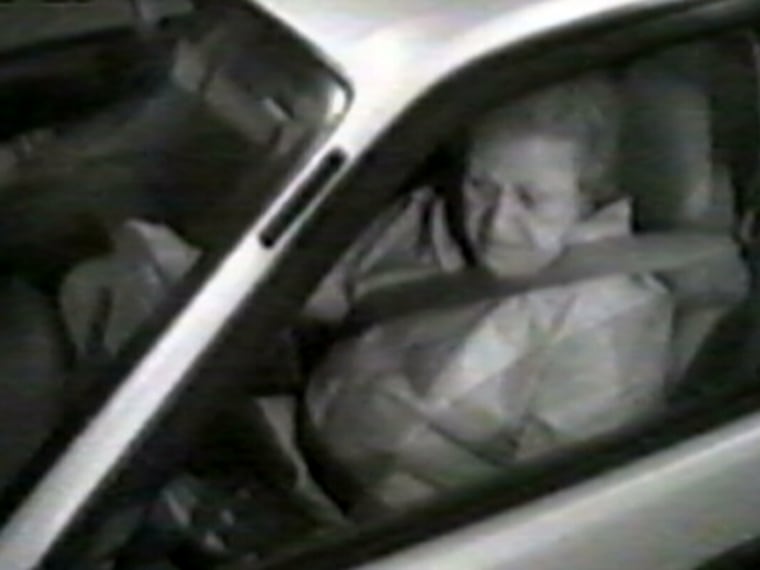 'One of a kind'While Tooter may never forget her life-or-death experience, neither have her friends and admirers. She's regularly embraced by strangers, still gets the occasional fan letter, and travels around to retirement communities to give unscripted talks. Tooter said the main message she delivers is "never give up hope."It may seem unlikely that Tooter still gets attention nearly 10 years after her accident, but a card-playing pal of Tooter's told NBC News it's no surprise to the people who know the great-granny with the outsize personality.
"Let me ask you something: How many Tillie Tooters have come along in the last nine years?" one friend said. "She's terrific; she's one of a kind."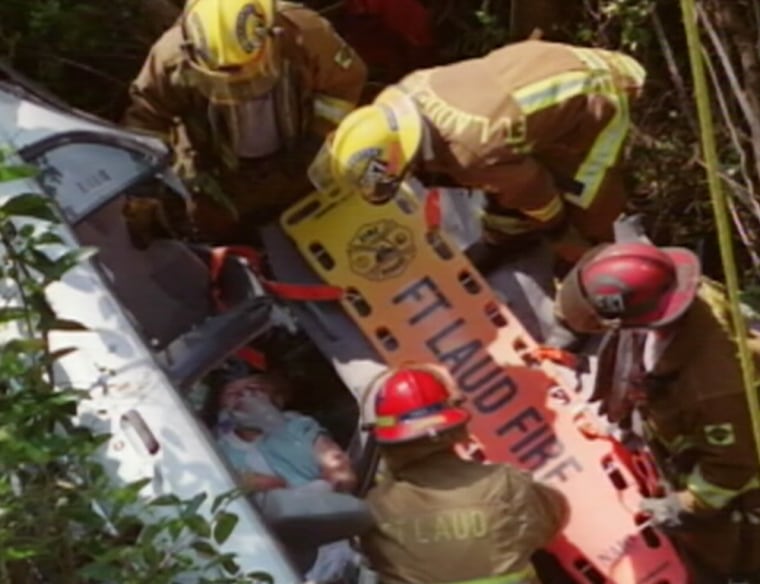 Tooter's daughter Linda Simms agrees, telling Vieira her mother "has always been my best friend" as she clutched her mom's hands on the TODAY couch. And even after her ordeal, Tillie is the same mother she's always known and loved.
"She's a very strong woman, and she's very self-sufficient," Simms told Vieira. "She really hasn't changed from the experience."
While Tooter obviously revels in the attention she continues to receive, she also has moments when she wonders what all the fuss is about.
"Me, an ordinary, everyday hausfrau!" she told NBC News. "I'm just an ordinary person."
Many would disagree.