/ Source: TODAY contributor
On the bus going to Cypress Mountain, American snowboarder Seth Wescott asked a press aide if she could do him a favor. He had a flag that he was going to need at the end of the day, when he won the gold medal in snowboard cross, and he wanted her to keep it for him until he needed it.
And the morning after he defended his Olympic title in one of the most exciting finals the race had ever seen, Wescott still had the flag with him. It has special meaning for him: It's the flag that was draped on his grandfather's coffin when he was buried.
"My grandfather was a trainer in the Army. He trained troops in World War II," Wescott explained to TODAY's Matt Lauer Tuesday in Vancouver. "It's got all the meaning in the world to me. This is my dad's side of the family. It means the world to me."
Grand old flagBen Wescott died when his grandson Seth was still in elementary school. At his funeral, the Army draped an American flag over his casket.
Years later, after Seth had grown up to be a top American racer in the crash-and-burn sport of snowboard cross, his father, Jim, brought the flag with him when he went to Torino to watch his son compete in the 2006 Olympics. When Seth won a thrilling final, Jim jumped a security barrier and draped the flag over his son's shoulders.
After Torino, Seth kept the flag folded into a triangle and displayed in a frame at his place in Sugarloaf, Maine. When it came time to pack for the Vancouver Games, the 33-year-old veteran leader of the American team brought the memento with him.
"It sat in my house the entire four years in between," Wescott said. "I unpacked it Monday and brought it over here with me."
He put the flag in his backpack. Then, during the bus ride from the Olympic Village to the mountain, he asked U.S. Ski and Snowboard Association's Lindsey Sine to do him a favor.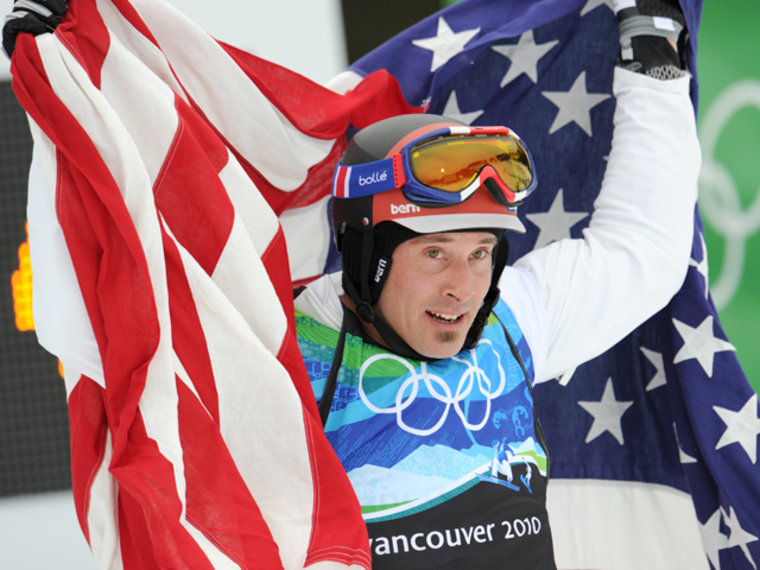 "I said, 'Hey, I got something I'm gonna need you to hold for me,' " Wescott said. "She sat down with me. She's like, 'Oh, what do you need? I'm going to be at the finish line all day.' So I handed it to her. She knew about it. She knew about the story behind it. You could kind of see the look in her eyes when I gave it to her."
After giving Sine the flag, Wescott told her what he wanted her to do. "I'm gonna need this in four runs," he told her. "You're gonna have this at the finish line."
Wescott would tell reporters after the race that that positive bit of planning was a big part of winning the race.
Coming from behindWearing a red plaid lumberjack shirt on Tuesday, Wescott had the happy look of a man who had done something amazing and had been up all night celebrating it. He certainly had earned the celebration.
In the last of four races that ended with his gold-medal run, Wescott drew the worst starting position among the four finalists. He came out of the gate last, and early in the race trailed the field by what looked like a prohibitive distance.
But after all the years he'd put into his sport, Wescott knew that things can change quickly in snowboard cross, in which boarders compete in groups of four on ice tracks littered with banked turns and daunting jumps.
Sure enough, in the first third of the race Wescott's teammate, Nate Holland, skidded out. Now Wescott was third. He managed to pick off Tony Ramoin of France, who would finish third. But Canadian Mike Robertson still had a daunting lead as they charged toward the final turns and jumps of the course.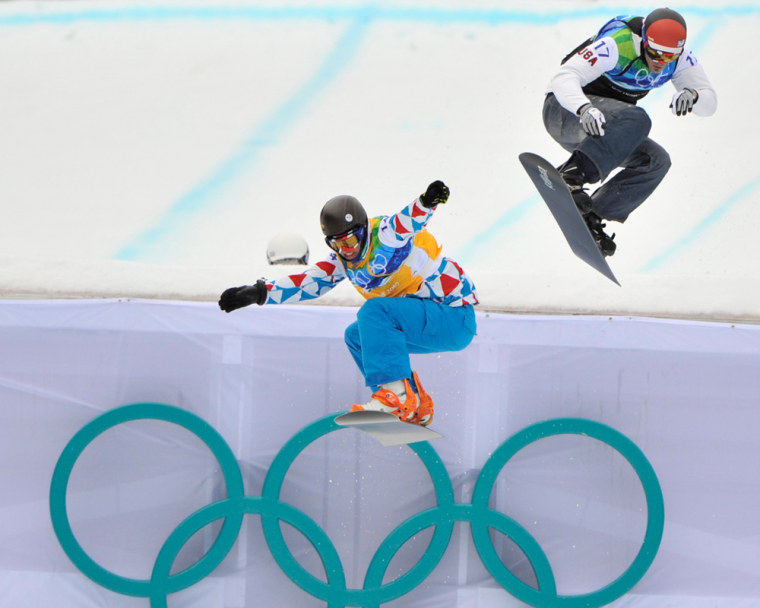 Wescott's opening came when Robertson slightly mistimed a double jump. Instead of clearing both humps, the Canadian landed at the peak of the second bump, causing him to lose speed. Wescott cleared it perfectly and passed Robertson in the air on the next jump.
Then it was Wescott's turn to almost lose it going into the final jump, setting up a thrilling dash to the finish. Robertson was closing fast, but not fast enough. Wescott won by less than half a board length.
And when he crossed, Sine delivered the flag to him as Wescott's mother ignored the security guards to wrap her son in a bear hug.
"You did it again," Margaret Wescott told him.
Indeed he had.