Updated 11:05 p.m. ET: NASHVILLE, Tenn. -- The Grammy Awards celebrated the diversity of music as six different artists tied for top nominee — Kanye West, Jay-Z, Frank Ocean, Dan Auerbach of The Black Keys, Mumford & Sons and fun.
Auerbach received five nominations as a member of the Keys and also is up for producer of the year, earning a spot with the others at the top of the list as the Grammy's primetime television special came to his hometown Wednesday night.
The rockers little resemble any of the other acts at the top of the list. The top nominations for Jay-Z and West, two of hip-hop's most important figures, is a familiar refrain; each has routinely been at or near the top of the nominations list for the last several years.
Indie pop band fun., a featured performer during the show, aired live from Nashville's Bridgestone Arena on CBS, rode the success of its anthemic hit "We Are Young," featuring Janelle Monae, to sweep of the major categories, earning nods for best new artist, song and record for "We Are Young" and album of the year for "Some Nights." The band's producer Jeff Bhasker is up for four nominations.
"When you call your band fun. with a period at the end of the sentence, you set a very high standard for yourself and for fun itself," Taylor Swift, the concert's co-host, said in introducing them. "Fortunately this band from New York has lived up to the name in the best possible way.
Taylor Swift shows off her beatbox skills
R&B singer Ocean made a bold social statement earlier this year when he noted he had a same-sex relationship in the liner notes of his new album "channel ORANGE," and The Recording Academy rewarded him with the major nominations best new artist, record for "Thinkin Bout You" and album of the year.
And British folk-rock band Mumford & Sons, which made an auspicious debut in front of an international audience during the 2011 Grammys, is up for album of the year for "Babel," one of 2012's best-selling releases.
Miguel, who helped Ocean shake up the R&B world this year, and jazz great Chick Correa join the Keys with five nominations apiece. Nas and recording engineer Bob Ludwig join Bhasker at four apiece.
There were no major snubs among the top nominees. Most of 2012's inescapable hits are represented in some way — Gotye's "Somebody That I Used To Know" is up for record of the year and Carly Rae Jepsen's "Call Me Maybe" garnered a song of the year nod. Drake, Rihanna and Nashville residents Swift, Kelly Clarkson, Jack White and best new artist nominee Hunter Hayes were among 16 nominees with three nods.
In many ways the nominations reflect a singles-driven year when no album rose to the level of acclaim as Adele's "21" or West's "My Beautiful Dark Twisted Fantasy," which dominated the Grammys last February.
Rock, relegated to second stage in the era of electronic dance music, made something of a comeback and young bands are peppered in with the nominees we've come to expect each year.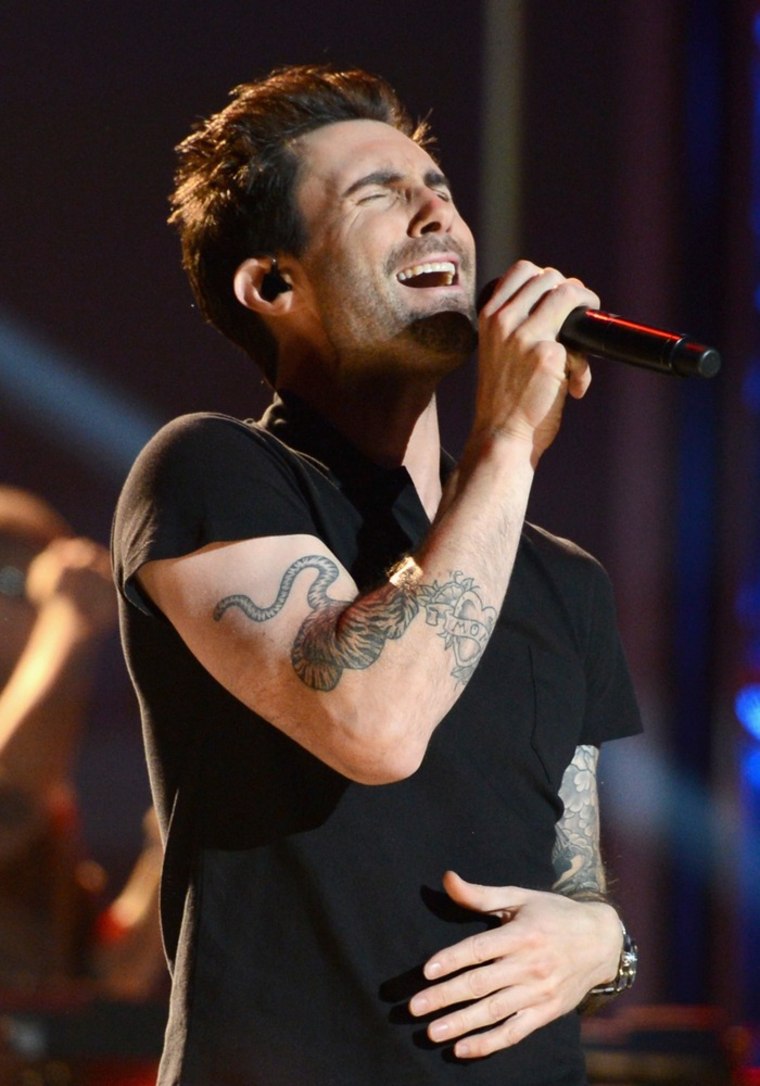 The 55th annual Grammy Awards will be held Feb. 10 in Los Angeles. Trophies will be handed out in 81 categories.
The 5-year-old nominations show was held outside Los Angeles for the first time and showcased Music City for its growing role in the music industry. The Bridgestone Arena marked the largest venue the show has been held in and it may have been a dress rehearsal for a chance to host the main awards show sometime in the future.
LL Cool J returned as host, sharing duties with Swift, whose hit song "We Are Never Ever Getting Back Together" earned a nod in the jam-packed record of the year category. She was joined by fun., Gotye, Clarkson's "Stronger (What Doesn't Kill You)," The Black Keys' "Lonely Boy" and Ocean's "Thinkin Bout You."
Swift and LL Cool J opened the show by putting together a beat-box version of Swift's hit "Mean." Hayes displayed his versatility while announcing the best pop vocal album by singing snippets of each star's hit song. Maroon 5 played headliner, singing three songs mid-show before finishing off the live broadcast. The group stuck around for an hourlong performance afterward for the crowd in attendance.
Assisted by Monae, fun. reimagined "We Are Young" with orchestral strings as the crowd sang along, Ne-Yo, in wine-colored bowler, kicked things up with a cadre of dancers on his new club-infused song "Let Me Love You." And the show tipped it's hat to Nashville with a salute to Johnny Cash by Dierks Bentley and The Band Perry.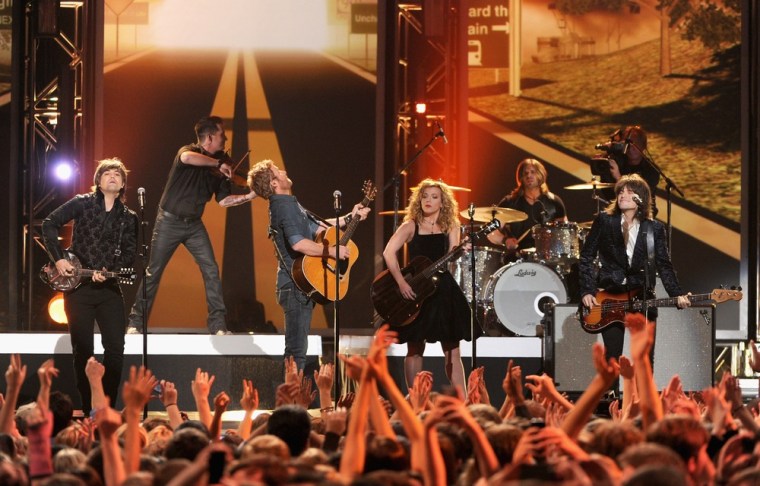 The Black Keys' "El Camino" was nominated for album of the year along with fun.'s "Some Nights," Mumford & Sons' "Babel," Ocean's "channel ORANGE" and White's "Blunderbuss." For best new artist, fun. and Ocean were joined by Alabama Shakes, Hayes, The Lumineers.
Record of the year nominees were "Lonely Boy" by The Black Keys, "Stronger (What Doesn't Kill You)" by Clarkson, "We Are Young" by fun., "Somebody That I Used to Know" by Gotye featuring Kimbra, "Think Bout You" by Ocean and "We Are Never Ever Getting Back Together" by Swift.
Song of the year nominees were Ed Sheeran's "The A Team," Miguel's "Adorn," Jepsen's "Call Me Maybe," Clarkson's "Stronger (What Doesn't Kill You)" and fun.'s "We Are Young."
More music news: