Sunday's Grammy Awards handed out plenty of big honors, but with no dominating winner, the memorable storylines were more about onstage moments. 
The show was slow to kick in, with only one award -- Adele's win for best pop solo performance for "Set Fire to the Rain" -- being handed out in the first 40 minutes of the ceremony.
Adele was last year's big Grammy winner, and she claimed the first award of the night at Sunday's ceremony as well. The singer, clad in a red floral print dress with matching shoes, sent out "massive love" to the other nominees with her acceptance speech.
Perhaps the most surprising award of the night was one of the biggest. Folk rock group Mumford and Sons won the album of the year award for "Babel."
"We figured we weren't going to win anything because The Black Keys have been sweeping up all day, and deservedly so," said lead singer Marcus Mumford. 
Music celebrates its brightest stars — from Adele to Carrie Underwood and beyond — at the annual ceremony.
The Black Keys led the night with four Grammys, including best rock performance and best rock song for "Lonely Boy," best rock album for "El Camino," and producer of the year for Dan Auerbach.
Taylor Swift opened the show with a circus-meets-"Alice in Wonderland" performance of her song "We Are Never Ever Getting Back Together," and then Elton John and Ed Sheeran dueted on Sheeran's "The A Team."
Carrie Underwood claimed the award for best country solo performance for "Blown Away." Underwood, who thanked her family and "perfect husband" Mike Fisher, was wearing a $31 million diamond necklace when she accepted her award.
Underwood also won one of those memorable moments later on, performing "Blown Away" while special light effects made it appear as if butterflies, flowers and other images were dancing on her gown.
The song of the year award went to "We Are Young," composed by Jack Antonoff, Jeff Bhasker, Andrew Dost and Nate Ruess of fun. "If this is in HD, everyone can see our faces, and we are not very young," Ruess joked.
Later in the show, fun. also picked up the award for best new artist.
Kelly Clarkson took home the Grammy for best pop vocal album for "Stronger," and gave an enthusiastic acceptance speech, first explaining why her trip to the stage took so long.
"I got stuck to Miranda Lambert," she announced. "There's a story -- and a song -- for later. After alcohol. Just kidding, children!"
Clarkson went on to thank her fellow nominees, and said to one, "Miguel, I don't know who the hell you are, but we need to sing together." She later tweeted a photo of the two singers together backstage.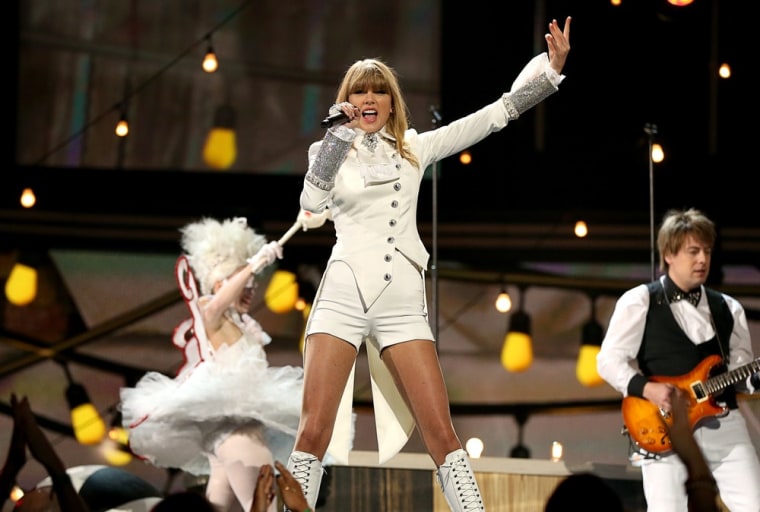 A new award, for best urban contemporary album, went to Frank Ocean. Ocean beat out Miguel and Chris Brown just over a week after Brown and Ocean apparently had a confrontation in a recording studio parking lot. Social media sites were instantly flooded with photos showing Brown remaining seated while the other Grammy attendees gave Ocean a standing ovation for his victory.
Ocean was on stage again later in the show when the best rap/sung collaboration award went to "No Church in the Wild," from Ocean, Jay-Z, Kanye West and The Dream. Jay-Z delivered perhaps the line of the night when he said, "I would like to thank the swap meet for (the Dream's) hat," pointing at a Boyz in the Hood baseball cap The Dream was wearing over an "explicit lyrics" do-rag.
And Ocean also scored a social-media moment when he performed his song "Forrest Gump" behind a podium, with video projecting to make it appear as if he was running cross-country, as Gump does in the movie and book, while singing.
Prince brought the audience to its feet when he came on stage, complete with unexplained cane, to present the record of the year award for Gotye and Kimbra for "Somebody That I Used to Know." Before reading the winner, Prince said "I love this song."
Both singers thanked the unexpected presenter in their acceptance speeches, with Gotye saying, "A little bit lost for words, to receive an award from the man standing behind us with the cane."
The Zac Brown Band won the award for best country album for "Uncaged."
Perhaps the most welcomed performance came from Justin Timberlake, who performed "Suit & Tie" and "Pusher Love Girl" with a dramatically choreographed art deco set. The performance was televised partly in sepia tone for an old-style look before switching to color.
And the audience also came to life for a catchy tribute to the late Levon Helm of The Band, which was also dedicated to the children of Sandy Hook Elementary in Connecticut, where 26 people were killed in a December shooting. Helm died of throat cancer in April 2012. Elton John, Mumford and Sons, Mavis Staples, Zac Brown and Brittany Howard of Alabama Shakes joined in the tribute, performing The Band's hit "The Weight."
Stars from Rihanna, Justin Timberlake, Katie Perry and beyond strike a pose before celebrating the best in music.
Jokes were flying both onstage and off about the infamous CBS memo ordering performers to cover up. Singer Jennifer Lopez showed a lot of leg in her black gown, and announced onstage, "As you can see, I read the memo."
"You look beautiful, you look gorgeous, and you inspired the memo," said rapper Pitbull to Lopez.
Songwriter and DJ Al Walser wore an astronaut costume -- which, according to Zap2It, is his normal costume for performances. Florence Welch of Florence and the Machine wore a shiny green floor-length Givenchy gown that made her look a little like a dragon.
Rapper LL Cool J hosted the show for the second straight year, and closed out the night by performing along with Chuck D, Tom Morello, Z Trip and Travis Barker, and honoring the late Adam Yauch of The Beastie Boys.
More than 60 awards were handed out before the televised portion of the honors began. On Friday, Bruce Springsteen received the MusiCares Person of the Year award at the Grammy Benefit Gala. Swift won an early award for "Safe and Sound" from "The Hunger Games." Jay-Z and Kanye West won best rap performance and best rap song for "N----- in Paris."
Related content: