As thousands of Americans reflect on Martin Luther King Jr.'s iconic "I Have a Dream" speech, a recent high school graduate from Baltimore has a dream of his own.
In a recent YouTube video, 18-year-old Elijah Miles delivers a raw and poignant speech to a room full of incoming teachers. In it, he says teachers have the power to help young people want to give back to their beleaguered communities rather than simply escape them.
"Much like Martin Luther King, this is my dream for Baltimore city," says Miles, a summer intern for Teach For America Baltimore who is bound for Morgan State University this fall.
TODAY anchors share #DreamDay wishes for MLK anniversary 
"I believe with all my heart that (teachers) have the power to do it," Miles explains in the speech, which Teach For America posted online on July 31. "I believe because this is what transformed me from the kid who wanted to be a drug dealer in middle school. Whose mother was in and out of jail because of her drug addiction. Whose best friend was murdered when I was only 14. ...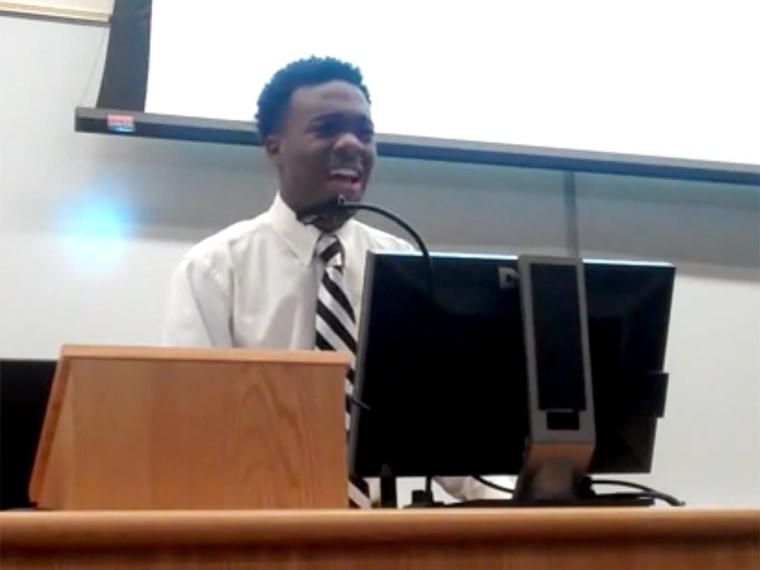 "Everything that I am is because a couple of teachers like you saw through all that mess and all my faults and saw the potential deep down inside Elijah that I couldn't even see for myself. And it's this type of teacher that's made me into the man I am today — a man who has extreme love for people.
"So I tell you again that you can do it because I'm living proof of it. You can pass the torch to these kids so that they change their communities and change the world. I believe in you. Have hope. Be determined. Don't give up."