Nursing moms descended on hundreds of Target stores around the country this week, but they weren't looking for after-Christmas deals. Nope, they came for a nurse-in: a public gathering of moms breast-feeding their babies, in support of a woman's right to nurse in public (known in some circles by the handy acronym, NIP).
Why was Target the target? Texas mom Michelle Hickman says she was hassled by several different Target employees last month when she tried to breast-feed her baby inside a Webster, Texas store. She says she was sitting in a quiet corner, using a blanket to cover up, but apparently that wasn't enough for the employees she encountered or the clueless customer service representative who allegedly told her on the phone that laws protecting women's right to breast-feed don't apply inside Target stores. (Newsflash: they do! 45 states have laws allowing women to breast-feed in public.) She complained on her Facebook page, her complaints picked up steam with the breast-feeding mom community, and a nurse-in was planned for Dec. 28. Moms from all over took part, including some TODAY Moms readers.
Related: NASCAR driver sees woman breast-feeding, freaks out on Twitter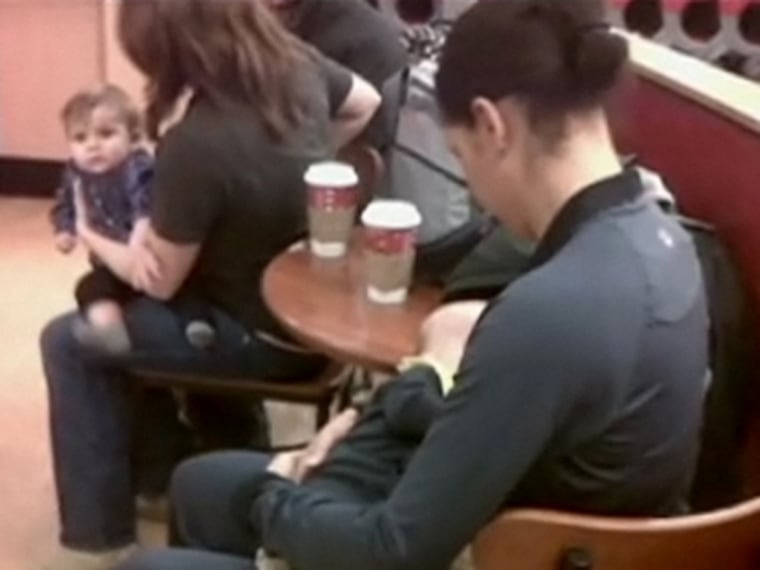 "It was a great experience," Springfield, Va. mom Gwen Arredondo reported on our Facebook page. "Every employee I encountered was kind and gentle. I nursed my son as we returned some items and while checking out. The manager told our group that nursing mamas are welcome in her store and she encouraged the group." Later that day, for good measure, Arredondo said she nursed at Kohl's -- and had a good experience there, too.
Related links:
More adoptive moms learn to breast-feed babies
Dairy Queen? What's your breast-feeding nickname?
Beyond the breast-feeding wars: A supplementer speaks out
Alabama mom Hannah Ellis said she put on make-up and nice jewelry just to make sure she'd look respectable at her first ever nurse-in. Like Arredondo, she and her baby had a great experience. "I stood in front of Target's nursing bra display (OK, couldn't help it -- humor got the best of me), picked my son out of the cart and popped him neatly under my Hooter Hider," she wrote on the TODAY Moms Facebook page. "After feeding for a minute or so, I got more confident. I decided to walk past the dressing room...the employee working there was busy and didn't even notice me. I browsed through racks of clothing around the dressing room. Women shoppers browsed around me...no one said a thing or looked twice. Feeling encouraged, I decided to really put my Target to the test. I headed toward the front of the store and the main aisle in front of all the check out counters. I browsed displays, still nursing my son under my Hooter Hider. 'Good morning,' I said to a Target employee as I passed her, nursing. 'Good morning,' she replied. 'Have a great day!'"
Target executives, for their part, hopped on the public breast-feeding train. They issued a statement reiterating their support for moms who want to feed their babies while they shop. (They're no dummies -- more potential customers!)
"We continually educate our team members in stores across the country on store policies to ensure all guests have a great experience," Target wrote in a company statement. "Target has been in touch with the [Webster, Texas] store to ensure all team members are aware of our breastfeeding policy. Target is proud to support all mothers who breastfeed year-round."
But not everyone is down with NIP. On the TODAY Moms page a fierce debate raged after some commenters declared public breast-feeding to be "gross." (Real mature, guys!) But the issue isn't black-and-white. Some moms say they totally support breast-feeding, and think women should be allowed to nurse in public -- but they don't think a "nurse in" is the answer.
"To be honest I really don't care how you chose to feed your baby, that is your business not mine, but you make it my business when you and your buddies go do a sit-in," complained Monica La Fuente Ramirez. "Now I have to avoid the store because I don't want to see a bunch of women breast-feeding their babies all at once, please this is a store not a mommy play group."
As Nesie Spencer wrote, "Breastfeeding is natural. Yes that's fine. But I think making all this noise is a bit too much. I think there is only such a huge 'scandal' about it because people keep talking about it. It's like 'look at me, look at me.'"
Still other moms wondered why all the big fuss about a little baby nursing. "It's a shame that women are judging each other on here," said Hillary Prickett. "It's hard for me to believe people are offended. I see more boob on TV than I ever do [from breast-feeding moms] in public. Be discreet and everyone else get over it. Babies need to be fed. However and whenever is mom's choice and her right."
What do you think? Do you nurse in public, or support other women's right to do so? Would you ever go to a nurse-in?
NBC Chicago reports on the local Target nurse-in.