Loyola University Chicago's beloved Sister Jean Dolores Schmidt is officially 104.
Sister Jean, as she is known, is the official chaplain for the men's basketball team, though she has long been the face of the Loyola Ramblers.
She spent her 104th birthday by visiting with students, a spokesperson for Loyola University Chicago confirmed.
"She's in great spirits and celebrated with some cake and our students today," Matt McDermott, the associate director of external communications, wrote in an email to TODAY.com.
He added that in addition to the centenarian throwing out the first pitch at the Chicago Cubs vs. Milwaukee Brewers game on Aug. 28, the university plans to celebrate her with a block party and special museum exhibit honoring "her accomplishments and international celebrity" at the Loyola University Museum of Art on Aug. 31.
Sister Jean has worked for the university for decades. She originally was an employee of Mundelein College, where she started in 1961, and began working for Loyola when the two schools merged in 1991.
According to the university's website, she had planned to retire in 1994 but was called on by the school to help "student athletes keep up their grades so they could maintain their eligibility to play."
She eventually became the official team chaplain for the men's basketball team. In 2017. Coach Porter Moser told the Peoria Journal Star that he still got a scouting report after every game.
In 2018, she became a household name for the basketball team when they made a Cinderella run to the national semifinals — the farthest Loyola Chicago has made it in the Big Dance since 1963.
From the sideline, Sister Jean's antics attracted national media attention and won over the hearts of viewers across the country.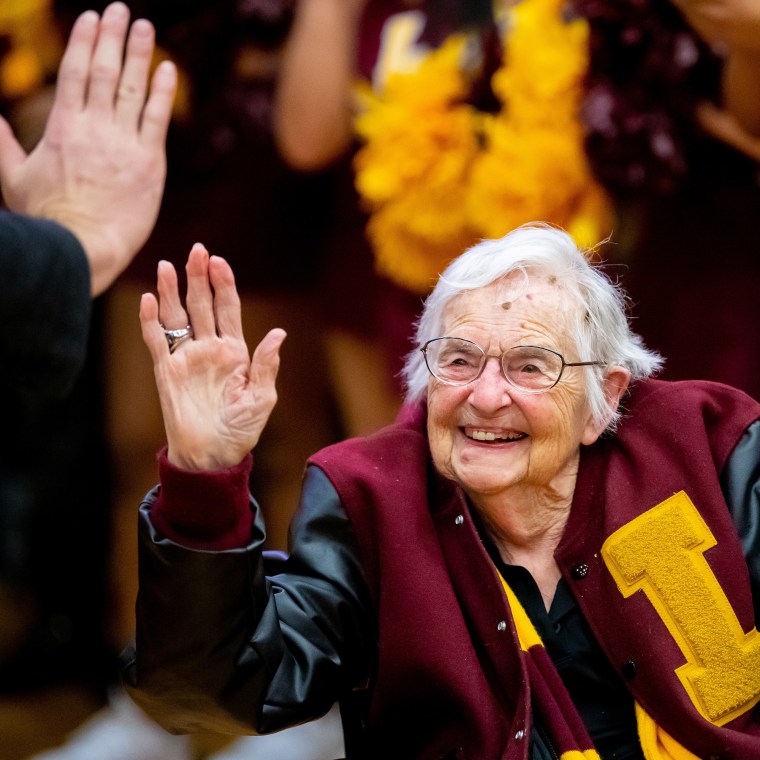 In March 2021, after getting vaccinated against COVID-19, and at the age of 101, Sister Jean traveled to Indianapolis to watch her team successfully take on the Georgia Tech Yellow Jackets.
At the time, Loyola's men's basketball team went viral by sharing a photo of Sister Jean posing with host school Butler University's mascot, a bulldog.
The Loyola team would go on to make it to the Sweet 16 that year, before eventually falling to Oregon State.