As stories of survival emerged from sites devastated Monday by the Oklahoma tornado, so did accounts of the heroic actions of teachers who risked their lives to save students from the deadly storm. The tornado struck direct blows on two elementary schools.
One survivor told KFOR-TV about how he worked to rescue a teacher stuck beneath a car that landed in the front hallway of one of the schools.
"I don't know what that lady's name is, but she had three little kids underneath her. Good job, teach," he said, breaking into tears.
Sixth-grade teacher Rhonda Crosswhite never feared for her own life as she draped her body across six students inside a Plaza Towers Elementary School bathroom stall. Instead, she focused on providing what little comfort she could to the screaming and sobbing children beneath her.
"I never thought I was going to die. The whole time I just kept screaming to them, 'Quit worrying, we're fine, we're fine, we're fine,'" Crosswhite told TODAY's Savannah Guthrie Tuesday.
"One of my little boys just said, he just kept saying, 'I love you, I love you, please don't die with me, please don't die with me,'" she said.
The teacher said she has a loud voice, but she feared she wouldn't be heard over the storm and the screams of the students beneath her.
"'We're going to be fine. I am protecting you,'" Crosswhite said she told one girl. "And then I said a few prayers. 'God, please take care of my kids.' And we're fine."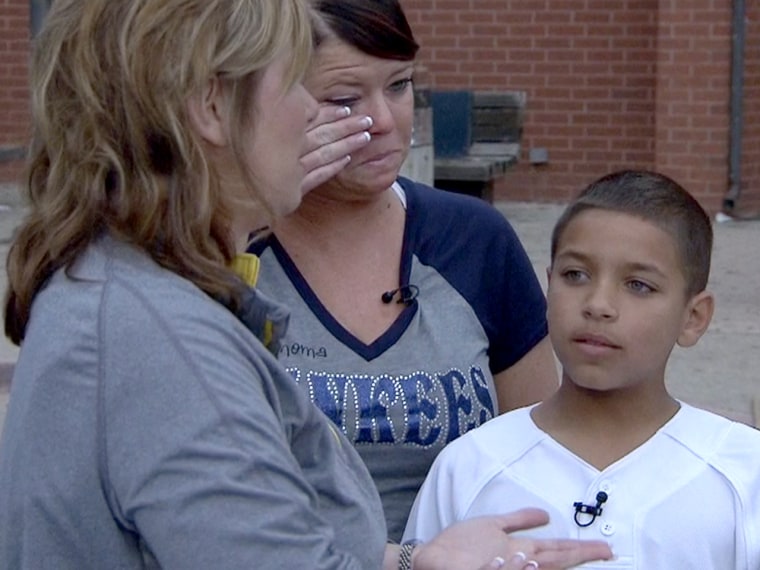 Crosswhite got a chance to reunite, on air, with one of the students she saved. Damian Britton, a fourth-grader who was in the same bathroom with Crosswhite, credited the teacher earlier on TODAY for saving his life.

The two embraced each other while Crosswhite whispered, "I told you we were going to be OK."
The boy's mother, Brandi Kline, then joined the two in their embrace before recognizing her efforts.
"Thank you so much. Thank you all the teachers that were out there," she said.
Crosswhite downplayed her efforts, instead praising the work of the entire school's staff and faculty.
"Just doing our job," she said.
Photographs of teachers carrying or holding the hands of children overcome by the ordeal also were widely distributed.
The tales eerily echoed the heroic stories that emerged from another recent tragedy. Teachers at Sandy Hook Elementary School in Newtown, Conn., also risked their lives to put their students first and save them from the gunman who stormed the school last December.
School principal Dawn Hochsprung was killed after running toward the danger when the shooting rampage began, according to accounts told by victim relatives.
First-grade teacher Vicki Soto also died while trying to save her students, discovered by authorities trying to shield her students from the spray of bullets.
Rescuers in Oklahoma continued their search efforts Tuesday at both elementary schools and throughout Oklahoma City suburbs devastated by the tornados. Authorities say at least 24 people were killed, a lower estimate than the 51 originally provided. It was unclear how many children were among those who died.
Tune in to NBC at 8 p.m. ET/7 p.m. CT Tuesday night foran NBC News special focusing on the Oklahoma tornado.
A monster tornado hit Moore, Okla., leaving at least 24 dead.