With his wife's heart-shaped rock tucked into his pocket, American David Wise flipped and twisted his way to the first-ever Olympic gold medal in halfpipe skiing. But his real reward came immediately after his run, when he saw his wife hold up an enlarged photo of their 2-year-old daughter.
"Almost the first thing I saw when I finished my first run was this little face smiling back to me," he said Wednesday on TODAY. "I could just feel her spirit cheering for me, and my family there supporting me."
Watch the video: David Wise makes history
The 23-year-old has become something of a standout in his field of the world's top freestyle skiers for being a husband and dad, drawing nearly as much attention for his adorable family as his incredible aerial skills. While his clean-cut image may not seem like an obvious match for his sport, he says it's never posed a problem.

"Personality-wise, I fit in with those guys pretty well, because I like to go fast and fly high, but for me, family is important, and having them there, supporting me makes me ski better," he said. "It is different maybe to the culture, but kind of what I'm out there doing is showing that it's totally cool. It's acceptable in its own right."
Watch: David Wise and his wife Alexandra join TODAY
While his wife was able to attend the Sochi Olympics with him in Russia, daughter Nayeli was back home in Reno, Nev., kissing the television screen after seeing him appear — a moment his family managed to catch on video.

Wise admitted that his daughter is now able to identify him and his teammates on television, after previously thinking "all skiers are me." He said his daughter tried out skiing this year and is already "making turns by herself."
In addition to gushing over his family, Wise talked to TODAY about the technical aspects of his win. On his first run, he pulled out the double cork 1260, which involves two flips and three and a half spins, though he noted other skiers also performed the trick.
"I think free skiing really rose to the occasion and put on a good show in spite of the conditions," he said.
Wise earned a 92 out of 100 on that first run, but fell on his second, earning a 3.4 after rain, fog and ultimately snow clogged up the halfpipe. He ended up scoring both the highest and lowest scores Tuesday night, when the bad weather interfered with nearly everyone's plans.

"I have this crazy Olympics run that I've been trying to put together all year, so to have that taken away, you just have to adjust," he said.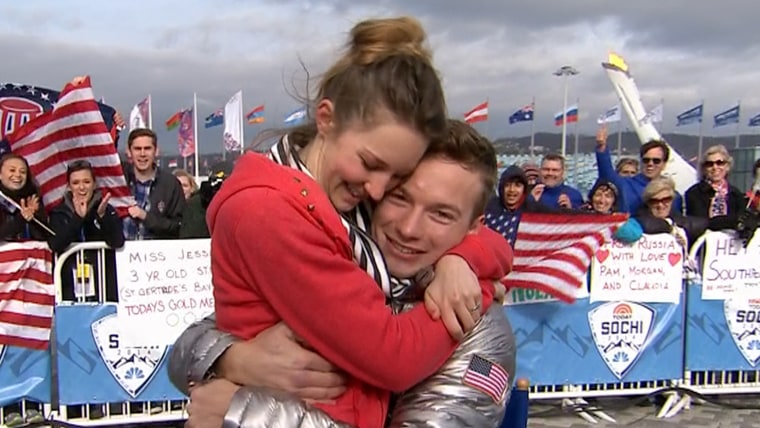 In the end, Wise gave credit to his family for supporting him on his way to earning the historic first-ever gold in the new Olympic halfpipe event.
"After the whirlwind of all these interviews, my wife and I finally got to spend a moment together and just look at each other and be like, wow," he said.