Many Olympians leaving Beijing plan to take a few weeks off to relax, drink a few cocktails on the beach or just indulge in some much-needed "me time."
Not Dara Torres. When the swimmer heads home to Florida next week, the first thing she's going to do is take her 2-year-old daughter to school. And then it's off to the grocery store to restock the household.
"It's really exciting, isn't it?" joked the five-time Olympian, who won three silver swimming medals in Beijing, bringing her career total to 12.
Torres, 41, is just one of 20 mothers here in Beijing showing the world that having children and pursuing an Olympic dream not only go hand in hand, but can prove a competitive advantage.
"I'm quicker, faster stronger than before the baby, and it's been amazing. I feel great," said Christine Rampone, co-captain of the U.S. Women's Soccer Team and mother to 2-year-old Riley.
On Thursday, Rampone — along with fellow co-captain and mother Kate Markgraf — led the women's soccer team to a gold-medal win in a match against Brazil.
"My biggest problem was always composure. And after having a baby, it's totally calmed me down a lot," said Markgraf, whose son Keegan is 21 months old.
"I think the best game I played in last year, my son was teething the entire night and I didn't sleep at all," she said. "And it just kind of lets you know that you don't need all these little superstitions or this perfect training environment to be your best."
Weightlifter Melanie Roach tried for years — and in two different sports — to reach the Olympics. It was not until she'd had her three children, including a son, Drew, who was diagnosed with autism at the age of 2½, that she gained the perspective she believes propelled her to Beijing.
"I think I was a pretty selfish athlete," she said. Roach, 33, started as a gymnast, and made the unlikely transition to weightlifting 10 years ago. She found success quickly in her second sport, but injuries thwarted her attempt to make the Olympic team.
And then Drew was diagnosed with autism.
"That really brought into perspective all the things that I thought were so devastating in my early career, in my 20s," Roach said. "All of a sudden, not making the Olympic team seemed so minute compared to having a child diagnosed with autism ... [It] made weightlifting just a bonus part of my life. It's not a stress at all. It's really something very special, and just an exciting opportunity that I have to go back and finish what I started eight years ago."
Sense of 'peace' Roach set a new American record in the 117-pound weight class, and finished sixth in Beijing. It is her best finish in international competition.
"I find being a mother is a huge advantage," said Roach. "Of course, I'm probably a little more tired than I might be if I didn't have children, but ... they really do provide me with the balance that I need to be a more complete athlete."
Other star athletes echo Roach's sentiment. Take three-time gold medalist and professional basketball star Lisa Leslie, for example. Having 1-year-old daughter Lauren with her in Beijing has allowed her to stay focused on the basketball court, helping her and her team to reach the gold medal game — they face off against Australia on Saturday.
"I would probably be a nervous wreck if Lauren was not here," Leslie said. "For me, it gives me a certain sense of peace." Leslie, 35, relies on her own mother to watch 10-month-old Lauren when they travel.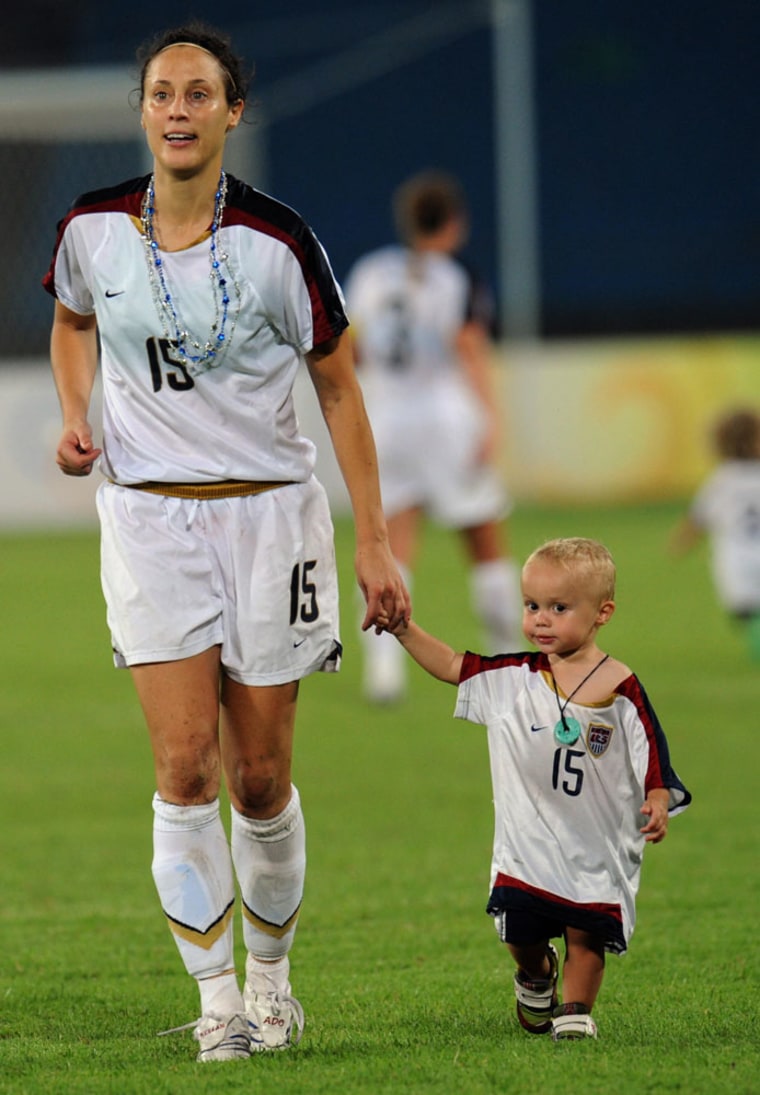 Like many children of professional athletes, Lauren is already a world traveler, having been to China twice, Shanghai, Hainan and to more than 10 states. Bringing Lauren along, however, also means bringing Team Leslie to take care of her while mom is on the court. In Beijing, Leslie's husband and sister share baby duty.
'Sky is the limit' For softball pitcher Jennie Finch, traveling with husband Casey Daigle isn't an option. Daigle, also a pitcher, will be with the Minnesota Twins — so he'll be unable to console Finch in person over the U.S. team's surprise loss to Japan in Thursday's game.
Luckily, Finch has plenty of help from other family members and her teammates.
On a recent softball tour through the Southern states, Finch's aunt and uncle joined the team caravan, allowing Finch and Ace to follow the bus in their motor home for a few days. There's always a grandma or aunt or dad in the mix of softball coaches, players and trainers, thanks to a donation by a UCLA alum that pays the travel expenses for a relative of each of the softball moms. USA Softball helps out by providing the moms with their own hotel rooms, rather than doubling up like the other players do.
"I'm just so grateful that [Ace] can be on the road with me," Finch said. "I can't get enough of him."
Ace has company on the road. Catcher Stacey Nuveman's 11-month-old son Chase is also often with the team.
"Being a mom has definitely changed my approach to the game. It definitely puts things in perspective," Finch said. "It's kind of nice 'cause no matter how well or how bad you do on the field, you come off and you're still mom. And I think being able to wear the different jerseys ... is truly a dream come true."
And like the other Olympians who juggle athletics with motherhood, Finch hopes living her dream will one day inspire her son.
"I would want Ace to learn to give everything he has at whatever he is doing, and just to be dedicated," Finch said. "The sky is the limit."