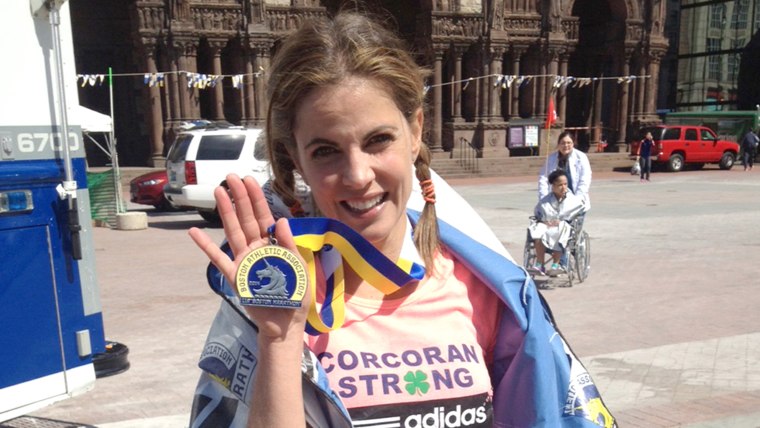 Natalie Morales is officially "Boston Strong." 
Morales completed Monday's Boston Marathon — the first since last year's bombings — in a time of 3 hours, 34 minutes and 45 seconds to help raise money for some very special causes.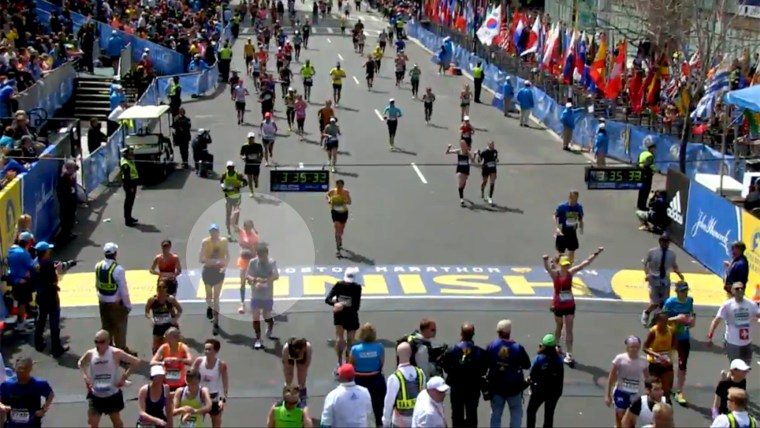 She crossed the finish line at 2 p.m. ET, arms raised in her pink "Corcoran Strong" shirt in support of bombing victim Celeste Corcoran, who had both legs amputated as a result of the blast. 

"I'm feeling good, and I know that the crowd and the support along the way is going to get me through, and of course the emotions of today I think are just going to push me through that extra couple of miles at the end,'' she said on TODAY Monday in anticipation of the race.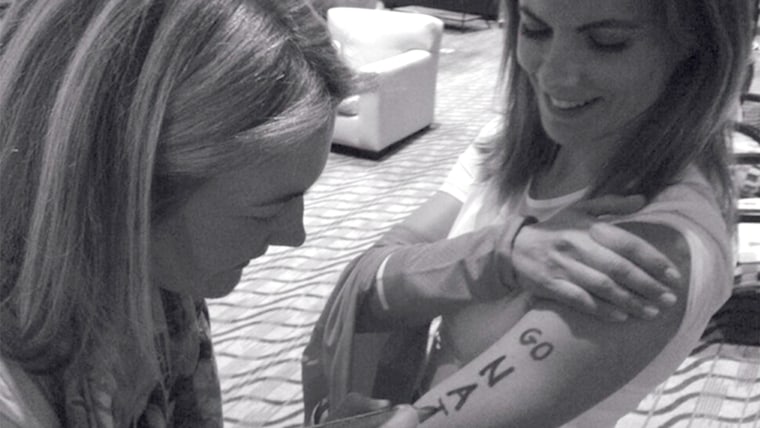 The excitement continued to build with the start of the race drawing closer. 
"I know it's going to be really emotional,'' she told Matt Lauer later in the morning on TODAY. "It's going to be a hard 26.2 miles, but...I know it's going to be an incredible event. I can't wait to be a part of it." 
Morales has been particularly inspired by a victim of the bombing and her family. She was joined on TODAY before the race by Carmen Acabbo, Corcoran's sister. Corcoran's daughter Sydney, a college freshman, also had to endure multiple leg surgeries after being injured in the blast. 
The Corcorans, along with Celeste's husband, Kevin, were cheering on Acabbo in last year's race when the bomb went off. They are hoping to erase that memory with a positive one on Monday. Acabbo and Morales both wore pink shirts with the words "Corcoran Strong" during the race. 

"I'm so happy to be here today,'' Acabbo told Morales. "I'm ready to run. I've had so much support, it's unbelievable. I can't wait." 

Acabbo had reached the 26-mile mark in last year's race when the first explosion occurred. On Monday, Celeste Corcoran was expected to join her at that exact spot and run the final two-tenths of a mile on her prosthetic legs with Acabbo to the finish. 
"I think she's looking forward to the finish,'' Acabbo said about her sister. "There's definitely anxiety around this whole situation, but as a family, we're just looking forward to crossing together. I hope we can just do it. I think it's just going to be unbelievable. It's going to be such a special moment of closure for us to just finally say that we're crossing this together." 

The sisters will be part of a field that will feature 36,000 participants along with a million spectators in the 118th running of the marathon, which will have 9,000 more runners than usual. A beautiful sunny day with temperatures in the mid-60s is expected. 

"As you can imagine, people are just gearing up, getting ready for the race of a lifetime, (with) many saying this is a time to take the marathon back and to prove to the world what it means to be 'Boston Strong,''' Morales said. "For many of the runners here, emotions and spirits are high. Many (are) saying they're looking forward to creating new memories and putting the tragic events of last year behind them." 

The largest and most advanced security presence in the marathon's history was also on hand, including 3,500 law enforcement officers—twice as many as last year. There were 40 checkpoints in Boston alone and more than 100 security cameras along the route feeding back to the mobile command center for the Massachusetts State Police. 

"The technology is newer in here," Col. Timothy P. Alben, Massachusetts State Police superintendent, told Morales. "The capability is obviously better. The communications are seamless." 
Boston Police Commissioner William Evans, who has completed the marathon 18 times, was also looking forward to a special day before the race began.
"My heart and soul is into this race,'' he said on TODAY. "It always has been, and that's why it's so important that we come back and show how resilient we are and how strong this city is." 
You can show your support for Natalie, as well as all the runners, using the hashtags #GoNatalieGo and #BostonStrong.

The 118th Boston Marathon was filled with pride, love and solidarity; here are some of those moments during the race.