Friday on TODAY, NBC News' Keir Simmons took viewers inside the gas station bathroom allegedly vandalized by Ryan Lochte and three other American swimmers last weekend in Rio.
What happened at the service station appears to be at the center of an investigation surrounding the athletes following a night of partying that the Olympians originally claimed ended with an armed robbery.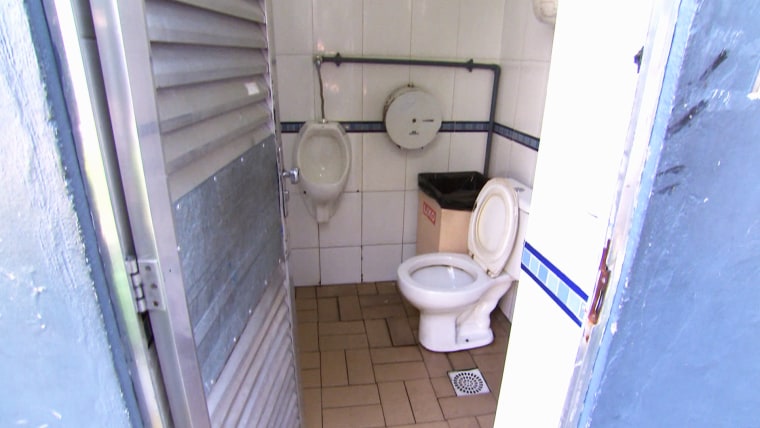 Later, after being pressed by Brazilian authorities, Lochte and fellow U.S. swimmers Jimmy Feigen, Gunnar Bentz and Jack Conger altered their accounts.
"No robbery was committed against these athletes. They were not victims of the crimes they claimed," Rio's civil police force chief Fernando Veloso said during a news conference Thursday.
Earlier that day, Rio authorities confiscated the passports of Feigen, Bentz and Conger as they attempted to return home to the States. They were later questioned. Lochte had already flown home by then.
MORE: Two security guards pointed guns at the U.S. Olympic swimmers at gas station
An attorney for Feigen said that the swimmer, following his questioning, agreed to make a donation of nearly $11,000 to a Brazilian charity in exchange for his passport and being allowed to leave the country.
Authorities returned passports to Conger and Bentz, who have since landed in the United States, NBC reported.
In an interview with NBC Sports, Sergio Riera, a Brazilian lawyer representing Conger and Bentz, said, "They were never charged with anything and they were never investigated. They were just witnesses."
The swimmers originally said they were robbed at gunpoint by people who posed as policemen, but that story began to unravel as authorities questioned discrepancies in their accounts and reviewed various surveillance video.
In the video recordings, the swimmers are seen leaving a party and taking a taxi back to the Olympic Village. Their vehicle stops at a gas station, and one of the athletes is seen heading toward the back of the station toward the bathrooms.
A minute later the four emerge, followed by a gas station employee who was concerned, according to police, that the swimmers had vandalized the bathroom. Video shows the swimmers returning to their cab, and then being approached by a security guard.
Following a discussion, the swimmers get out of the car. A couple of minutes later, they are seen from a different angle, sitting down and holding their hands above their heads.
One of the guards admitted to Brazilian investigators that he did draw a gun on the swimmers, who were released after they handed over $50 to pay for bathroom damage.
On TODAY on Friday, Simmons visited the bathroom and noted that while an ad had been pulled off a wall nearby, the bathroom itself showed no signs of damage. It wasn't clear if the gas station had fixed the alleged damage.
The Brazilian account differs from what Lochte told TODAY earlier in the week, first in an account of the alleged armed robbery to Billy Bush and then, days later, in a conversation with TODAY's Matt Lauer in which Lochte insisted that he and his teammates were victims and that he had no reason to lie.
MORE: Ryan Lochte defends Rio robbery account to Matt Lauer: 'We wouldn't make this story up'
Simmons reported that the swimmers claimed they did not understand what was happening at the gas station because its employees did not speak English. Brazilian authorities insist the service station provided an interpreter.
Lochte posted an apology Friday on Instagram and Twitter, saying, "I want to apologize for my behavior last weekend — for not being more careful and candid in how I described the events of that early morning and for my role in taking the focus away from the many athletes fulfilling their dreams of participating in the Olympics."