For Jesse Heiman, his role in the steamy Go Daddy Super Bowl spot was a big step toward a bigger goal - and 45 takes locking lips with supermodel Bar Refaeli wasn't a bad bonus. Despite previous roles in commercials, the kissing "nerd" from Go Daddy's Super Bowl ad saw a sudden rise to fame after the commercial went viral in the days leading up to the big game. 
"It's kind of beyond my wildest expectations; it's beyond anything I could have imagined," Heiman told TODAY.com. "Inside I feel like I'm becoming a superstar."
Heiman said the role just sort of fell into his lap.
"I thought they were interested just because they wanted an actual customer in the commercial, but it turns out they didn't know I was a real customer," Heiman said. " So it looks like I won this just based off of my kissing skills."
According to Refaeli, Heiman isn't bluffing. When the two appeared on TODAY last Friday, the Israeli-born model took a moment to tell the aspiring actor about his talent.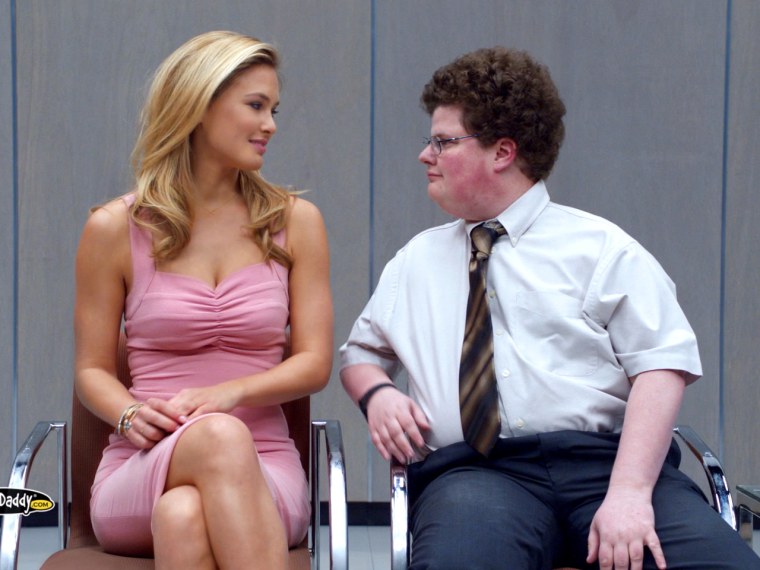 "I told Jesse that when we kissed, he was a very, very good kisser," Refaeli said. 
The key to Heiman's kissing success? Lots of mints.
"My biggest tip would be just to not think about it and make sure you have plenty of mints," the actor said with a smile. "All those after-dinner mints at the restaurant, they're there because the restaurant's not responsible if you have bad breath after dinner and go to kiss her afterwards. Prepare in advance, and take a few extra."
With Valentine's Day approaching, Heiman said he has hopes this commercial will change his fortune for the romantic holiday.
"You know, before this I had no Valentine's Day plans, but after this, who knows? It looks like I may have my choosing," Heiman said. 
Influenced by comedians like John Candy and Seth Rogen, Heiman says that one of his ultimate dreams is to work with Judd Apatow. Heiman said he does have some upcoming projects lined up, including a pilot for Amazon. 
"My career has always been about opening doors and opportunities," Heiman said. "It just so happens on the other side of this door was Go Daddy and kissing a supermodel. Who knows what's on the other side of the next door?"
More on TODAY.com:
Model's close-up kiss in GoDaddy ad shocks some
Beyonce electrifies Super Bowl even before Destiny's Child reunion
Alicia Keys' Super Bowl anthem criticized for being too slow