/ Source: TODAY contributor
Forget the ties, scarves and gift certificates. Thrill your friends and relatives with these unique and fun gifts of health. I've put together my ultimate holiday gift list, complete with exercise enhances to get your loved ones moving and shaking, kitchen gadgets for whipping up nutritious treats, tools for tracking fitness goals and stocking stuffers galore. With these "skinny gifts" awaiting them under the tree, everyone on your list will be able to get a head start on their New Year's resolutions.
Exercise enhancers
Jillian Michaels' Fitness Ultimatum 2009 for Nintendo Wii
www.target.com; $39.99
Ditch the gym this holiday season and fire up your Wii for interactive training with tough-love "Biggest Loser" trainer Jillian Michaels! With Jillian Michaels' Fitness Ultimatum 2009, the entire family can enter Jillian's fitness boot camp to compete in 11 heart-pumping activities while shedding excess holiday pounds. Bonus: The game is compatible with the Wii Balance Board for an even more intense workout. This makes a fabulous gift for people who know they need to fit in more exercise, but grimace at the thought of repetitive treadmill workouts.
Yoga ToeSox
www.toesox.com; $13
Organic cotton, a grippy sole and toe-wiggling freedom make ToeSox a perfect gift for anyone on your list who loves barefoot fitness, like Pilates and yoga. ToeSox are five-toe socks with grip bottom soles that fit your feet like a glove. They'll be especially welcome during the coming winter months, when cold gym floors make workouts a little less comfortable.
Casio Ultimate Pathfinder
www.mycasio.com; $350 (black resin band), $400 (titanium band)The Casio Ultimate Pathfinder is the perfect gift for the outdoor enthusiast! The watch is solar-powered and features atomic timekeeping, meaning it links up to the atomic clocks around the world and automatically resets for Daylight Saving Time. The Ultimate Pathfinder contains a digital compass, thermometer, barometer and altimeter and is 200-meter water-resistant — it's like wearing a weather station on your wrist!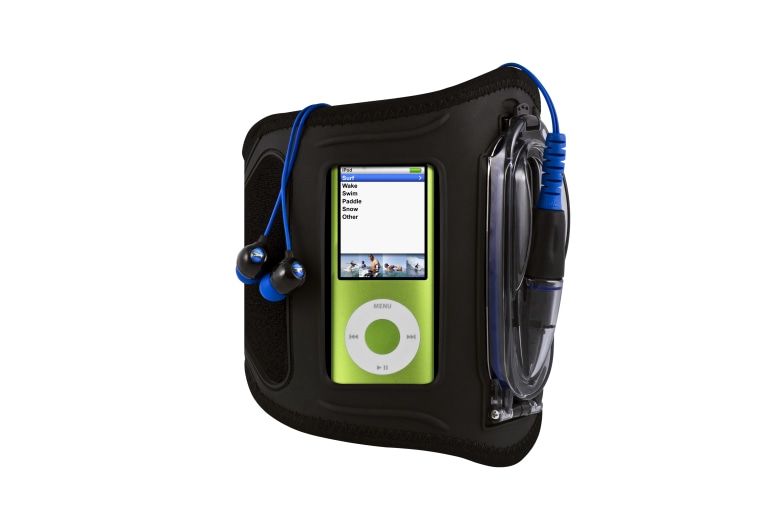 Freestyle Audio Waterproof MP3 Player
www.freestyleaudio.com; $89.95
Music is a great motivator, whether you're running, biking … or swimming. Now you can give the gift of music to the water lover on your list with a waterproof MP3 player. The Freestyle Audio player, which is completely submersible up to 10 feet, includes 2GB of memory to hold more than 600 songs, an FM radio tuner and lightweight, waterproof earphones. 
H2O Audio Amphibx Waterproof Armband
www.h2oaudio.com; $69.99 to $79.99
The Amphibx Waterproof Armband allows you to use your own, already loaded MP3 player while surfing the waves.  H2O Audio has models to fit MP3 players of all shapes and sizes, as well as swim belts if you'd rather keep your arms free. This one's not just for swimmers and water sports enthusiasts; weekend warriors who spend a lot of time boating, canoeing or fishing will love the added protection that this waterproof armband offers.
Earth Footwear Calorie-Burning Lodge Boots
; $89For the fashionista in your life, check out these stylish, faux-fur winter lodge boots by Earth Footwear. All Earth Footwear shoes and boots incorporate "Negative Heel" technology, a small 3.7-degree incline that places the heels slightly below the toes. This unique feature allows the wearer to tone the legs and calves and burn more calories in every step … an added bonus to this chic winter boot.
Kitchen gadgets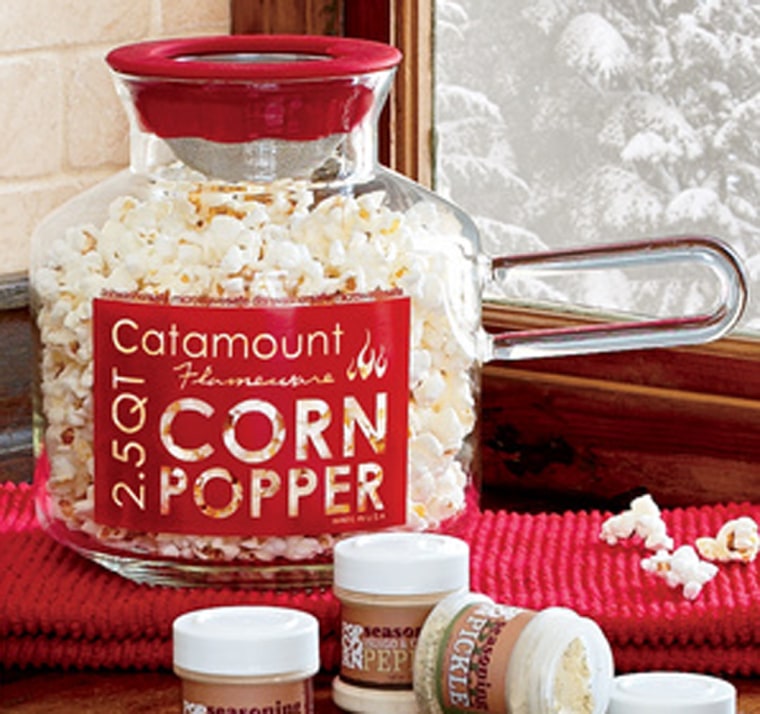 Catamount Microwave Popcorn Popper
www.surlatable.com; $20Popcorn can be a nutritious whole-grain snack, but commercial microwave brands are loaded with added fats, artificial ingredients and salt. This innovative microwave popcorn maker allows you to pop up a huge batch of popcorn in under three minutes without using any oil. You may be tempted by the built-in butter dispenser, but I recommend enjoying your popcorn plain or with a sprinkle of grated Parmesan cheese to keep calories and fat to a minimum. Makes a great gift for moms!
Sodastream Fountain Jet Home Seltzer/Soda Maker
www.sodaclubusa.com; $79.99 for Seltzer Lovers Startup KitEncourage your friends and family members to cut back on soda and other sugary drinks by giving them a home seltzer maker. Seltzer is a great zero-calorie drink when served on its own, and kids will love it with a splash of 100% fruit juice or a few slices of lemon, lime or orange. Making seltzer at home in reusable bottles is convenient, environmentally sound and cost-effective: A 1-liter bottle of homemade plain seltzer costs just 20 cents!
Cuisipro Donvier Yogurt Maker
www.cuisiprousa.com; $50If you have someone on your list who loves to experiment in the kitchen, consider gifting this yogurt maker. Save money — and packaging waste — by preparing individual 6-ounce cups of creamy, nonfat yogurt at home using milk, milk powder and a few tablespoons of plain yogurt as a starter. Then, you're in control of what gets added to flavor up your yogurt. Healthy add-ins include fresh or dried fruit, nuts, almond or vanilla extract, or a swirl of honey or all-fruit preserves.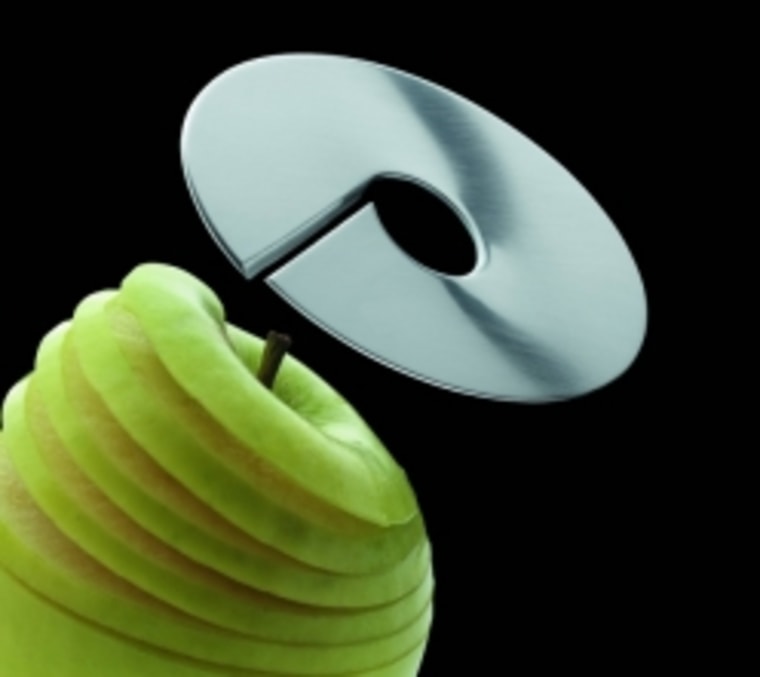 Mono Giro Apple Slicer
; $40
I love this apple slicer! It slices apples into thin "chips" (not the typical big wedges), thus creating a nutritious, voluminous snack that slows down your eating. It's also a great gift for parents of little ones. Toddlers will love the fun shape, which gives new appeal to the everyday apple, and the thin slices are easy for little mouths to chew.
Escali Primo Digital Food Scale
or www.target.com; $24.95 to $29.95
This fun Escali food scale will help recipients learn the invaluable skill of portion control. The scales are available in 12 eye-catching colors like Pumpkin Orange and Aruba Blue, so you can choose one to match your friend's or family member's kitchen décor. It's easy to use, easy to clean and compact, so it won't take up a lot of space in a small kitchen. 
Tracking your progress
TraQ Pedometer
; $39.99This sleek, compact pedometer is the newest in a trendy line of pedometers from Sportline.  TraQ calculates your total steps, distance walked, time in activity and calories burned every day and stores up to seven days' worth of data in the unit so you can track your progress over time. Designed with the Infiniti Motion Sensor, this little guy can be clipped to your waist, hat, armband, boot, or just about anywhere else on your body. Giving a pedometer as a present is a fun way to encourage your loved ones to get active.
Strollometer
www.strollometer.com; $45.95Know someone who's too busy with a young child to set aside time for exercise? This fun gadget will help them create a workout every time they stroll. The Strollometer is a wireless, eight-function speedometer/odometer that easily straps onto any baby stroller, measuring speed, distance, temperature and more. It's great way to keep moms and dads in shape all year long.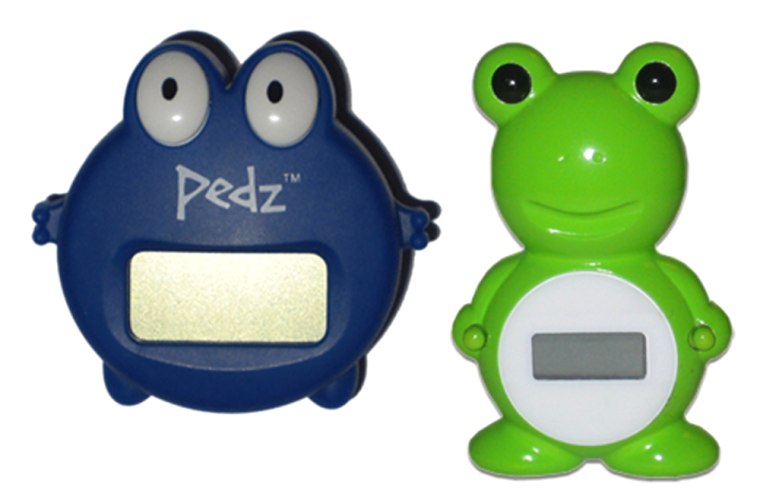 myPEDZ Pedometers for Kids
www.mypedz.com; $12.99 to $15.99
Give your kids the gift of good health this holiday season with a myPEDZ pedometer. Shaped like colorful frogs and tadpoles, these are the first kids' pedometers to link to an interactive Web site where tykes can track their steps, play games, set goals and much more. These adorable step counters will get your little ones' feet moving, and the Web site will reward them for their hard work with many fun activities.
NuMetrex Heart Rate Monitor Sports Bra
www.numetrex.com; $99 for Simple Starter SetA heart monitor helps with motivation and goal setting by tracking your workout level and calories burned. NuMetrex apparel incorporates heart-sensing fabric directly in the garment, so you can comfortably and effortlessly track your progress without fussing with a lot of cords or gadgets. There's also a men's cardio shirt if you're looking to buy for a guy on your list. I love that you can get great workout gear and high-tech fitness-tracking equipment in one!
Tanita Ironman BC549 Body Composition Monitor
www.thecompetitiveedge.com; $149.99For loved ones who have had a recent health scare, a new scale and body composition monitor might be the perfect gift to encourage them to make much-needed healthy lifestyle changes. This scale by Tanita is fully loaded; it accurately measures body weight and eight other measurements, including body fat percentage, hydration level and muscle mass, all in about 10 seconds. It also measures levels of visceral fat, the deadly fat around the midsection that doctors are most concerned about. A good, reliable scale is an indispensable tool for individuals committed to losing weight and improving their health.Timex Ironman Wireless Fitness Tracker
www.timex.com; $90
"Fitness Tracker" counts steps, distance, pace and calories burned to help women get the most out of their workouts and daily routines. A small transmitter clips onto the user's waistband and interacts wirelessly with the watch to seamlessly track physical activity. It is available in pink, blue and black and also works as a stand-alone sports watch.
Gifts under $20

I put together a smashing list of gifts under $20. Give any one of these on its own as a small present for neighbors, teachers or friends; use one in place of candy or other decadent treats as a healthy stocking stuffer; or select a few and toss in some nutritious treats like almonds, red wine, 70 percent dark chocolate or fresh fruit to put together a creative, health-themed gift basket.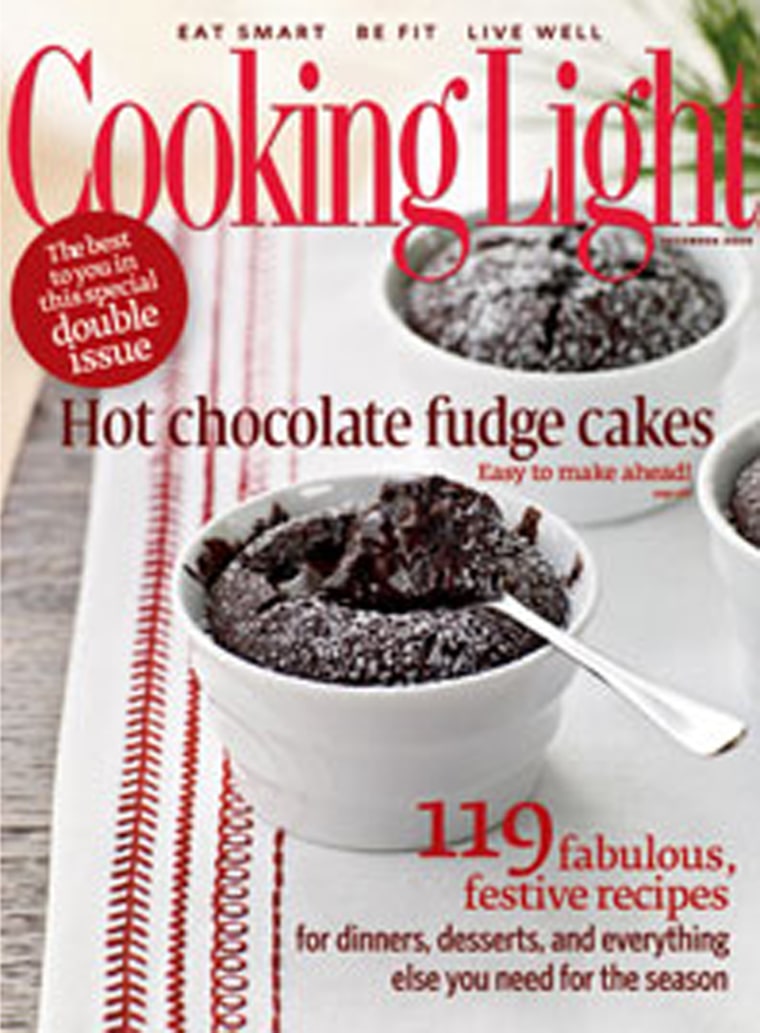 Healthy magazines
Stuff a stocking with the latest issue of your favorite health magazine. It will provide a wealth of nutrition and fitness information, along with dozens of great recipes to start the New Year off right!
Healthy cookbook
If you have a friend or relative who's trying to lose a few pounds or just eat a more balanced diet, a healthy cookbook makes a fantastic holiday present. With so many themes available (quick and easy, vegetarian, five ingredients or less, diabetic, etc.), you'll be able to find one that suits your loved one's lifestyle and specific health needs.
Vitamins
Supplements, like age-appropriate daily multivitamins and fish oil capsules, make thoughtful, practical stocking stuffers. Just make sure your gift recipient clears any new supplements with their doctor before adding them to their routine.
Giada De Laurentiis Tuscan Herb Mix
www.foodnetworkstore.com; $10.95Gourmet salt-free spice blends, like this delicious Tuscan Herb Mix from Giada De Laurentiis, make great gifts for friends and family members who need to limit their sodium intake due to high blood pressure. Add a healthy dose of flavor to lean meats, veggies and whole grains.
Garden-in-a-Bag Mini Tomato Plant
; $12This mini tomato plant makes a fantastic and unique gift for loved ones! The kit allows you to grow fresh, super-sweet tomatoes indoors, right on your windowsill. Two to three months after planting, your gift recipient will be able to enjoy healthy, homegrown mini tomatoes in salads and sandwiches … in the dead of winter, no less. Yum!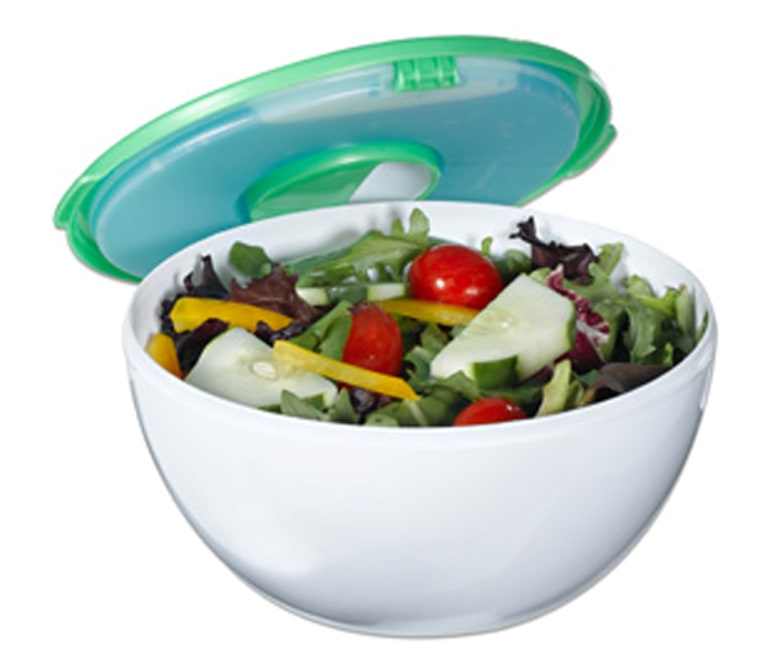 Fit & Fresh Salad POD
; $7.99
Here's a thoughtful way to encourage a friend or co-worker who's watching their waistline this holiday season (rather than sabotage their diet with a plate of homemade cookies!). The Fit & Fresh Salad POD has a separate dispenser that fits a perfect two-tablespoon portion of dressing and keeps it separate from the salad greens, so veggies don't get soggy sitting around in the fridge all day.
Nalgene Water Bottles
; $5 and upHere's a healthy gift that could work for almost anyone on your list. Water bottles make a great present for gym rats and casual walkers alike. And everyone could benefit from drinking more water and fewer sugary beverages like juice drinks and sodas. Nalgene water bottles are available in both stainless steel and BPA-free plastic varieties and an array of colors, shapes and sizes.
Tovolo Tea Infuser (with Stand)
;  $9.95Hot tea is a wonderful low-calorie beverage loaded with cancer-fighting compounds and a soothing replacement for late-night snacks. The Tovolo Tea Infuser allows you to use loose tea leaves to brew a single cup for one, rather than a whole pot, and its slanted base neatly contains drips after use. Available in red, purple or green, this modern kitchen tool is the perfect stocking stuffer for a friend or family member who needs a little more R&R in their life.
L'Olivier Fruit Vinegars (from Sur La Table)
;  $17Gourmet vinegars and olive oils make great food gifts for the healthy eaters on your list. These low-calorie fruit vinegars, available in Passion Fruit and Raspberry flavors, are a refreshing alternative to commercial salad dressings, which are loaded with fat and sodium. Be sure to try them as a marinade or sauce for chicken, fish or seafood, too!