We all know Kate Middleton will be getting the royal treatment when her baby's born next month. What do you expect? The woman's a duchess.
But even commoners (with enough cash) can deliver their little ones in royal style, thanks to an uptick in swanky maternity suites.
"A lot of hospitals are trying to go that way now," says Stephanie Johnson, founder and CEO of Bed Rest Concierge, a Dallas-based company that can turn your everyday hospital room into a birthing center fit for a queen. "We all want a little piece of what Beyoncé and Jessica Simpson are having. Patients aren't just looking for quality rating now, they're looking for amenities."
Not to mention post-birth mani-pedis. Hankering for a luxury birthing experience? Curious as to how the other half lives? You can see the Cedars-Sinai deluxe maternity suites here.

Cedars-Sinai Hospital
For a little over $4,000 a day, you can rent a three-room, two-bath Deluxe Maternity Suite at this Los Angeles hospital which has served many a Hollywood celeb, including Kim and Kourtney Kardashian, Kate Hudson and Victoria Beckham. (For those on a "budget," a two-room, one-bath suite can be had for just $2,847 a day.)
Suites feature recessed lighting, soft colors and comfortable birthing beds — some come equipped with full-sized tubs. Other amenities you can expect (additional fees may apply): a refrigerator stocked with juice and bottled water, flat-screen TV and WiFi, deluxe food service for two (with both vegan and veggie meals), complimentary hotel-style robe, hair stylist, manicures and pedicures, parking and a personal doula to assist during the childbirth process.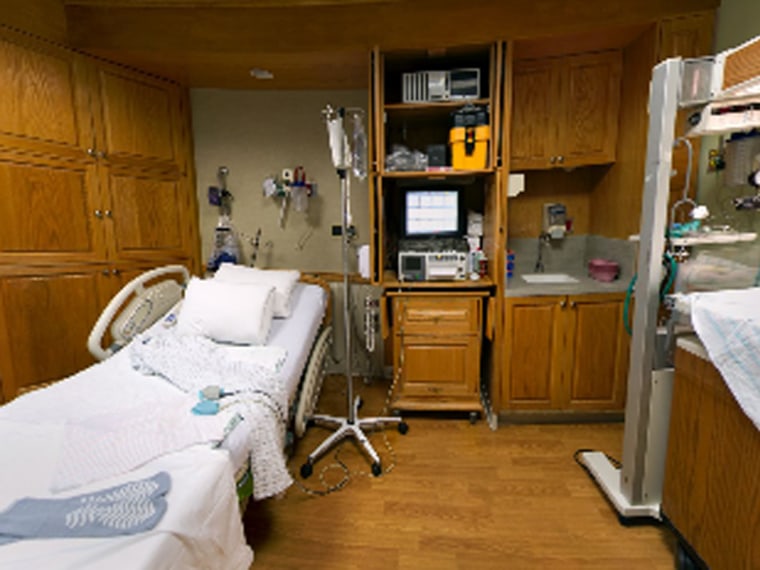 Lenox Hill Hospital
This New York hospital made headlines when Beyoncé and Jay-Z reportedly paid $1.3 million to rent out the entire maternity floor in preparation for the birth of daughter, Blue Ivy. Contrary to those reports, though, the hospital's executive director claims the pop music celebs were actually housed in an executive birthing suite and billed the "standard rate" for those accommodations.
So what is the standard rate for a luxe birthing suite and how much bling do you get for your buck? New parents can expect to pay $850 to $2,400 a night for the suites, which feature blond wood floors, dark wood cabinets, luxurious linens, plush robes, plasma screen TVs, Wi-Fi, and a concierge who is more than happy to arrange for a mani-pedi, hair cut, or massage for mom or go shopping for onesies in the middle of the night. But wait, there's more! The hospital also offers deluxe 24-hour food service featuring everything from rack of lamb to lobster to New York cheesecake to wine. Other amenities that all parents can appreciate: a newborn security system, a one-to-one nurse-patient ratio during active labor, emotional support services and — smile! — baby pictures.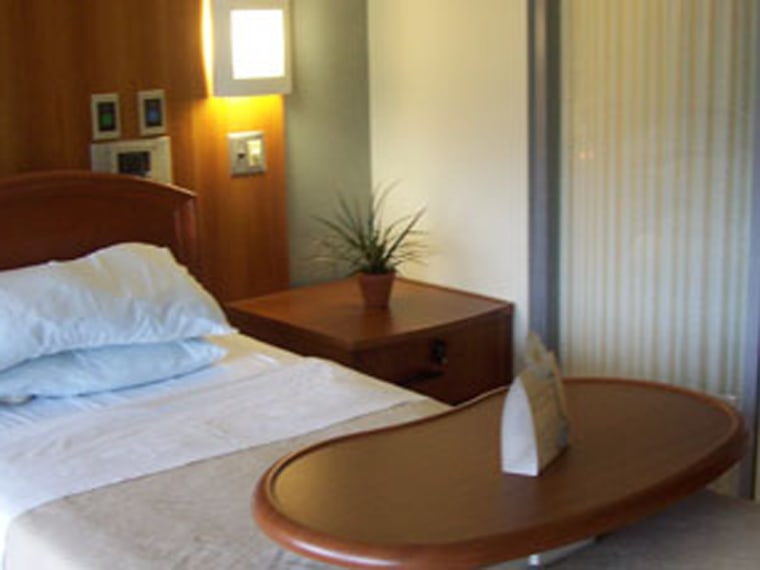 Mount Sinai Medical Center
New parents can also get their posh on at Manhattan-based Mount Sinai Medical Center, where Gwyneth Paltrow gave birth to son Moses in 2006. Luxurious multi-room birthing suites with a full view of Central Park run $4,000 a night, but the private rooms ($650 to $850 a pop) are also a sweet deal, even though your view may be downgraded to the courtyard.
Amenities for the new mom and dad include hotel quality rooms with luxury sleeper chairs, flat screen TVs, free wireless Internet, spa-inspired private baths with Italian tile and decorative mirrors, massage therapy, mani-pedis, photography services, tea and cookies at 2 p.m. each day and a "bedside mobile boutique" that practically lets you shop in your sleep.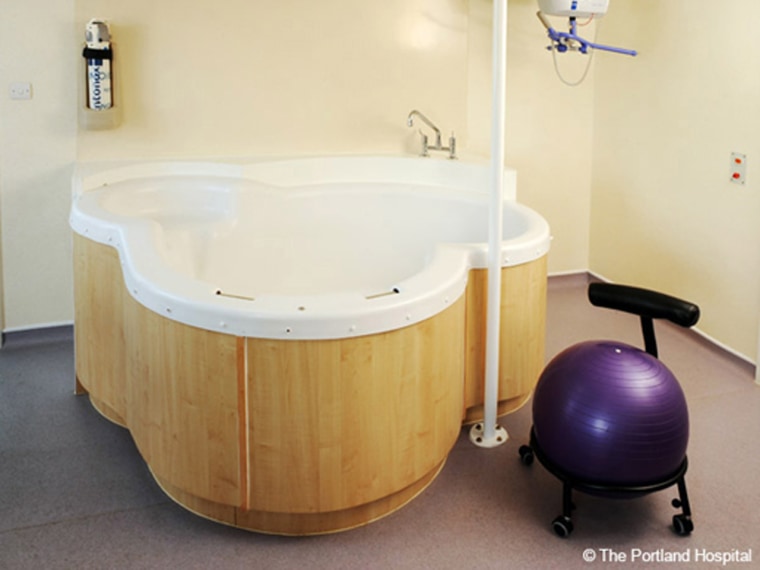 The Portland Hospital
The only fully private maternity hospital in the UK, London's plush Portland Hospital is one of the facilities experts are eyeballing as a possible delivery site for the new royal baby. In addition to stellar obstetric care, Portland offers both private rooms and suites with a full range of "hotel services," including 24-hour room service and personal shoppers. Additional perks (at additional cost) include a birth announcement in the Times, a private photo shoot (every year until your child turns 18!), membership in the exclusive Portly Panda Club and even a gold, silver, lead, crystal glass or bronze casting of your baby's hands and feet.

Don't happen to live near an elite birthing facility? No problem. For the right price, Bed Rest Concierge will bring the luxury to you. According to owner Stephanie Johnson, her clients – who include TV stars, athlete's wives, socialites and even the daughter of a former president – have asked her to trick out their maternity suites with all kinds of goodies including 50-inch flat screen TVs, Egyptian cotton bedding and custom pillows and enough distilled water to fill a birthing tub.
Other swanky extras new moms have requested: in-room chef services, aestheticians to perform facials, mani-pedis and other spa treatments, and ice cream and cupcake delivery at 2 a.m.
Natalie Helms, a 27-year-old mom who delivered twins seven months ago at Dallas' Texas Health Presbyterian Hospital, says she used the service to arrange for 24-hour room service, meal delivery from a favorite restaurant, new towels, new linens, and a handful of aesthetic services.
"I wanted to make sure I had everything I needed," she says. "I had my hair and makeup done and got a wax before delivery. When I came out, they made sure my face was correct before any pictures were taken. It was an out-of-pocket expense, of course, but this was my first time having babies. I wanted it to be seamless and wonderful. I wanted all the comforts that I have at home."
Helms says having a bit of luxury in her hospital room put her at ease and made the birthing experience much less stressful.
"It's the only way to deliver," she says. "I wish this was standard in all hospitals. Not just for the women who can afford it, but for all women."